This post was written by Genevieve Geiger.
Here at Wistia, we talk a lot about the importance of getting viewers to engage with your video content on your site instead of out in the great World Wide Web wild. The argument goes that it's much easier to convert someone from a viewer into a prospect or customer if they're already on your site, near your calls to action, your signup forms, your other content, etc. Not to mention that places like YouTube are designed to keep viewers there (generating more ad dollars), not to funnel them to your site.
While this is a pretty sound argument (if we do say so ourselves), we haven't had a ton of concrete data to back it up. Until now. We actually didn't plan on running a study, however, some of our recent experiences with external coverage have provided the perfect situation to gather this missing data.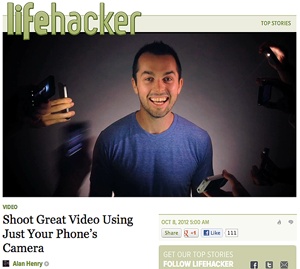 About a month ago, we had two different videos covered by two different tech websites: Lifehacker published about our "Sent from my iPhone" video and Gizmodo published "Lighting for a Webcam." While the videos had different content, both provided viewers with general video production tips, as opposed to directly promoting or selling Wistia. The key to getting some actionable data out of this coverage is in the different ways the two videos were covered: Lifehacker wrote a brief article about the content of the video with a link back to our blog, so all viewers were on our site when they watched the video. Gizmodo, on the other hand, embedded the video directly into their article, housing the video on their site.
So how did the two videos perform? In the two weeks following, the Lifehacker coverage of "Sent from my iPhone" led to 9,026 views of the video on our blog. The "Lighting for a Webcam" video, embedded on Gizmodo, to date*, has been viewed 15,782 times directly through the article.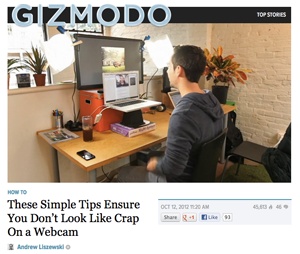 While these numbers sound impressive, they don't give us real insight into how valuable this coverage was. It's tempting to think "The article on Gizmodo received more views, so it has to have been better for our business, right?" However, critically analyzing the numbers reveals a different story. The coverage on Gizmodo can be directly linked to the creation of 2 free accounts with Wistia**. With over 6,000 less plays, the Lifehacker coverage can be directly attributed to the creation of 19 free accounts. For the statisticians in all of us, that means the Gizmodo video saw a conversion rate from viewer to lead of 0.013% compared to Lifehacker's 0.211%.
So how much is a view worth? Well, first tell me whether the view is on your site or someone else's. If it's not on your site, each view appears to be 1/17th as valuable, according to this first set of data we've collected. In other words, we'd need the Gizmodo video to get 150,000 views before it would have the same effect as the Lifehacker story that linked directly to the video on our site. Having a video played on your site enables you to control every aspect of the experience around your video, as well as provide valuable additional context on who you are and why you're so great.
...And that's why a play by any other page just isn't as sweet.
* Data as of December 7, 2012.
** We measure and assign attribution based on referring and landing page visits on a prospect's first touch with the Wistia domain.