The Slimlist is a lightweight, fully customizable video playlist that's incredibly easy to use.
To try this larger click here.
The Slimlist is special in a couple of ways. For one, it's not built in Flash -- it's built completely in JavaScript and supports HTML5 video. This means that out-of-the-box the Slimlist will automatically work in all desktop browsers and on the iPhone and iPad.
To keep things simple, slimlists are generated out of the same interface you're already used to, Wistia projects. Each Slimlist is automatically updated as you reorganize your project. Once you embed a slimtlist you can re-order videos, add sections, or replace content that isn't performing well. The changes will only need to be made within your account. There's no maze of technology you need to jump through for each little change. Just set it and forget it.
To start things off, we created two high quality themes for the Slimlist.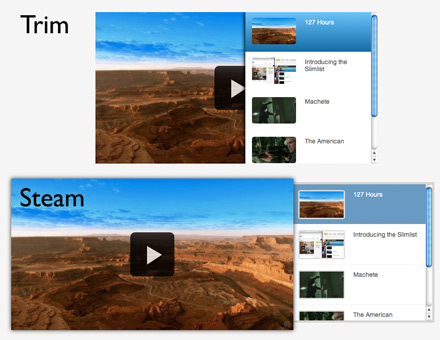 But you can also create and host your own themes.  Because the Slimlist is not a Flash playlist you don't need to be an ActionScript developer to customize it. You (or your web developer) can use CSS and JavaScript to make the playlist look and behave exactly how you like. Learn how to customize the Slimlist.
Want to learn more? You can try out the Slimlist right now!