If you're in touch with us regularly, particularly about analytics, you have probably heard the mystical phrase Stats 2.0. Perhaps this elicited an image of a single massive overhaul, but what's the fun in that? That would be like eating your entire advent calendar on December 3. Instead, over the next few months, we'll constantly be releasing awesome new stats-related features that we've been working on (and are currently perfecting). The first of these is a pretty neat one: Video Plays by Date!
You can select a range of dates to view stats for:

And you can also choose to view weekly or monthly graphs: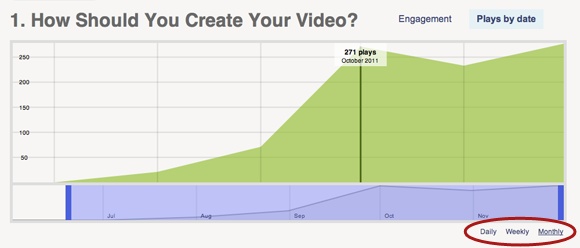 To access Video Plays by Date in your account, simply visit the usual stats page for a video and click "Plays by Date" in the upper right corner.
Soon, you'll be able to access this -- and other -- data as a .csv for Excel manipulation, view stats by project, pivot stats by embed location or visitor, and more! And we're also happy to report that our stats will never fall behind again (a problem that we'd seen a couple of times in the past).
A fun fact about Video Plays by Date: we developed our own graphing library from scratch for it. We thought that a lot of the libraries out there were too bloated or generic, so we wanted something tailor-built for simplicity. That's always what we aim for -- doing the best job in the simplest way possible (and it's a pretty sweet bonus when it can look sleek, too). Now, what are you waiting for? Go check out your new stats!