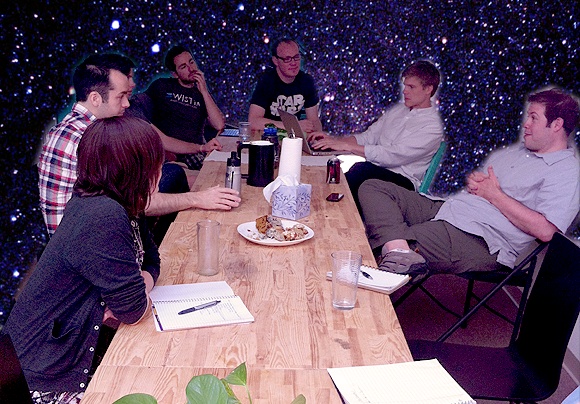 Yesterday morning, for probably the first time ever, I led a "business meeting!" It was a blog meeting. A meeting about a blog. The very blog you are reading right now. Since I started here last August and essentially took over blog duties around November, there've been a few goals in my mind, but holding a meeting helped to formalize those goals (and also, conveniently, to begin to fulfill some of them). Here's a list of some of the things I've had in mind -- not by any means all-inclusive:
Getting everyone here more involved in the blog (and displaying author information more prominently), both in terms of posts and participation. Face-to-face contact seems important for making that happen.
Making technical changes to make the blog more useful. I just added an author plug-in (see below) that makes sure everyone gets credit for their posts (hopefully encouraging for others in the company who want to contribute, and useful for readers who want to know what perspective content is coming from!). Expect to see more of these popping up on future posts.
Figuring out what our standards for blog content are. We obviously want to make sure all of the content is quality, but what does that mean? Hopefully, it means we have plenty of posts that are useful to everyone, Wistia user or not. "Pitchy" is a four-letter word when it comes to blog content.
Making the blog more approachable for readers, whether through actual content or design or other factors (like adding the Disqus comment plugin, which removed some of the friction for leaving comments and having disqus-sions).
Making it more clear to people outside Wistia that we'd love to see their content here, too!
I set the meeting for Thursday mornings because that seemed like a good time to lay out the next week's content -- this way, for those who'd rather work on a post over the weekend than during the hectic week, that option is open. It also allows for decent reflection on the prior week (after giving the content a little room to breathe, like a fine wine) and a briefer reflection on the current, ongoing week.
The first meeting was well-attended which I was happy to see. It's nice that a lot of people care about what's going out and want to contribute something. I don't expect 8 of 13 Wistians at every meeting, but it was great to see such a high percent of the company come and actively participate. Accompanied by breakfast scones/muffins (anyone want to donate free catering services for next time?), this was how the meeting was organized:
Review of last week. First, we (successfully!) named all of the blog posts from last week from memory. This felt like a good, brief way to make sure nothing was vastly underpromoted. Then we talked about what we liked and disliked about that content and how we might apply those qualities to future posts. For example, we'd like to have more posts on the shorter side, like last week's quick tip about Ben's blinking. That post was brief, but people liked it because it was accessible, humorous, and useful. Back to making the blog more approachable, I think more shorter posts would be a positive addition. It's hard for me to feel like something is "good enough" to put out the content door if it's not lengthy, but quality != quantity. I'm doing a bad job here because this post is turning out sort of long.
Quick look at what's going on this week. Mostly listing it out, unless anyone has particular concerns.
Pitches. Everyone has about a minute to pitch any ideas that they'd like to contribute (or see someone else contribute) to the blog. The challenge here was keeping these brief, because of course, as soon as an idea comes up -- especially an exciting one -- everyone wants to talk about it. But in the interest of everyone's time and keeping the meetings desirable to attend, this seems especially important.
Overview of next week. Usually I already have a rough outline in place, but knowing what people pitched and what might be time-sensitive, it's possible to make it more concrete. Fun (?) fact: I've yet to perfectly adhere to a weekly schedule -- nothing ever goes quite as planned, which can mean that someone didn't get their content in on time, but is actually much more likely to mean that some new feature or idea popped up that pushed something else to the wayside.
Any further discussion. This is the part I wanted people to feel comfortable leaving for if it's not relevant to them -- basically any conversation that would have cluttered the meeting or been better off between two or three people gets pushed to this time.
What are some of the higher-level ideas that you worry about with your blog content? How far ahead do you plan? What's your process for working with contributors? And most importantly: what could we do to make the Wistia blog more enjoyable for you?