David Ciccarelli is an experienced technology entrepreneur and is the cofounder of Voices.com, which connects voice-over talent with voice-over jobs. Voices.com has been written about in The New York Times, CNNMoney, BusinessWeek, Entrepreneur Magazine and Fast Company. He is the author of Voice Acting for Dummies.
When you're producing a video for your business or client, you likely do some research beforehand to learn more about who is meant to see the video, its specific goal, and what your client would like to say to their target audience. You may even already have an idea of the sort of voice you are looking for to narrate your script. That being said, it isn't just about the voice, but also about its specific role and how vocal talent can approach the script most effectively.
Voice talent helps you to tell stories. Bearing this in mind, consider how you would want the voice to engage with the viewing audience. Should they be informal, like talking to a friend, or does the role require more professionalism or authority?
Instead of simply reading the script, your voice talent could be sharing your message in a variety of ways by choosing to interpret the script through the lens of a particular voice-over role.
Below are examples of five different voice-over roles: The Real Person, The Announcer, The Narrator, The Spokesperson, and The Instructor. Determining which role the voice talent plays in advance will help you to get a better performance from the voice actor and, in turn, make their read more believable to your audience.
The Real Person
The Real Person role has to do with being transparent, trustworthy and intimate. Think of how someone would communicate when speaking to a family member, the girl next door, a friend, or an individual they are comfortable around. There is an authenticity to this role that oozes genuine relationship.
The Announcer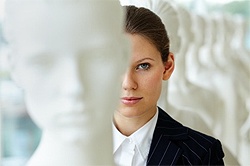 The Announcer role is about speaking authoritatively and with conviction. In most cases, the announcer shares information without any apparent bias and delivers what they are saying as objectively as possible with little to no emotion. This is mainly true of news anchors, reporters and those providing commentary on events.
The Narrator
The Narrator is an interesting role because of his omniscience. A good narrator knows how the story ends before they get there, in efforts to draw an audience in and suspend their disbelief. Narrators, like Announcers, are separate emotionally from the story they tell. Part of the narrator's job is to let a viewer come to their own conclusions about how they feel.
The Spokesperson
The Spokesperson needs to be confident and trustworthy. This role speaks on behalf of a company, institution or organization and should be informed, accessible and polished. If you've ever seen a corporate or celebrity spokesperson and how they represent a brand, you have an idea of the balancing act they play in terms of advocacy and professionalism.
The Instructor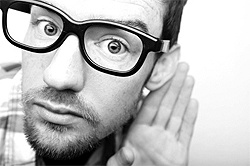 Last but not least, the Instructor role comes from the perspective of an educator, possibly an academic or an expert who can guide the viewer through a series of steps. Many explainer videos are voiced this way in order to present the content accurately, purposing to place a greater emphasis on learning than on developing a deeper relationship with the viewer.
Choosing the right voice
As you can see, defining which role the voice talent plays greatly impacts how you plan and script your video. Knowing this ahead of time will also help you to better identify what you are looking for in a voice talent and provide voice actors with clear artistic direction. A little preparation will make a dramatic difference in your ability to communicate more effectively.
What steps do you take to make sure that the voice in your video is well-suited to its message?