Here at Wistia, we're getting really excited for our conference in May, WistiaFest (tickets are still available!). We can't wait to spend a couple days teaching and learning from other video and marketing fans.
On top of that, we're pumped about getting some sage advice from people like Rand Fishkin, Mack Fogelson, Phil Nottingham, and Mathew Sweezey. These folks will be speaking alongside Wistia's CEO, Chris Savage, and our videographer, Chris Lavigne.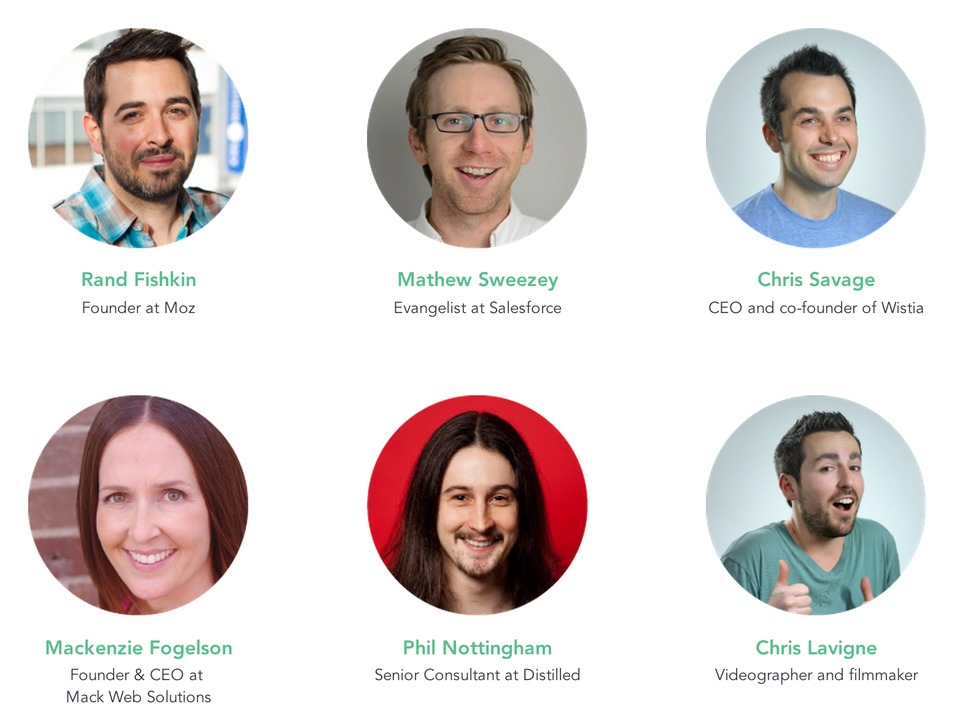 When we decided to organize our own conference, we thought long and hard about the kind of speakers that would be a good fit. We nailed down three main factors that helped us decide whether the speakers we selected would reflect the culture and values we want emphasized at WistiaFest.
Passion for education and community
Every one of these speakers loves teaching and empowering others. This is super important because it's what we value most ourselves. A related attribute we sought was an excitement for building communities. Teaching and empowering others can only take you so far. At a certain point, you have to facilitate opportunities for people to teach and learn from one another—which is why we value community so highly!
We also sought out speakers who come across as warm, excited, and genuine. Warmth and excitement make a speaker so much more engaging, both in person and on camera. Plus, warm people are just nice to be around! And a genuine demeanor is incredibly important with video because it allows viewers to relate more easily and develop a feeling of trust and rapport with you.
Expertise about video and related topics
Though our speakers reflect a broad range of skills and experience, they have expertise in the areas that we know our fellow video enthusiasts care about. Between the four of them, they know a ton about SEO and video strategy, video concepting and production, using data to measure the success of video, and building an audience with great content.
We sought people who had experience with video, even if they were at very different levels. In fact, we considered different levels of experience a plus, since it'll allow attendees and speakers to relate better with one another across a broader range of skill.
The speakers for WistiaFest have different areas of focus within the realm of video. Some focus on video strategy, while others are more tuned in to the process of a regular video series. They represent some very cool video use cases. They also have a ton of experience in business, marketing, and entrepreneurship, generally. Not to mention some pretty awesome life experiences!
Existing familiarity or connections
Because this is our first time doing WistiaFest, we wanted to be certain that each speaker would be a great fit. For that reason, we mostly looked at speakers with whom we had some level of familiarity.
Given that we're hosting a single-track event, it seemed especially critical that every speaker be a good match for the vibe at Wistia. If a speaker came across as ill-prepared, or spent their whole talk selling their product or company instead of offering valuable information, attendees can't simply check out another option. Plus, these speakers all know a bit about Wistia and our way of doing things, so it'll be easier to guide them towards topics and styles that fit well with our other plans.
It's a bit narrow, admittedly, but we gravitated towards speakers we'd previously seen or heard ourselves. In subsequent iterations of WistiaFest, we look forward to casting a wider net. After all, there are plenty of talented producers, marketers, and business people out there who are eager to share their knowledge!
We were extremely grateful for the outpouring of enthusiasm for helping out, but we wanted to minimize risk for this first go-around so that we could be 100% confident that our speakers fit well with everything else that we're planning.
What's the analogy?
We've broken down the guiding principles behind our speaker selections, but what blog post is complete without the perfect analogy to bring it all together?
Finding speakers is like putting together a good wardrobe? Nah. It's like choosing the animals that will live at your zoo? No, that's really weird and borderline offensive to our fine speakers. (Apologies, fine speakers.)
Choosing a strong group of conference speakers is like curating a delicious charcuterie plate? Maybe.
Each item needs to be awesome on its own, but they also need to complement one another well. Here are some of our favorite charcuterie selections and the way we see them matching up with our WistiaFest speakers:
Mack Fogelson = sharp cheddar
Rand Fishkin = smoked gouda
Phil Nottingham = Stilton blue
Mathew Sweezey = dill havarti
Chris Savage = prosciutto
Chris Lavigne = jalapeño jam
We'd love to know how other event planners have put together their own speaker charcuterie plates. Got some advice about how to find good conference speakers, or the most important speaker attributes you look for? We want to hear them! Plus, we clearly need help with our analogies! Got a better one? Please share!