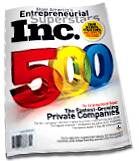 We wanted to wish a warm congratulations to two of our customers, Kiva Systems and RigNet for making the Inc 500 this year. Kiva Systems came in at an impressive #6. RigNet clocked in at a solid #452.
We look forward to all of our customers making the Inc 500 over the next couple of years as they continue to use more video. ;)
For the list of the top Inc. 500 companies take a gander here.