You can learn a lot about your videos from poring over your analytics and seeing where people are dropping off, what they're rewatching, and whether they're clicking play at all. But numbers will never quite be able to fully gauge the human response to your videos.
Jared (@jaredmcdaniel) from help desk software company Help Scout kindly let us publish our critique on this launch/mechanics video that they emailed to their audience, focused on a new feature called Workflows:
As a whole, we really liked the good product shots and the articulately-delivered script, but the video felt a bit long and could have benefited from a bit more energy. Read on for more thorough feedback from Chris, Ezra, Dan, Jeff, and Kristen!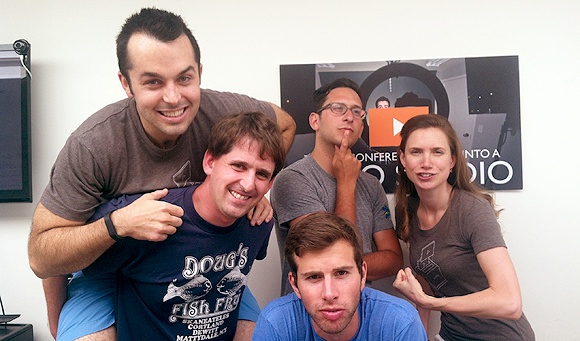 Acting
The main thing that stuck out as an area for improvement was the acting. Dan put it best when he said, "Jared did a great, great, great job of delivering a great script articulately, and the pacing was very comfortable for the listening, but it just needed personality for sure."
The team had some suggestions to get the energy and comfort level up:
Dan thought lines like "Here's what makes manual Workflows magical" at 3:05 were great in the script, but goofing around with some friends at a table read would've been clutch for a line like this.
Jeff suggested downing some espresso, a favorite pre-video ritual here at Wistia.
Chris thought Jared should have done something to "get loose" before shooting: "He comes across as friendly, but knowing what a smiley dude he is in person, I would have loved to see more authenticity in this video."
"You're launching something new and exciting," said Ezra, "As a viewer, I'm looking to feed off your excitement and gauge my level of interest from how pumped you seem."
Scripting and Concepting
Kristen thought that the video felt friendly and clear, with the tone and tempo contributing to her impression that Workflows are easy to use and will be helpful. Overall the team agreed that the script was clear but could have been trimmed down a bit.
In terms of structure, Chris would have loved to see more on how Workflows empower the user to do whatever they want at the beginning of the video, followed by mentioning that we're going to see a couple of examples. It wasn't until the end of the video that he realized how many options there were for Workflows.
Different people can react differently to the exact same content. Jeff loved the "timelessness" of the introduction: saying "here's a great productivity feature" instead of "here's a new productivity feature" means the video can be re-used in different places. Ezra, on the other hand, found it confusing: he wasn't initially sure whether this was a new feature or a re-introduction to something that was already in his account.
Along those lines, Ezra thought the video felt more like a combination of a "Launch" and a "Mechanics" overview, and could have been split into two videos: a simplified launch video covering high-level benefits and a mechanics follow-up getting into more nitty-gritty detail.
Production
Everyone thought that the product shots were great. "The screencasts were well-paced and framed," said Chris. "It was pretty easy to follow." Kristen, as a visual learner, would have loved some text-based cues about the main points, as it would have helped her keep track of the three examples of what you can do with workflows.
Chris thought the fade-to-blacks before and after Jared at 1:13 slowed the pace down too much, and the callout there could have been stronger. Jeff thought that the video could have used a bit more lighting.
Dan, our musician-in-residence, thought that the music was good but a bit too warm and fuzzy for this sort of video. "This feels more like testimonial-type stuff, and that combined with his mellow energy made for a peaceful, lullaby vibe—a great vibe for the right video, but not a launch/mechanics video."
He suggested experimenting with a few different tracks, perhaps selecting something a bit more upbeat since the video is on the longer side and music is a great way to keep the energy up.
Delivery
The video was delivered to Help Scout's audience via an email with a thumbnail that linked to a simple landing page: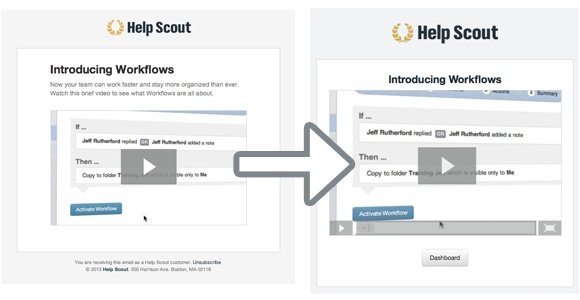 We like this approach and it's very similar to the one we use for our video emails here at Wistia: embedding video in email isn't a good idea, so directing users to a video landing page works well. Help Scout used Selective Autoplay so that when users click the thumbnail via email, the video plays when they arrive on the landing page as they would expect.
However, Ezra thought that the thumbnail in the email could be more enticing and colorful. "We try to include people in the thumbnails whenever possible because it makes email a little more personal and we've found that it drives higher click-through rates."
What do you think?
What did you like about this video? What do you think could have been improved?
If you have a video you'd like considered for this blog series, let us know by emailing submissions[at]wistia.com. Include the video itself, as well as a bit about what your goals were and how you think it's performed so far.