As with any new skill, content marketing has a learning curve, and getting started can be daunting. Luckily, all expert content marketers were once beginners, scrambling to learn best practices and create successful strategies. No matter where you fall in your growth path, it's always worthwhile to listen to passionate content creators who are helping to define and grow the space.
Cara Harshman is a Content Marketing Manager and Managing Blog Editor at Optimizely, a software company that makes it easy to test and personalize your website or mobile app. Put more simply, Cara Harshman crafts stories.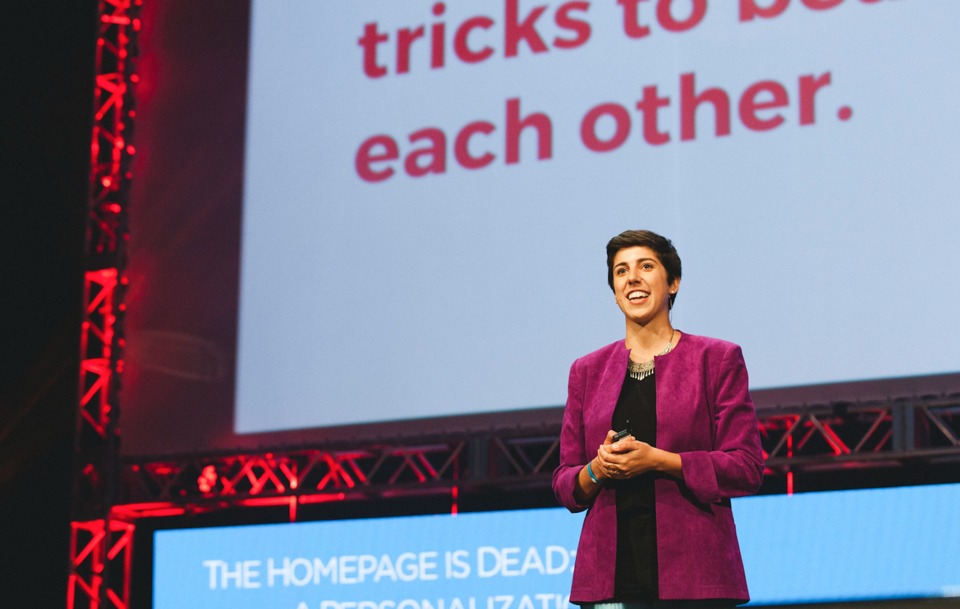 Cara speaking at Unbounce's Call to Action Conference
With experience in journalism, video production, webinars, case studies, and more, she is an accomplished and multitalented content creator. We asked her all about the evolution of content marketing, her favorite examples of quality content on the web, and how to get started with A/B testing.
Wistia:
Is there an evolution for content marketing? In other words, what kinds of content should companies begin with and move toward?
Cara Harshman:
Yes, an evolution exists, and I think you can split it up in two buckets.
The first bucket consists of the necessary information your sales team needs to sell your product. This is the content you should begin with. If you don't have a sales team, then it's the necessary information the consumer needs to make a decision about buying your product.
The thesis for these content pieces is: here's a problem, here's why you should care about that problem, and here are solutions for you to fix the problem. In the solutions section, you include the thing that your company offers—not explicitly, but you mention the solution in general.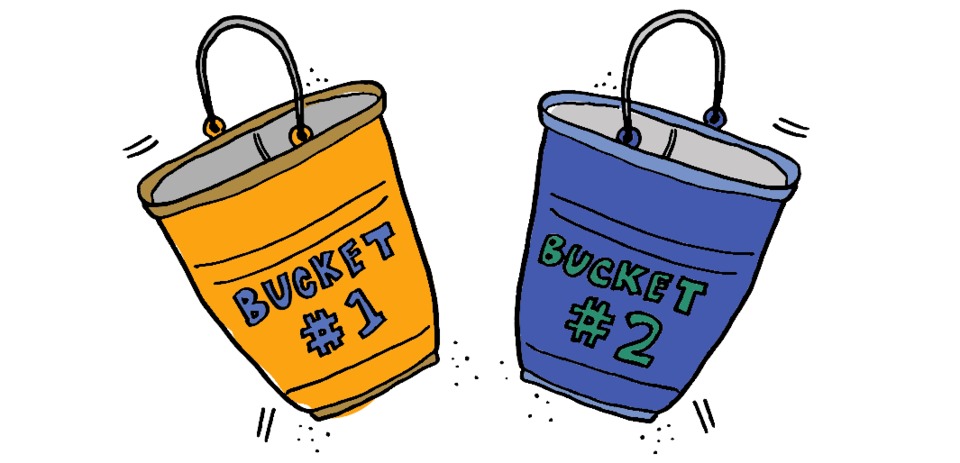 Once you create these pieces, your sales team is armed with answers to questions like "How can your company help me increase leads?"
The format for this content could be case studies ("How [Insert interesting company] did [Insert common business challenge] with [Your product]"), blog posts, or pages on your website that address the frequently asked questions. This all falls under the umbrella of "evergreen" content that has a long shelf life and gets used often.
To source this content, sit with your sales or support team. Have recurring meetings to understand the questions they're getting and what they need.
At Optimizely, we put all of this content in a spreadsheet called the "Content Matrix" and organized it by selling stage and intended audience. That way, we could see we had all of our bases covered.
"We put all of this content in a spreadsheet called the Content Matrix and organized it by selling stage and intended audience."
The second bucket that you move towards is more opportunistic, timely, content that follows the news cycles, or is coordinated with an event. To get this type of content done (and I don't think all content marketing operations get there) you need to have your ducks in a row, and your calendars planned out in advance, so you can quickly divert energy to something new when you need to.
Wistia:
What companies are doing content marketing really well, in your opinion? Why do they stand out?
Cara Harshman:
Three companies immediately come to mind, and their content shares three traits: it really empathizes with the customer/reader, it's straightforward, and it's easy to find.
1. Help Scout, a help desk software company. They have a gorgeous and incredibly thorough blog. They don't post everyday, and by the design and quality of each post, it's obvious that a lot of time, thought, and editing goes into each one.
Their resources are also a great example of top-notch content marketing, because they are so straightforward. Take the "Brief Guide to Better Email" and its tagline, "How to write support emails that your customers will love," for example. There's no confusion on what this will be about. That's a key part of effective content marketing in my opinion.
2. Betterment, a long-term investing platform. This New York company stands out in the financial services space as one that's creating a stellar content marketing program. Even their homepage headline is a piece of content that doubles as a call to action: they ask you to fill in the blanks with your age and income to "Get Started" with your investment strategy.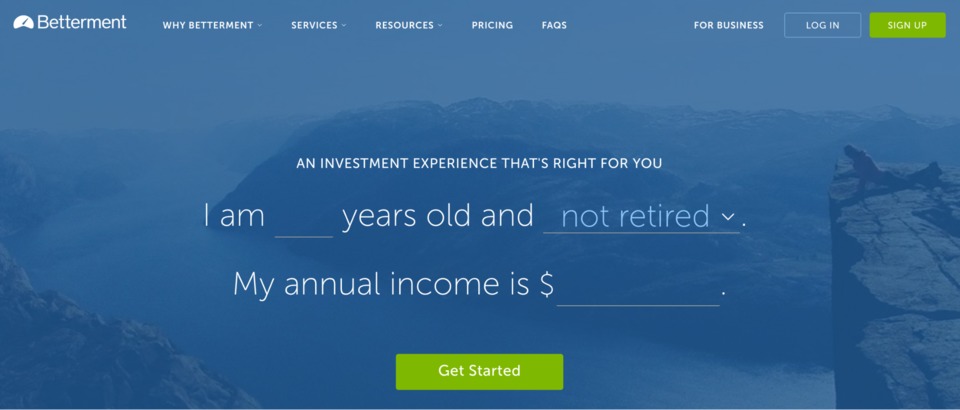 I like how their Resources drop-down menu on the homepage shows you the pillar pieces and saves you from unnecessary clicks. Like Help Scout, the topics Betterment covers are extremely clear. They just really want to help you learn how to manage and save your money, and their content shows it. Shameful plug: I'm in the process of switching from Schwab to Betterment, and their content has been a large driving factor in that decision.
3. Shopify, an e-commerce platform. Starting to sell stuff online is tricky and Shopify does a great job creating short and long-form content that respond to customer pain points. I know because I just started using it to host my mom's jewelry business, and I have a lot of questions!
The fact that their guides are all available as HTML instead of just PDF is delightful, and something we're migrating to at Optimizely as well. They do a lot of case studies, which I think fits a product like theirs extremely well. We want to know what other Shopify stores look like and how they came to be. Great example of content marketing with empathy.
Wistia:
What advice would you give to someone just starting out in content marketing?
Cara Harshman:
Full transparency, I learned what content marketing was and how to do it completely on the job! I joined Optimizely straight from the journalism world, so I had a ton of experience blogging and designing things, but I didn't even know what a lead was.
As a journalist, you have to always have a beginner's mind, since you are often writing articles about things you know little to nothing about. The key is being interested and curious. Find experts in the field and keep in touch with them. Ask them many questions. The first "thought leadership" piece I read on content marketing was Content Strategy for the Web by Kristina Halvorson. I devoured that book and really put its principles and strategy to work.
"The key is being interested and curious. Find experts in the field and keep in touch with them. Ask them many questions."
So I'd say three things to keep in mind are:
Have a beginner's mind with everything; be curious and ask a lot of questions.
Get your advice on how to be a content marketer from experienced content marketers. There's a lot of fluff out there. Try hard to sift the wheat from the chaff.
Learn how to conduct an engaging interview. This was a precious skill I learned in journalism school that has been vital in my content marketing career so far.
Wistia:
In terms of optimization for content marketing, what are some ways to dip your toes in? What are simple ways for marketers to start?
Cara Harshman:
Headline testing is a great way to dip your toes into the warm, welcoming A/B testing waters. Headline testing is simple, but can be extremely effective. It has come to be table stakes for big media companies like the New York Times – it's a smart and ubiquitous practice that all content marketers can easily do. You can use Optimizely's Wordpress plugin to get started.

I would start by testing how you position a high-traffic blog post, an e-book, or a webinar. Use clicks to measure the blog post, downloads to measure the e-book, and signups for the webinar.
Wistia:
How do you find the best opportunities to test? Are there quantitative or qualitative cues?
Cara Harshman:
In order to find great test ideas, you have to be open and humbly accept that the current experiences you're delivering may not be the best. With that, I have a few specific ideas...
Quantitative data helps surface specific pages that need optimization love – for example, pages with really low time on page or high bounce rate, or funnel pages with high drop off. Google Analytics and other similar tools show you where to focus, but the qualitative data will show you what to focus on and why.
"Quantitative data helps surface specific pages that need optimization love."
For the qualitative data part, you definitely need to be user testing. By user testing, I mean physically watching someone else interact with your website and talk out loud about the experience either in person, via a video chat, or a recording. You don't need many sessions – just 5–9 to get really helpful verbal feedback.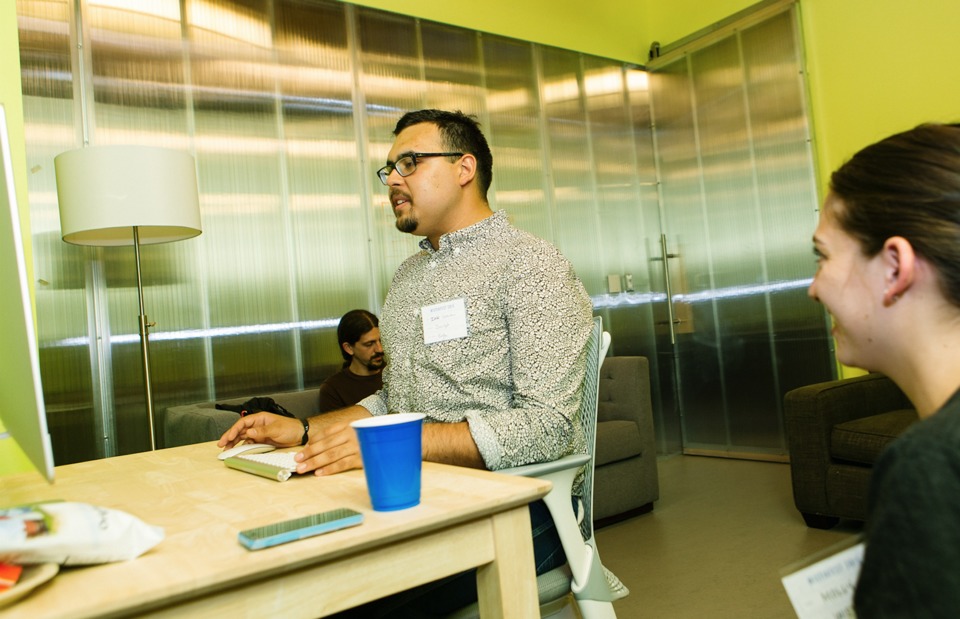 Hearing from actual users is hugely helpful because you can answer questions that a bunch of numbers can't. Google Analytics won't tell you why people aren't converting, but in a user test, someone could take one look at the page and say "nope, I don't trust it." And now you have a thread of A/B testing ideas to pull from.
Then there are heat maps – very interesting visualizations that show where most people scroll to, hover, and click on your site. If you are open to change and actively seeking input, the ideas will come naturally. Prioritizing them will soon become the hard part ;-)
Wistia:
What are the most common mistakes people make when trying to optimize their content?
Cara Harshman:
I'd say the top mistakes are:
Coming up with ideas out of thin air and expecting them to have a huge impact. Doing research to inform your test will absolutely increase its significance.
Making subtle changes and expecting them to have a huge impact. Especially if you don't have a lot of traffic, you need to be more radical in your tests.
Failing to come up with hypotheses for tests. This goes back to the first mistake on running uninformed tests. Your testing program will be better if you have a hypothesis.
Wistia:
Have you done A/B testing with video? What are some elements that you would try testing first?
Cara Harshman:
Wes Fleming, our brilliant video producer, has performed some testing. I asked him what he has done, and he said, "The only real testing I do is in the timeline. For instance I will post a video, and if I see there is a certain drop in engagement somewhere, I will then inspect what is there (music, graphics, talking head, etc.). We've made a few editing adjustments based on this, and I've increased engagement by a few percentage points. One example is one of our product launch videos. I changed the music, and it improved engagement slightly."
Things I would recommend testing are:
Video thumbnail (measure which one increases play rate)
Play button style
Music (which type of vibe increases engagement)
Headline describing the video
BLOG » STRATEGY

A/B Test Your Videos. Here's Why.

We split tested an onboarding video and learned some valuable lessons.