This past spring we held a webinar with Wistia for alumni relations and fundraising pros on how to use video for advancement, but afterwards we were left wondering: "What has our team here at Evertrue done with video?"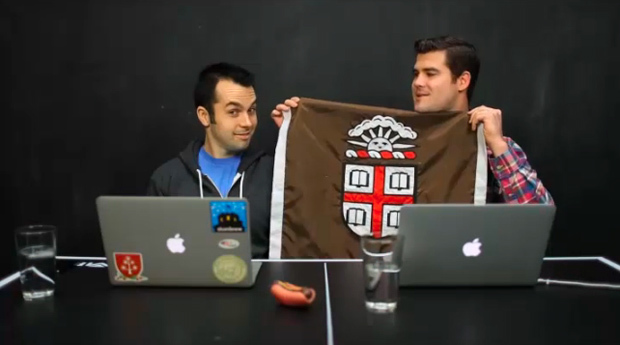 Yes, we did an explanatory animation video in-house that we're proud of. We also ventured into Wistia's Down and Dirty Lighting Kit for a NCAA bracket analysis. But creating video so good even our parents would share it with their friends? Nope.
So when it came time to craft a plan for creating authentic, shareable video content, we looked first at what makes our team unique.
Evertrue's Rules of Video Production for Startups
Rule #1: Play to your culture.
We love reunions. College reunions, high school reunions, TechStars reunions, you name it. Over the last two years, many of our customers have invited us to attend reunions to launch our alumni networking platform to their communities. We've attended so many reunions that the concept of "Reunion Crashing" became a joke around the office. That was the inspiration for our "Wedding Crashers" parody.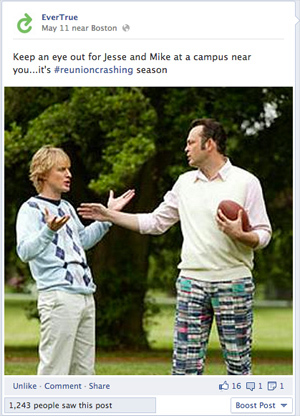 Rule #2: Make sure your target audience "gets" what you "get" before investing in your production.
Eric Ries, author of The Lean Startup, advises startups to "test assumptions you've made about your business, its customers and how you're serving them." So in keeping with Ries' advice, we tested a Facebook post (left) to see whether this concept would resonate with our followers.
Rule #3: Find expertise in your network but keep ownership (you know your audience best!).
Once we decided to take the risk and invest in the project, we searched our networks to see who we might know already to help us out. Our talented director, Courtney Petrouski, is dating our UI/UX designer. Our fantastic cameraman and editor, Elan Alexenberg, had done work with one of my college roommates. They were excited to build their respective portfolios and were able to work with our $3,000 budget.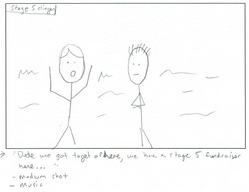 Throughout the production, it felt like we were doing the project in-house. Courtney and Elan provided guidance while giving us creative license to improvise with scripting and screenplay. They trusted our intuition about what might resonate with our audience.
Courtney, myself, and our design team met twice prior to the day of shooting to draw out a screenplay and develop a script. After deliberation, we decided a movie trailer format would work best. Courtney worked with Elan to finalize roles and other filming logistics before we arrived to campus.
Rule #4: Be flexible on filming day.
When it came time to film, we let our stars, Brent and Jesse, work their magic... mostly by simply letting them be themselves. Courtney was flexible in our planned schedule and took advantage of the environments we had available, such as the "office scene" that we shot in the Harvard library. Elan also lead the effort to get as much good footage as possible to bring the end product below to life.
Rule #5: Promote through multiple channels.
If it's exceptional content, it will get shared - even by our parents! Once we felt confident that the video was ready for prime time, we uploaded it to Wistia so that we could a.) track who was viewing our content b.) customize the video's layout, and c.) collect potential leads through Turnstile, which went straight to our leads database in HubSpot and subsequently to Salesforce.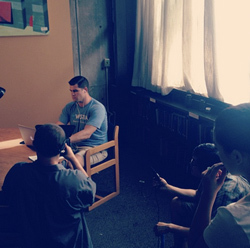 After an email campaign to our clients and prospects, along with social sharing and being picked up by BostInno, we were pleased when we logged back into our Wistia dashboard to see the results in real time.
To date, we've had nearly 4,000 plays and 87% engagement on average. From a sales and marketing perspective, we generated new leads and sparked interest with existing leads. Within the Wistia analytics, we could see when our video made its rounds in specific offices of specific clients and prospects. We all watched enthusiastically as our analytics informed us that the Yale annual giving team was watching and rewatching Reunion Crashers.
Culturally, Reunion Crashers was a fun way to differentiate ourselves from legacy (boring!) competitors and to raise awareness with our peers in the startup community.
A Rookie Mistake
One lesson we learned on the lead capturing front was that we should have not put our Turnstile at the very end of our video. If we put it earlier in the video, we would have likely gathered more leads (see the engagement drop in the final seconds below).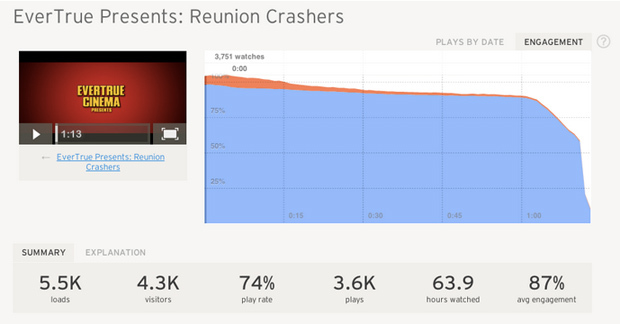 As any reunion crasher knows, as the campus changes, the rules sometimes do too. We know that the rules for startup video are always evolving. We're also pretty sure that as we try to brighten our audience's day with a laugh or a piece of useful knowledge, we'll hit plenty of off-camera speed bumps along the way. Yet, this would have never taken off without jumping into video head first, so we suggest that your company gives it a shot too!
Have a how-to or culture startup video that you just love? Share in the comments below!