Eric Hinson is the Founder and CEO of Explainify, which specializes in short, engaging, remarkable explainer videos for businesses. You can see a wide selection of videos they've produced in their portfolio. If you're interested in learning more about how Explainify helps companies tell their stories, sign up for the newsletter on their homepage.
This is guest post #4 in a series from Explainify:
It's clearly important to get views on your videos, but with 72 hours of video being uploaded to YouTube every minute, your chances of striking internet gold are pretty tiny. In a study by Slate, 0.3% of videos uploaded will ever see over 10,000 views, 3% will pass 1,000 views and 65% fail to achieve a mere 50 views. You might have better luck playing the lottery than being the next YouTube star.
To top it off, if viewers share your video on YouTube rather than your home page or sales page (somewhere you have the potential to convert them), you are seriously missing out on the equity that link provides. A YouTube video could be great, but it might make no sense outside of the page it was created for.
If you're creating the next "Charlie bit my finger" with no business benefit in mind, then sure, get as many views as possible. But businesses don't necessarily benefit from that - so we won't be discussing "going viral."
Holistic video marketing
Businesses are looking for a more holistic approach focused on the entire marketing funnel, not just attracting new leads. In fact, over 80% of corporate market value is now represented by your brand, relationships and other intangible assets.
This means having great video on your website as a part of the marketing mix: video that explains your business well and with which website visitors truly engage. This means having regular video content that can be sent out to an email list to announce product news, webinars, educational resources, how-to videos and even support videos to lessen the burden of your support personnel.
There's a critical distinction to make in order for people to be more successful with web video, to set the right goals, and to get started down the right path. You have to stop associating "video marketing" with YouTube and getting tons of views or going viral.
Here are some tips for getting your video in front of the right eyes.
1. Make videos for your core audience
If you're talking in a way your viewer can't easily grasp, you're going to lose them. If you're talking to the wrong person, you're likely going to lose their attention. You have to know who your audience is before you even start to make the video. Once you know who you need to talk to, focus on your core audience.
A problem that people often have is that they make a video for "everyone." You need to accept that not everyone is interested in what you've got and focus on your niche, which will be a much smaller audience. I know, it's freaky, but you can get higher engagement from people who are interested than from a broad scope of everyone who probably isn't.
Ideally, you'll focus on your customers, people who've tried your product, your Facebook and Twitter followers, your email list contacts, and anyone in your circle of influence. If your immediate audience is interested, they're more likely to share with their audience and connections. Your circle of influence grows as a result.
2. Post your video on your website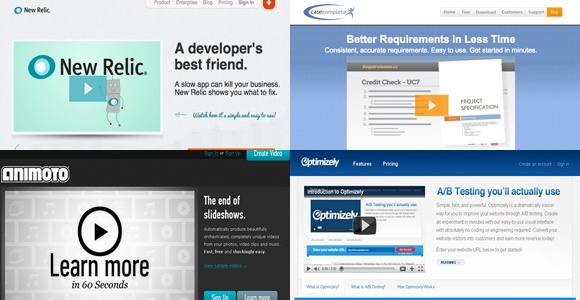 Posting your video on your website is a great way to get people to interact with your site! We recommend that the video be placed at the top of your homepage (above the fold), at least 640x360 pixels in size. You put a lot into your video, so why hide it on a subpage or as a tiny, hard-to-view video on a sidebar?
Video is the best way for people to quickly understand what you're all about, so let them see it first. A recent client of ours had analytics indicating that their "About" page gets ten times more traffic than their homepage, so their video would probably be better suited on the "About" page than the home page. That part's up to you.
Encourage sharing by enabling social share links within the embed code. Include a play button smack dab in the center and a short description (and possibly mention how short the video is). Minimize the amount of text on your homepage to draw the attention to your video and your main messaging. Use an enticing thumbnail.
End with a post-roll call-to-action. These are pretty amazing. Someone's just invested 60 seconds of their life to hear your message, and now you have their undivided attention. Why not ask them a question or tell them to take a next step? You control the experience before, during, and after the video.

3. Blog about it
Write a blog post about your new video. Make sure your readers know right away that there's a video in your blog post: don't just post a link, and don't make it too small. We recommend embedding the video at around 640x360 pixels at the very top of the post.
Don't neglect having text content in the post. Text gives your viewers some context around the video and could entice them to watch it. Plus you could drive better search engine results to your blog and draw in some business leads.
End with a call to action. Encourage others to share the content, like you on Facebook, sign up or whatever else you want. Don't miss out on this opportunity.
4. Email it out
This is a great time to reintroduce yourself to your clients/customers/leads through your new video! Send out an email promoting the video, encouraging viewership and urging your loyal client base to share it through their different social channels.
We recommend you make the video the focus of the email so your reader is more likely to click play. Once again, choose an engaging thumbnail and include a play button.
Adding video to your email can also be a great way to increase click-through rates and engagement.
5. Find influencers
Simply making a video and praying it will be successful should not be a strategy or objective. You want to identify with influencers who will love your video! This means that you don't necessarily need to get it out to millions of people, but to key influencers who will get it out to their group, and so on -- views that matter to the success of your business.
Make sure that you choose your influencer category accordingly. For example, if you're a bakery you'd want to get in touch with bloggers that write about food and desserts on board to seed your video. They can create content around your video and share with their large follower base, who will then share with theirs.
Influencers, often successful bloggers, get a ton of inquiries about this, so you need to step up your game a bit. Don't use impersonal form emails, and try to build a relationship before you ask for something big. Consider developing that relationship via Twitter or Facebook. Remember, the question they're asking themselves is, "How can my readers benefit from this?" so provide some value in return.
6. Share your video on social media
Be strategic and work hard to get your video seen! Think of places where your audience hangs out on the web: other blogs, forums, Facebook groups, websites, etc. Seek them out and connect with people where they live. Be authentic and conversational - don't use business jargon. People will listen and believe in what you do if you show them your passion.
Make sure you keep them talking about your video, campaign or business. Answer questions that come up in the comments and stay engaged long after the video has been released.
Resources: