Knowing more about your video audience can help inform your overall strategy and allow you to be more effective in future marketing efforts. Geographic data, in particular, can pinpoint where your most engaged audience is, and conversely, where you need to adapt your plans to improve awareness.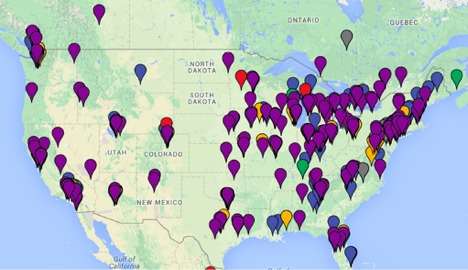 Lucky for us, Jeff and Mike of Starting Point Digital created their own system for viewing geographic data from their Wistia videos in aggregate. Jeff kindly made his own video to walk us through the process:
"Basically, I export the stats in a CSV file from the Trends video page on Wistia," Jeff explained. "From there, I import the CSV spreadsheet into my Google My Maps account and use the latitude and longitude as my placement markers."
"Being able to map your audience and measure their engagement opens up new opportunities for you to be more strategic with your on-line video and marketing efforts," he added.
Useful applications
Now, let's say for a minute that you work for a company with offices across the country, or even the globe. As a member of the video team, you've put a lot of time and thought into creating an internal video library, and you'd like to see which offices are taking full advantage of the resource. With Jeff's map hack, you can assess which offices are tuning in, and which ones need more encouragement.
Likewise, if you are a small business that relies on customers within a certain proximity, like a dentist office, this mapping tactic could be particularly useful. What if you realize that your videos are primarily being viewed in areas not even remotely close to you? You might consider optimizing blog posts that include geographic keywords or beginning to sell products in those remote locations.
If nothing else, taking note of geographic data can prompt you to think about how you might better leverage your video content to benefit your business.
If you are interested in learning about additional insights that can be gleaned from audience location data, Jeff and Mike created a follow-up video and step-by-step guide.