We had a blast saluting the GoPro last week, but the biggest win was in seeing the incredible things you have all done with this tiny, powerful camera. Without further ado, here are some of the best moments from #GoProWeek, from within the Wistia Community and beyond:
Jameon Rush shared this video he made with Heartland Bank to show off their new feature, mobile deposits:
Another great example of using the GoPro to show a personal POV shot is this piece by IndieWhip. It uniquely inspires a certain emotional response from the viewer, since you are put in the video subject's shoes:
Dan Freund, who is all about mobile video, shared his workflow using an iPhone and a GoPro together: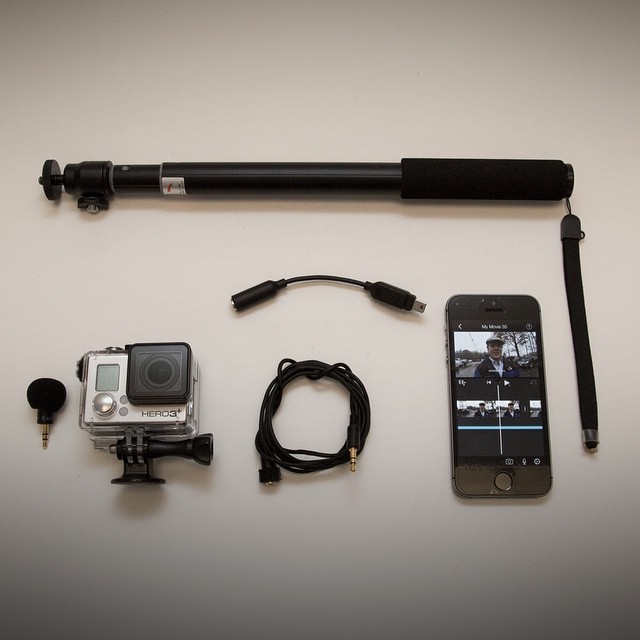 Then Taylor Goddard blew our minds with some GoPro innovation that went beyond our wildest dreams. He wore the camera while accepting an award, but I don't want to spoil the rest, just watch:
We also had a great conversation on Twitter about different ways to use a GoPro for your business. Here are some highlights from the discussion:
@wistia A1: I use it for B-roll/timelapses in testimonials +getting those awesome shots of wagon races. https://t.co/VryYVMunHj #GoProWeek

— Max Anderson (@ThePicnicTree) November 20, 2014
A1 #GoProWeek we use GoPros for behind the scenes timelapses, that we post to our social media accounts: https://t.co/xie025ZIEJ

— Jared Serfozo (@JaredSerfozo) November 20, 2014
#GoProWeek A2: In post, using optics compensation in AE to flatten out the fisheye effect to look more cinematic was important as well.

— IndieWhip (@WeAreIndieWhip) November 20, 2014
A2 battery is an issue. I bought the non waterproof case which has an opening to plug it in to a camera source while filming #GoProWeek

— DannyLoeschen (@DannyLoeschen) November 20, 2014
#GoProWeek A3: We use #GoPro when we need something more portable to capture quick motion and for super wide shots/unique perspectives/POV

— Red Ventures (@RedVentures) November 20, 2014
"A1" @MixerDirectINC we use a @gopro a lot to show what is going on inside our tanks when mixed. A super visual way to explain #GoProWeek

— DannyLoeschen (@DannyLoeschen) November 20, 2014
A1: Works for great for first-person POV shots, shots in confined spaces, and shots with water, dust, or potential impact. #GoProWeek

— Jameon Rush (@JameonRush) November 20, 2014
@wistia yeah, I was looking for a quick/budget way into your #GoProWeek but might have to wait for Santa instead!

— Steven Howe (@StevenHowe) November 17, 2014
Thanks to everyone for an awesome #GoProWeek! We learned a ton, and can't wait to see what else you do with this unique piece of gear. Keep us posted on your GoPro adventures!