As we prepare for our conference, WistiaFest, in May, and welcome more and more new faces to our Cambridge, MA, office, now seemed as good a time as any to document the recommendations that we so frequently (and eagerly) give our visitors! In case you couldn't tell, we love our new digs in Central Square, and one of the best perks is our proximity to pretty much every one of our favorite Boston-area neighborhoods.
Feel free to hit us up in the comments if have any questions, or if you feel that any of your favorite places is conspicuously absent!
---
Eats | Coffee and Snacks | Drinks and Nightlife | Music | Nerd Life | Fitness
---
Eats
---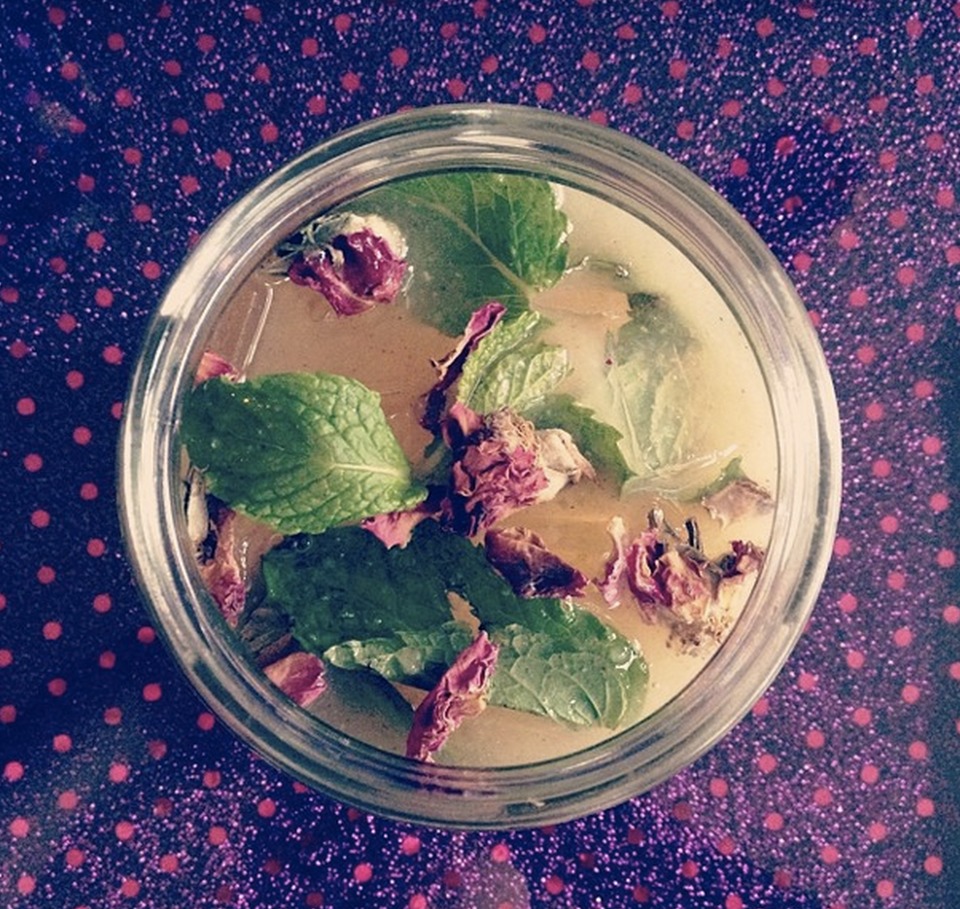 Photo courtesy of Elise Ramsay.
Baraka Cafe / 80½ Pearl Street, Cambridge
Must try: Crepes, lemonade.
It seems fitting that Baraka Cafe is located at "80½ Pearl Street," as it's a bit of a quirky place. Stepping inside feels like entering someone's living room, if that someone had an affinity for repurposed bellydancing costumes. The food is North African/Tunisian, and the service is… a little gruff! But it's all part of the charm, and the food is really wonderful, not to mention cheap. Make sure to get one of the crepes and the lemonade. -Elise
---
True Bistro / 1153 Broadway, Somerville
Must try: Small plate: Housemade ravioli. Large plate: Blackened seitan. Dessert: Apple cobbler.
True Bistro is truly a vegan restaurant. Hence the name. Dining here will change your life. Or at least it will change your perception of vegan... for the better… way better! I guarantee you will not believe that what you're eating has no meat or dairy. It's that good. You'll thank me later. -Adam
---
Highland Kitchen / 150 Highland Avenue, Somerville
Must try: Snack on the ricotta & mozzarella fritters and the buffalo-fried brussel sprouts. Sip on the deliciously tart Sheraton Commander cocktail or subtly spicy Mark'n'Stormy.
Located in Somerville, Highland Kitchen was voted Boston's "Best Southern" in 2013, but even this impressive title doesn't fully encompass its awesomeness. If you like an establishment with a menu full of comfort food and a vibe that's still young and hip, then this is the place for you. The Kitchen is fresh, quirky, and comfortable. It seems that the rest of Boston agrees, because this joint is lively even on weeknights, so be prepared for a short wait! Luckily the bar area is spacious and equipped with some seasoned veterans to keep you hydrated while you hang out. -Maddie
---
Sapporo Ramen / 1815 Massachusetts Ave, Cambridge
Must try: Spicy miso ramen.
Located in Porter Square and slated to open a second location on Massachusetts Ave in Central Square (the same neighborhood as the Wistia office, score!) soon, Sapporo has been one of my favorite places to eat in Cambridge since my college years. While other ramen joints have opened in the area recently, Sapporo offers just the right amount of menu variety, tasty broth, and plenty of noodles. While it doesn't match up with ramen I've had in other cities (Ippudo in New York City might be the best I've ever had), it gets a high score from me as a convenient Boston option that caters to plenty of different taste profiles (unlike nearby contender Yume wo Katare, with its single porky menu option and a vegetarian Sunday pop-up). It's busy at peak hours, but the line usually moves fast. -Alyce
---
Moody's Falafel Palace / 25 Central Sq., Cambridge
Must try: Chicken/lamb shawarma wrap.
Looking for a late night snack or a quick bite on the go? Please go here instead of McDonald's! Falafel Palace is located right in the middle of Central Square (look for the place that looks like a small castle) and is open late (11:30 pm Sun-Wed and 3:00 am Thu-Sat). They serve an assortment of Middle Eastern food and I've never been disappointed with a selection. There's limited seating so definitely plan on a to-go order. -Ezra
---
Clover Food Lab / 1075 Cambridge St., Cambridge
Must try: Brussel Sprout Sandwich or Chickpea Fritter.
Clover is, quite simply, a fast food vegetarian spot. But don't call it that in front of them… they might get offended! Rather than "fast food," they like to refer to it as "good food quickly." Clover focuses on simplicity. They source their ingredients from as many local farmers as possible, which keeps all of their food extremely fresh. If you're a carnivore, don't let the vegetarian menu keep you away! Grab a side of rosemary french fries and breathe it all in. Sit at the bar and watch everyone prepare ingredients at their home base restaurant in East Cambridge. -Chris L.
Coffee and Snacks
---
Diesel Café / 257 Elm St, Somerville
Must try: Iced coffee, banana muffins, Lewis & Park salad.
When the Wistia office moved from Davis Square to Central Square, the most difficult thing to lose was easy access to Diesel Café, where I found the holy grail of my Perfect Breakfast (a vegan banana muffin and iced coffee). While I'm sure my wallet is thanking me for switching to oats and the coffee we have in the coffee, my soul still occasionally yearns for that unmatched burst of morning energy. They also have plenty of tasty, healthy lunch options and fun coffee and tea options to try out, plus a super friendly staff. -Alyce
---
Cafe Luna / 403 Massachusetts Ave, Cambridge
Must try: The Roma sandwich or the Fiesta Chicken Salad.
Looking for a delicious coffee or tasty sandwich or salad just a few blocks from Wistia HQ? Well look no further than Cafe Luna! Walk North from Wistia to Central Square, and right across the street from the firehouse you'll find a delightful cafe that makes the best cup of Blue Bottle coffee in town. Their friendly staff will make you a breakfast or lunch that'll have you happily stuffed, and ready to take on those hands-on Wistia workshops like a champ. You can't go wrong! -Dave
---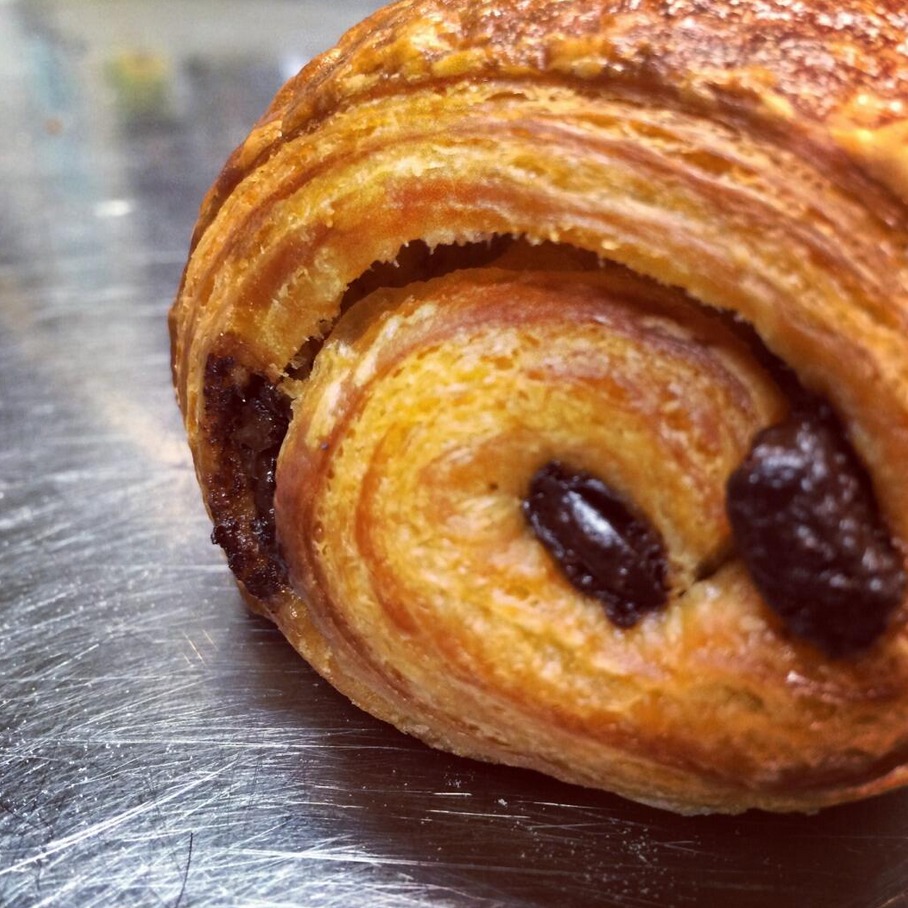 Photo courtesy of Dwelltime.
Dwelltime / 364 Broadway, Cambridge
Must try: Cold brew, chocolate croissants.
Although Dwelltime's prices are a bit higher than the average nearby café, I still make sure to pay an occasional weekend visit to indulge in their incredible cold brew. Like, this stuff is basically the caffeinated equivalent of ambrosia: all the things you like about drinking coffee, none of the things you don't, and a perfectly balanced buzz. If you're hungry, the pastries are also worth a try: their chocolate croissants are buttery perfection, and I usually don't even like croissants! -Alyce
---
Toscanini's Ice Cream / 899 Main St, Cambridge
Must try: Belgian Chocolate or Hazelnut.
With amazing ratings by both Gourmet magazine and The New York Times, along with several Best of Boston awards, you can safely say that ice cream at Toscanini's is a no-brainer. Since its inception in 1986, Toscanini's has made hundreds of different flavors, and rotates through them seasonally. With around forty flavors available at any time, you're bound to find a delectable treat. -James
---
Tatte / 318 3rd St, Cambridge
Must try: The fresh mozzarella sandwich cannot be beat (read: it's smothered in pesto), and the mint lemonade is practically a requirement.
Tatte Bakery may sound like a pastry dealer by name, but it also happens to be one of the most charming and delicious breakfast/lunch spots in Cambridge. Full of natural light and bustling with Kendall Square's young professionals, it's the perfect place to stop for a bite. If you're like me, you'll be too stuffed after lunch to enjoy the bakery, but be sure to grab a pastry to go! -Maddie
---
Pavement Coffee / 44 Gainsborough St, Boston
Must try: The Spanish Latte will quite literally change your life. Steamed, sweetened condensed milk poured over a shot of espresso. It's made with love and the knowledge that this latte will ruin all other lattes for you… like, forever.
Looking for somewhere a little more low-key to get some work done or rendezvous for a coffee meeting? Allow me to introduce you to the best coffeehouse in Boston, Cambridge, or anywhere else, really: Pavement. Equipped with plushy velvet armchairs, free Wi-Fi, and communal seating as far as the eye can see, this place is a rare gem. The idyllic atmosphere is rivaled only by the exquisite coffee, which makes it a perfect 10 in my book. Its three locations are located in Boston proper, but this is one trip you won't regret. The Gainsborough St. location, just down the street from the Symphony MBTA stop, is my personal favorite. -Maddie
Drinks and Nightlife
---
Green Street / 280 Green St., Cambridge
Must Try: Peanut Malt Flip, fried yucca.
Some nights, you want to sit in a dive bar and feel like you're "mad chill" and "mad frugal." Other nights, however, you want to be a high maintenance diva and drink a fancy, well-crafted cocktail. That's where Green Street comes in. Although the atmosphere is pretty casual and the staff are laid back and friendly, they don't skimp on the beverages. While you'll be handed a list of 10 or 20 cocktails when you arrive, asking for the extended menu opens up a world of other possibilities, so even the most indecisive drinker will never find herself bored. My personal favorite is the Peanut Malt Flip, which includes scotch, egg white, and peanut butter and resembles a drunken smoothie. I would not recommend consuming more than one of these in a night. -Alyce
---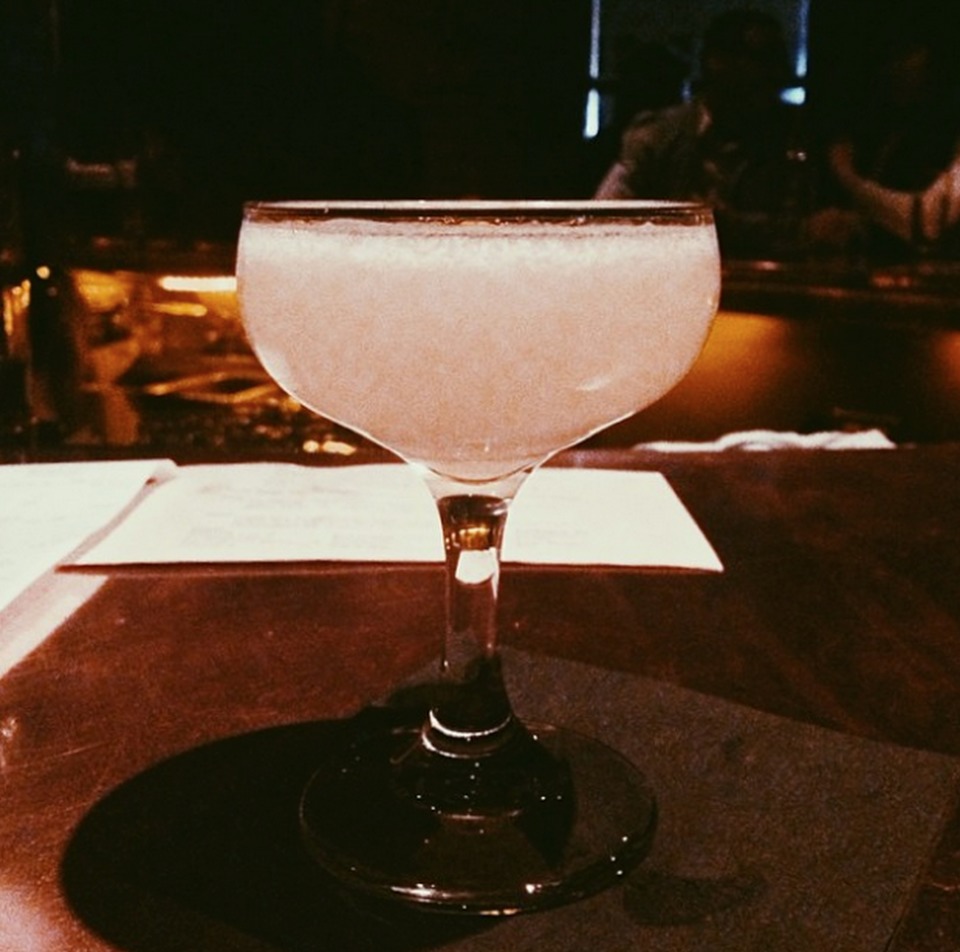 Photo courtesy of Jenny Hong.
Brick & Mortar / 567 Massachusetts Ave, Cambridge
Brick & Mortar is a great combination of hipster cocktail bar and casual hangout. Despite the copper bar and secret entrance, it's somehow not pretentious, which allows Wistians to gather here regularly. If we're okay in our hoodies and jeans, you'll be fine. The menu is limited, but delicious, and the bartenders are great at making things up on the spot if you give them a few hints to your taste. It's a little hidden: go through the unmarked door to the left of Central Kitchen, and up the stairs. You won't regret it! -Elise
---
Parlor Sports / 1 Beacon St., Somerville
Must try: Goldsberry Basket (and ask for chipotle mayo instead of mustard).
Parlor Sports is the ultimate combination of a diverse beer selection, tasty food, cozy surroundings, friendly patrons, and about as many TVs as there are people in the bar as you'll find anywhere. Whether you're into local Boston teams, teams from afar, or an avid bocce fan, there's a very great chance you can get the game you want on a television. Don't miss that pivotal rivalry game of your favorite club just because you're not home—instead, enjoy it with some new friends and even perhaps a couple supporters also away from home. -Jordan
---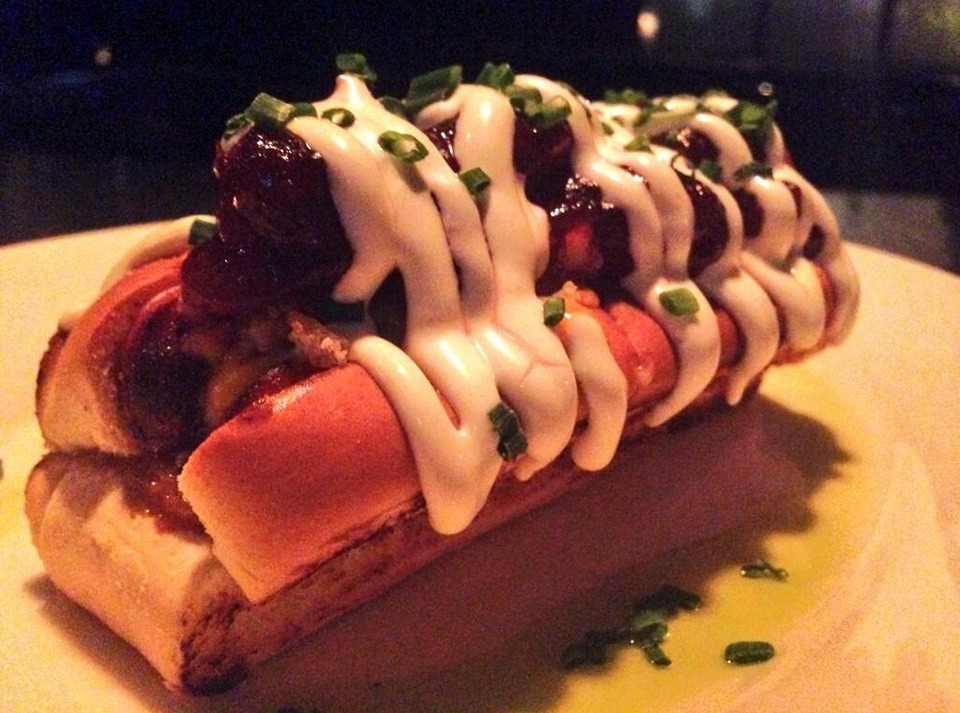 Photo courtesy of Trina's.
Trina's Starlite Lounge / 3 Beacon St, Somerville
Must try: Mull It Over cocktail.
Connected at the hip with Parlor Sports (and owned by the same awesome folks), Trina's is geared more towards a sports-free environment. Trina's bread-and-butter are a great selection of interesting cocktails and a separate (but equally delicious) menu of comfort food of the highest caliber. Chicken and waffles, inspired hot dog of the day, New England clam chowder—how can you go wrong? If you find yourself available and ready to brunch on Monday, they're also an excellent spot to keep your weekend rolling. -Jordan
---
The Druid / 1357 Cambridge Street, Cambridge
Must try: Fish and chips.
Sometimes, all you need is some delicious Irish food with a quality beer in a cozy little pub. Or, well, at least I do. If that's also your style, The Druid is the place for you. Perhaps some fish and chips served in a newspaper with a Guinness is your style. Maybe a solid Irish breakfast for brunch with one of the city's best Bloody Marys. Or better yet, get any of those while enjoying some live, traditional Irish music. Things can get a little packed in there, but it's well worth the cramp and the wait. -Jordan
---
The Field Pub / 20 Prospect St., Cambridge
Must Try: Outdoor back patio.
When the weather finally turns the corner in Boston, the back patio at The Field is one of my favorite hidden spots. Wander past the bar, to the back room, and then out the back door to find this little oasis. Okay, the view could be better, but I'm a sucker for any outdoor drinking. -Ezra
Music
---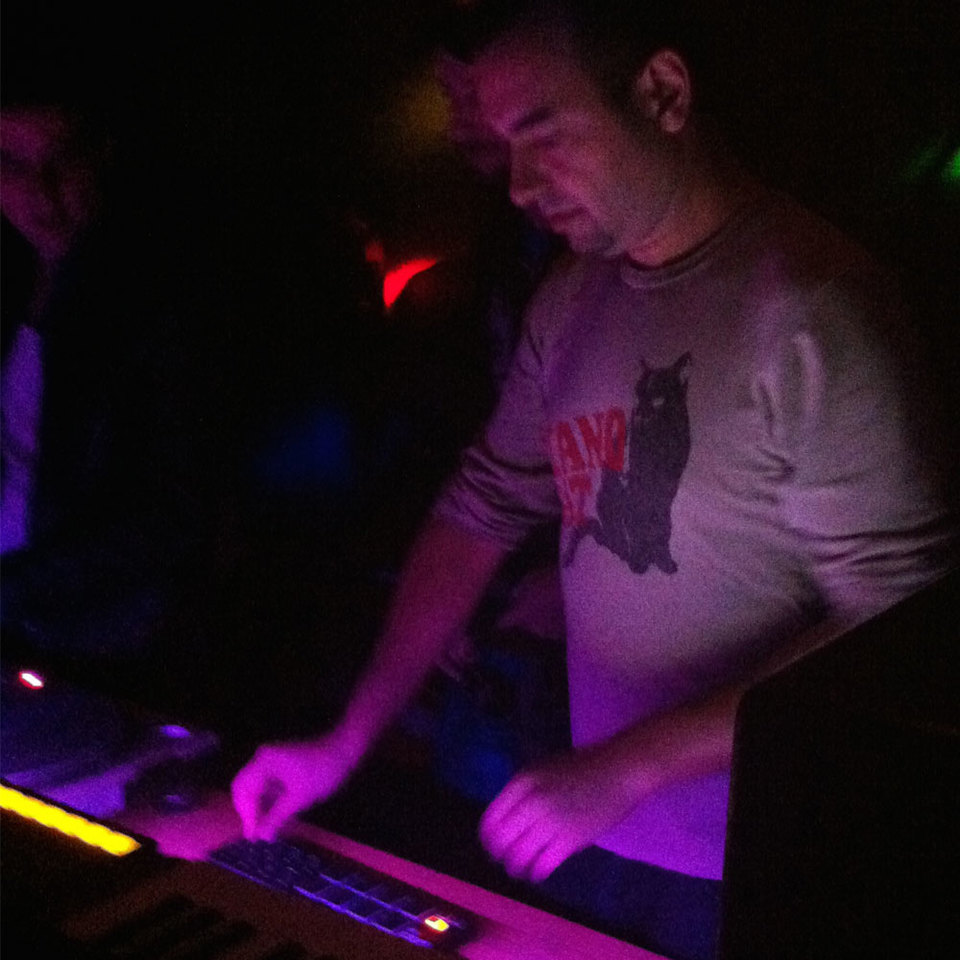 Photo courtesy of Alyce Currier.
Middlesex Lounge / 315 Massachusetts Ave, Cambridge
Must Try: Make it New on Thursdays, mojitos.
Going to Middlesex Lounge on a Friday or Saturday is a mistake by my standards, unless you want to deal with belligerent crowds and pushy dudes who don't know how to handle their liquor or hold their tongue. However, Middlesex is host to some of the best electronic music nights in the city during the week. The weekly Make it New features international DJ talent on the regular (think Legowelt, Bicep, Eats Everything, Ben UFO, Martyn), and there are other less regular nights that are quite fun as well. When they're not hosting DJ events, they can be found hosting nerdy talks, or even an occasional Magic the Gathering night. Check the schedule on their website to see what's scheduled on a given evening. -Alyce
---
Phoenix Landing / 512 Massachusetts Ave, Cambridge
Must Try: Elements drum & bass Thursdays.
Another place that I tend to avoid on the weekends, Phoenix Landing is nonetheless central to Boston's electronic music scene during the week. The longest standing dance night in the city, Elements, is hosted here; the 15-year-old drum-and-bass weekly takes place every Thursday (even on Thanksgiving!) and features great international DJs and producers as well as awesome residents (recent guests have included Om Unit and Black Sun Empire). Also noteworthy are RE:SET Wednesdays, which focus on house music and also book plenty of touring DJs. -Alyce
Nerd Life
---
Pandemonium / 4 Pleasant St, Cambridge
As a very casual strategic gamer, I've never participated formally in an event at Pandemonium (aside from watching over friends' shoulders), but I still find it to be a little utopia, not far from our office in Central Square. Whether you're looking to pick up the latest board game, stock up on Magic the Gathering boosters, or play a quick game with your friends during which you might accidentally pick up some new acquaintances. Both the staff and the attendees at Pandemonium tend to be super friendly, and it's one of my favorite places to spend a lazy Saturday or Sunday afternoon. -Alyce
---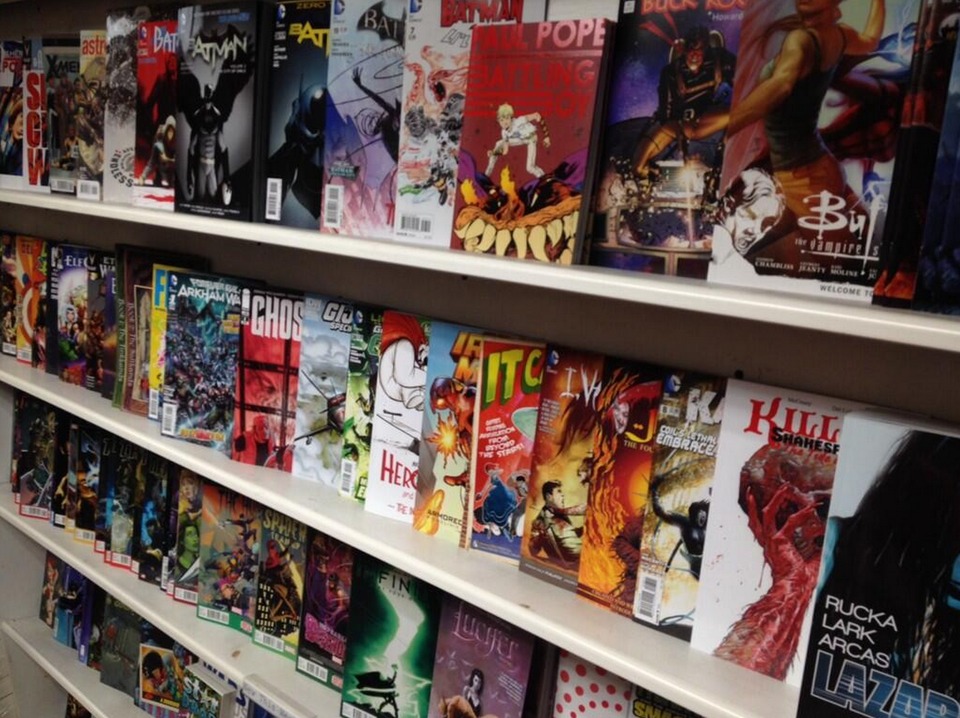 Photo courtesy of Comicazi.
Comicazi / 407 Highland Ave Somerville
Do you find yourself to have hobbies, perhaps of the nerdier persuasion? Many of us at Wistia do. One of a couple really prime spots to indulge in hobbies such as comics, Magic: The Gathering, etc., is a shop right in the heart of Davis Square called Comicazi. Featuring a fairly substantial inventory of comics and collectibles and friendly/helpful staff, it's the perfect place to either get your fix or get introduced to the world of hobby shops. If you fancy yourself a Magic: The Gathering or Pokémon card player, they feature weekly tournaments with prizes (you will see me there most Sundays). In addition to the card game tournaments, there are events such as Drink and Draw on Tuesday nights or Open Gaming Wednesdays. -Jordan
---
The Harvard iLab / Batten Hall, 125 Western Ave, Allston
The iLab is a constantly-buzzing hub of innovation and entrepreneurship. It brings together not only students across Harvard University, but also members of the local community. Stop by to visit the community lobby and café, or sign up ahead of time to ask for a tour of the iLab. They have one of the best stocked kitchens and drink machines around! -Kristen
---
Artisan's Asylum / 10 Tyler St., Somerville Must try: Take a class!
If you're in the Camberville area for longer than a quick visit, take a class at Artisan's Asylum! They offer classes in pretty much everything: electronics, jewelry, metalworking, bike maintenance, web design, and so on. For a bit of time away from a screen, I found Sculptural Metalworking super fun and fulfilling. If you don't mind a bit more screen time, their music (DJ/production) classes also proved an awesome way to get started and were super affordable compared to a lot of other options. For the more committed craftsmen and craftswomen, there are also options for membership to use their equipment.
Fitness
---
VIM Fitness / 350/579 Massachusetts Ave, Cambridge
The newly renovated gym, with two locations on Massachusetts Ave, is a popular choice amongst Wistians. Between the locations, the gym offers over 60 cardio machines, 2 free-weights areas, 50 group exercise classes per week, steam rooms, saunas, towel service, and fully-stocked changing rooms and showers. -James
---
Cambridge YMCA / 820 Massachusette Ave, Cambridge
Must try: Yoga for Runners with Devon.
The unassuming Cambridge YMCA may not be the glossiest gym option, but for the cost, you get more actual function that I've found at most local gyms. A basic membership gains you access to the usual weights and cardio equipment, plus a pool. They also offer plenty of fitness classes and I'm a sucker for paying $10/month extra for unlimited yoga (that's less than a single yoga class at most other places nearby!).
---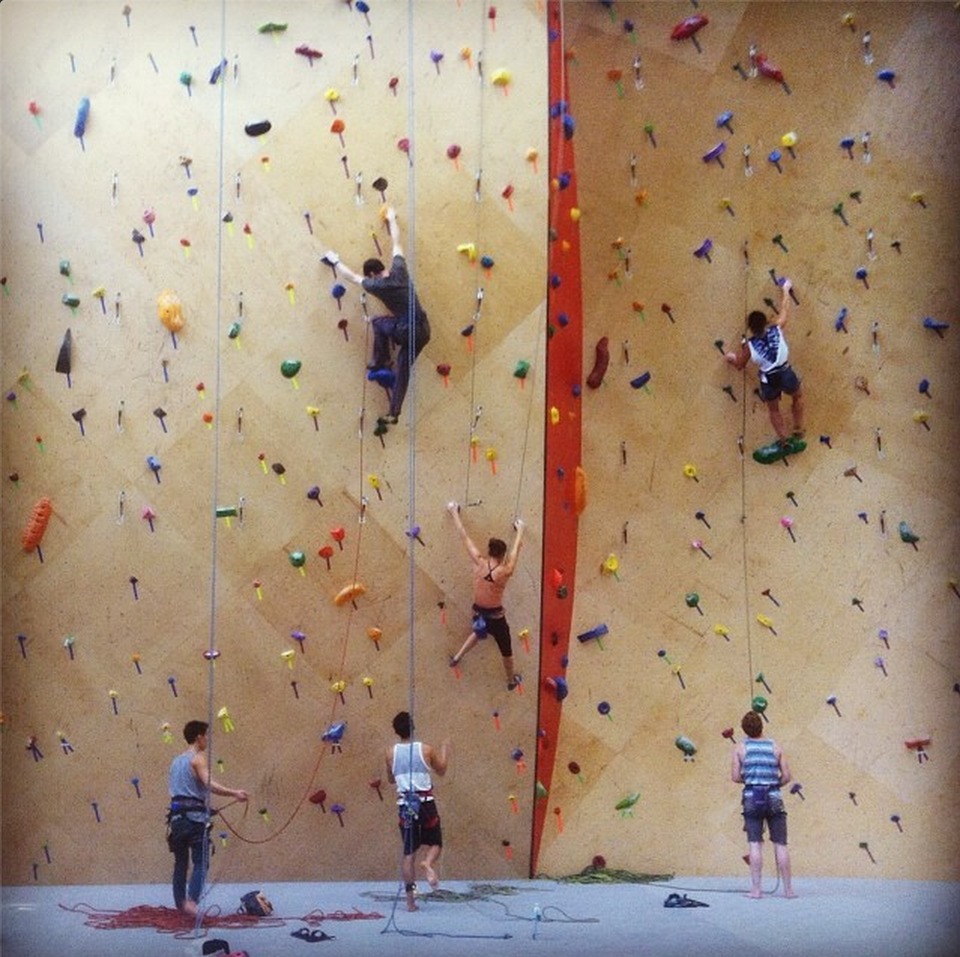 Photo courtesy of Brooklyn Boulders.
Brooklyn Boulders Somerville / 12A Tyler St, Somerville
Must try: The autobelay wall.
Brooklyn Boulders (aka BKB) is a brand new rock climbing / bouldering gym in Somerville, just over the city line from Cambridge. The facility is enormous with climbs reaching upwards of 50 feet. BKB offers day passes, rental equipment, and safety classes so get on over there! -Ezra
---
What are your favorite spots around Cambridge, Somerville, and Boston? What did we miss? We're always looking for new things to try!