Regardless of what your industry, niche, product, or service is, more and more of the buying process is happening online, before anyone from your company knows the buyer or has a chance to make contact.
On the product marketing team at HubSpot, this is something we think a lot about. If our our online presence is our first and only opportunity to inspire a connection with someone or explain a complicated topic in the space of seconds, what's the best way to do that? We use many channels and many mediums, but we've found that the answer is quite often video.
Video lets us bring the human element to our website. It lets us captivate. And it helps us deliver carefully planned, tailored messages to our prospects and customers. Because it's so effective, video has grown to become a big part of our marketing strategy.
We have several teams that produce different types of video content. We've come a long way from our early forays into video to some of the more engaging ways we try to share our message today.
As we've ramped up our use of video, the questions have ramped up, too. Our customers often ask us: how do we produce our videos? What role does video play in our sales process? How do we know what's working and what isn't?
Introducing the Wistia-HubSpot Integration
Until now (drum-roll), we've never had a really solid answer, because we've always used a mesh of many different tools to measure the performance of our videos. Luckily, we're right down the street from—and are good friends with—some folks who are similarly passionate about making it easy for marketers to leverage video. Enter the shiny new HubSpot-Wistia video marketing integration.
Measuring engagement with video content
When a prospect views a video on your website, it can be an excellent cue to your sales team that that prospect is engaged with a particular topic or feature. There are a lot of ways that you can share this information with your team: some marketers build aggregate reports on video views, and regularly share their video content with the rest of their team to make sure that everyone is up to speed with the content that resonates with most prospects as a whole.
With the help of the integration, we've been able to bring this down to a 1:1 level. Depending on the content of the video and the status of the prospect, there are a couple of different ways we may want to surface that to our sales team.
Measuring an individual contacts' interaction with video
For all of our videos and all of our leads and customers, the Wistia HubSpot integration populates details about each video engagement right on the contact timeline in HubSpot. Clicking the story expands a video heatmap, allowing our sales team to see how engaged a contact was with a video, and even what parts of a video resonated with them.
This is useful information for our sales and account management teams when they are doing granular research on an individual. It helps them understand what's important to a prospect, and have a more relevant conversation with them when they next touch base.
Lead scoring to help our sales team prioritize
When a lead or a customer takes the time to watch a video, it's often a good sign that they are engaged with our content and our website. To help make this information digestible for our sales team, we've decided to weight certain video views in our lead scoring algorithm. If a prospect watches a short product video, that's a sign of engagement with our content, and worthy of some points. If a prospect watches a longer product demo video in its entirety, that's a stronger sign of engagement, and worth more points.

Triggering automation with video views
Depending on your business and your videos, you may have content on your website that should be used to trigger some kind of action. For example, maybe you want to send a follow-up email a few days after a known contact watches your product demo video. Or maybe you want to alert someone internally if a customer watches a certain video. Because video views are tracked as events in HubSpot, these types of actions are easy to set up.
Reporting on your videos with HubSpot and Wistia
While measuring granular engagement between individual prospects and our videos is important, we also do a lot of aggregate reporting to understand how different videos are used and impact our funnel overall. Here are a few examples of reports we generate and metrics you may want to dig into on your own videos.
Tracking the impact of our product videos over time
We've iterated a lot on our product videos over time, producing more and more of them and trying to make them more prevalent on our website. Our hope is that these videos are being touched by more people, and having a bigger impact on our conversion rate over time. This report generated in HubSpot with the Wistia integration can give us some hints about the impact of our videos over time.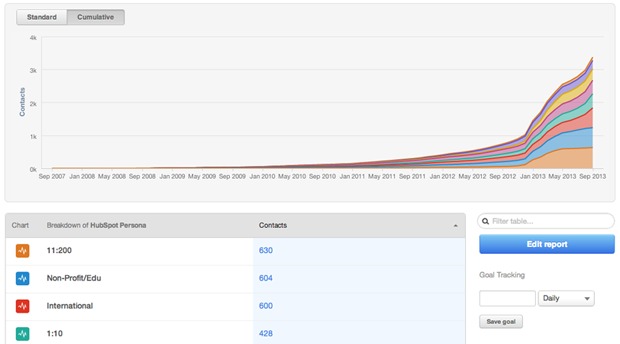 The report is a plot of leads who became customers over time after watching a product video. It's broken out by their "persona" to give us an idea of how our videos resonate with different audiences.
Tracking engagement of our "evangelists"
Another report we find interesting is the engagement of our "evangelists" with our video content. Evangelists are folks who may not necessarily be a good fit for our software for one reason or another, but are die hard consumers and sharers of our content. They are an important part of our audience, and we want our video content to resonate with them.
Give it a try
That's a look at some of the ways we track, measure, and analyze our video content here at HubSpot. If you are a HubSpot and Wistia customer and you'd like to give the integration a try, you can turn it on in HubSpot Settings (if you aren't a user yet, both HubSpot and Wistia offer free trials). Visit the documentation for more information! And even if you don't use either tool, hopefully you've gathered some useful tidbits on how you can measure and get more out of your video content.