We've been noticing a bit of a trend lately: as video becomes a more popular medium for online marketing, more and more companies are adding in-house video producers to their teams.
This might not make sense for every single company, but just as most of us think of in-house designers as necessary to a company's success, many businesses now see in-house videographers as critical members of the team. If you're creating video content regularly or want to ramp up your video production, an in-house videographer could be a good fit!
We wanted to get a better idea of how the company-producer relationship plays out, so we talked to several in-house video producers and the people working with them. Thanks to Asana, Basecamp, Defender Direct, Distilled, Litmus, and thoughtbot for taking the time to help us out!
A deeper integration of video and strategy
Understanding a company more fully means being able to participate in decision-making on a strategic level. Instead of working with a few members of the team to complete a one-off project, an in-house videographer can get to know more people at the company and more deeply grasp how the business works.
For example, our videographer Chris attends all of our marketing meetings, joins us on company trips, and is as interested in Wistia's progress as anyone else on the team. His awareness of our greater strategy, combined with his focus on video, enables him to see new possibilities for videos.
If you're looking for a videographer, this might mean looking for someone who's interested in getting to know your business as a whole.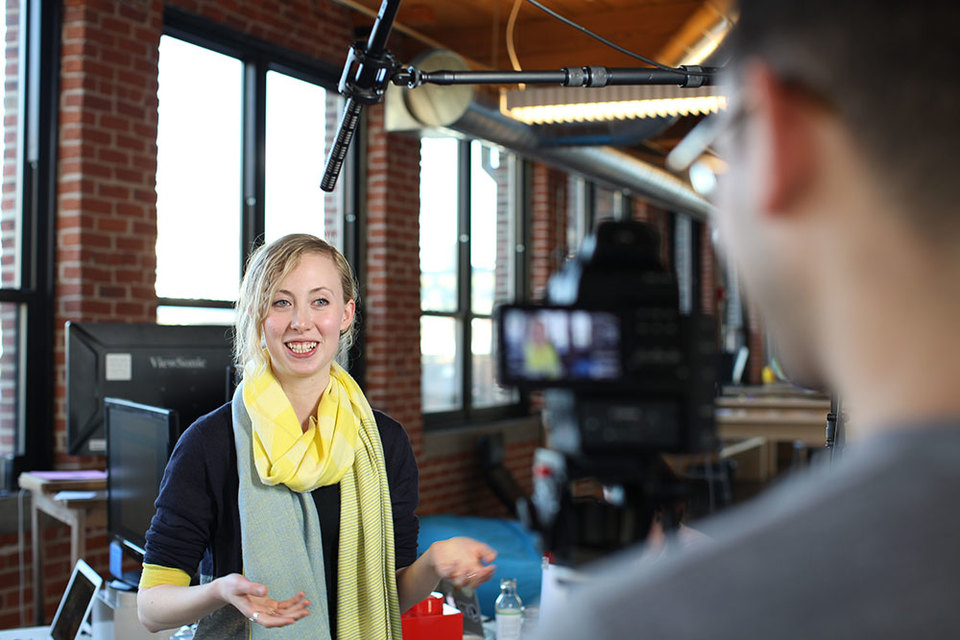 Constraints can encourage experimentation and creativity
While it may seem at first like working for the same company consistently could get stale easily, the best in-house producers let the combination of security and constraints feed their creativity.
The constraints of working for a company can actually be helpful for creativity in a number of ways:
Deadlines may be less rigid, so you can focus on quality over quantity.
There's space to fail - the stakes aren't as high for experiments gone wrong, and experimentation and iteration are often encouraged.
Having certain details, like audience, brand, etc., nailed down makes it easier to experiment with other aspects of video - narrative ideas, camera techniques, video styles, and so on.
There's time to recharge between projects. As Chris Lavigne put it, "Some days, you're either resetting, recharging, or concepting. These days may feel wasted in the moment, but in reality, they're a super important part of the process."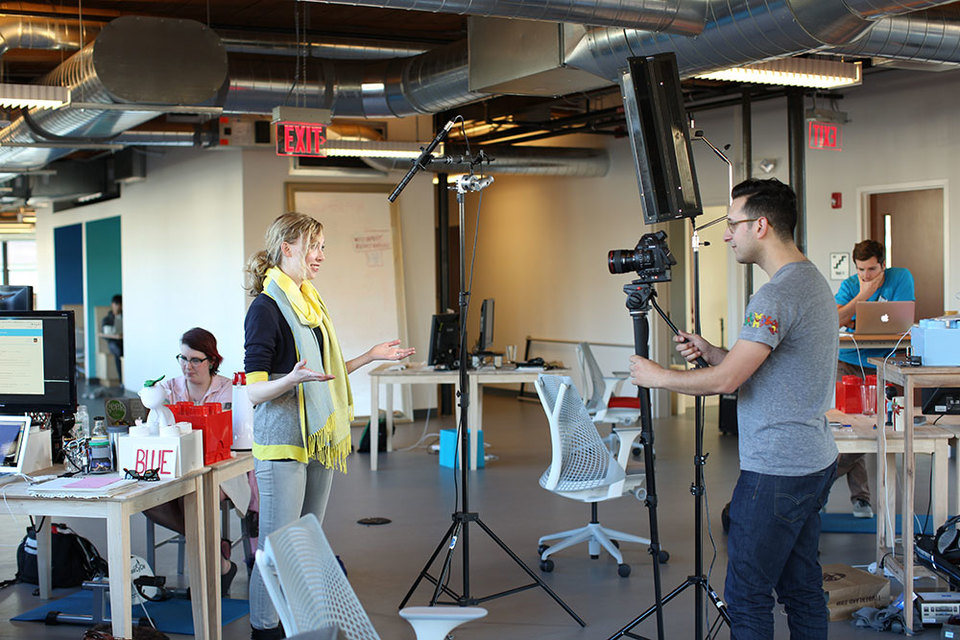 A stronger connection with your brand
Working together consistently means that the producer can develop a deeper understanding of the brand and culture of the business.
A videographer who spends his or her days in the office is presumably more able to be spontaneous and record authentic video as things happen, rather than trying to enter an environment for a limited time period and figure out how to make magic on the spot. Additionally, for many videographers, being part of a team consistently is a refreshing change from switching projects all the time!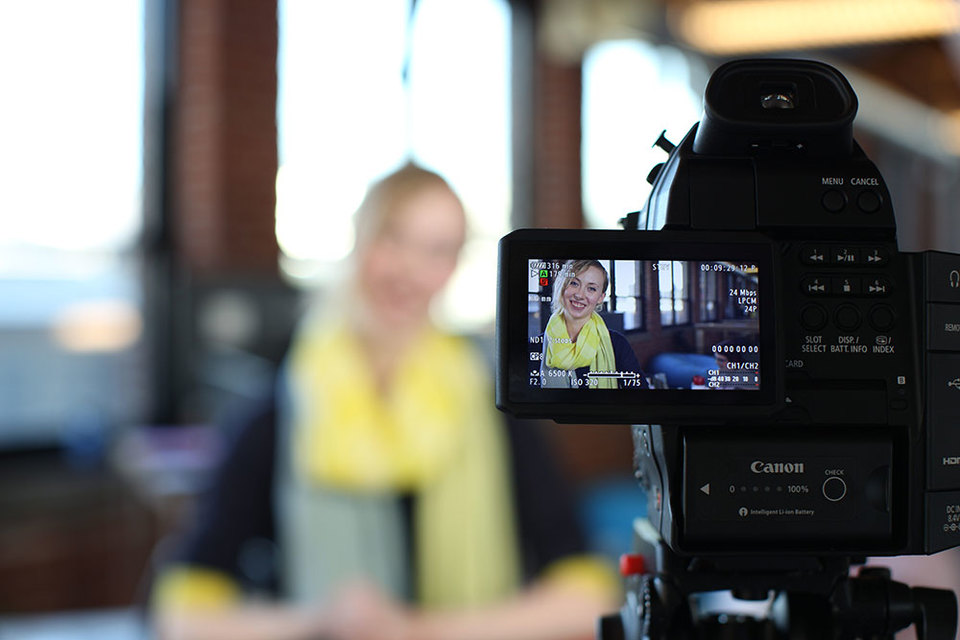 Improving your company's video process
If your company has invested in hiring an in-house producer, chances are most of you are on board with the benefits that video can provide. However, that doesn't mean everyone is going to be perfect at the video process right away. It's possible that some of your team has never appeared on camera at all!
In addition to having a deeper interest in your marketing strategy, a great in-house videographer spends time educating people about the video process and helping to get everyone more involved. This might mean directing non-actors, teaching about storytelling, or helping to build an office studio. The rest of your team should be open to the producer's expertise and feedback, and shouldn't be afraid to ask questions of your in-house video expert!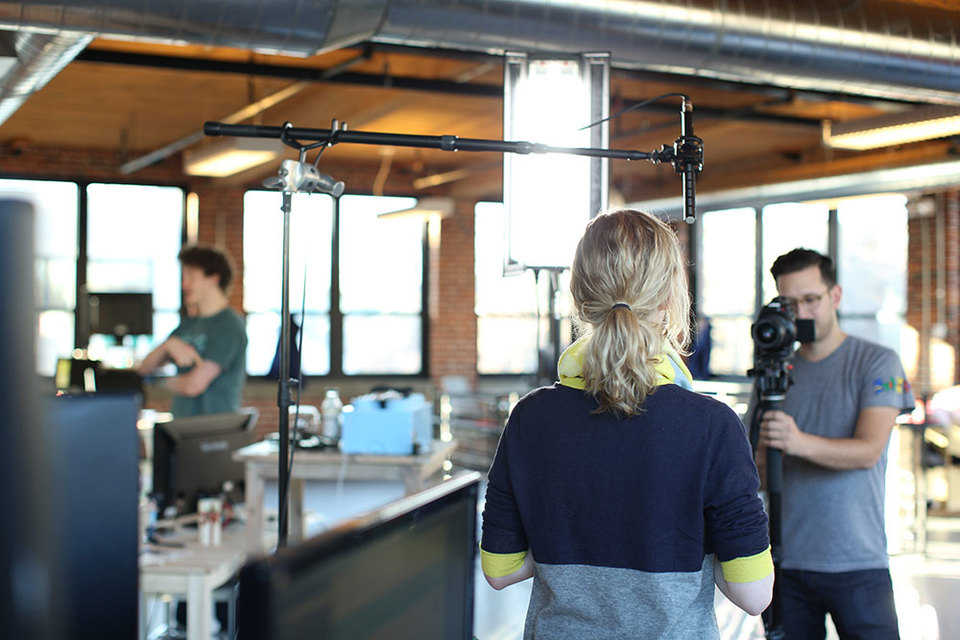 Finding an in-house videographer
The producers that we talked to all shared a passion for the video medium, although they came to it in different ways. Our own producer here at Wistia, Chris Lavigne, discovered video because it was an easy way to get an A on a school project, but fell in love with it twice: first, when he was around 10 years old and editing tape-to-tape, and all over again at a Sears store playing with the first version of iMovie on an iMac DV. Joey Dello Russo of Asana and Shaun Hildner of Basecamp both went to film school, but cited a disdain for the Hollywood hustle that led them to seek something a bit more stable that still offers creative freedom.
The producers at Litmus, Wistia, and Defender Direct all did freelance work for the companies before joining up on a consistent basis:
It's a pretty awesome situation when a company and a freelance producer mutually hit it off, and there are plenty of different arrangements that can work. For example, Litmus's video producer has continued his freelance work on the side:
From both a videographer and a business perspective, building a relationship through freelance projects is a great way to figure out if you're a fit for one another. On the other hand, you can also seek out a videographer through your usual hiring channels, and we expect to see more and more companies looking for videographers to join their teams in the next couple years! thoughtbot's job description from a little while ago is a good concise example of what that might look like.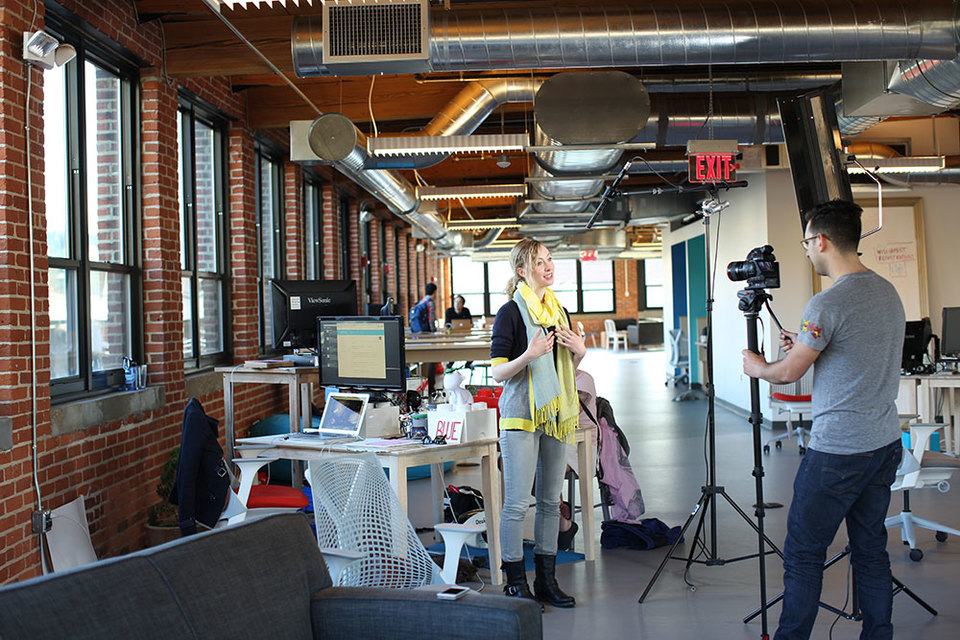 Having an in-house videographer was a game changer for our video creation process at Wistia. We wrote in detail about how we got started back in January, but the gist of it is that before Chris Lavigne joined our team, we were making scrappy videos out of necessity, and we weren't learning as much as we could have from our successes and failures.
Our early videos were helpful for scaling communication, but Chris's insights helped us level up, integrating video deeply with our marketing strategy and teaching us how to share our human side more authentically. We'd love to hear about others' experiences with bringing on a video producer, how that person has helped your production process, and how you've fostered a creative environment!