After months of work, we're really excited to announce the launch of our newly designed Learning area! If you're not interested in the nitty-gritty details, here's an overview of what's new:
The "Learning" area is now pulled together by a brand new Learning Hub, where the latest, best content from across the blog, Library, and Community is readily accessible.
The "Learning Center" is now known as the Library, and features both video resources and in-depth guides.
The blog has a fresh new redesign (which you're currently looking at)!
Since so many of you share some of the same content dilemmas, we thought we'd share the thought process behind the redesign below. Stay tuned for further posts on the results!
Organizing content by substance, not format
One mistake we made in our first Learning Center design (way back in January 2013) was building the site around video content exclusively. We were able to produce a certain number of videos that fit that format really well, but we quickly found that the Learning Center was friendliest to a certain kind of information: 3-5 minute videos about production techniques. It was hard to get conceptual or theoretical in this format, and we were shooting ourselves in the foot a bit in terms of SEO, since there was very little text on these pages.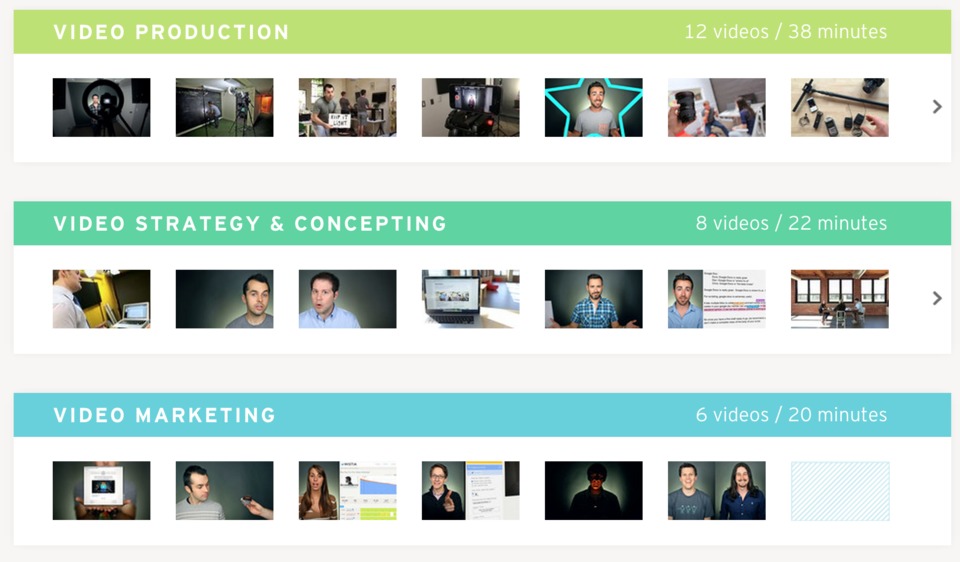 In the Library, pages are completely flexible, and we're focused on offering easy access to all of our evergreen resources, not just videos. We can still make video-centric resources, but the new design accommodates supplementary text and allows us to post in-depth written guides, too. If it makes more sense for videos to be placed within a written piece to demonstrate a particular technique, we can do that. And for resources where video doesn't make sense at all, there's no longer undue pressure to include them.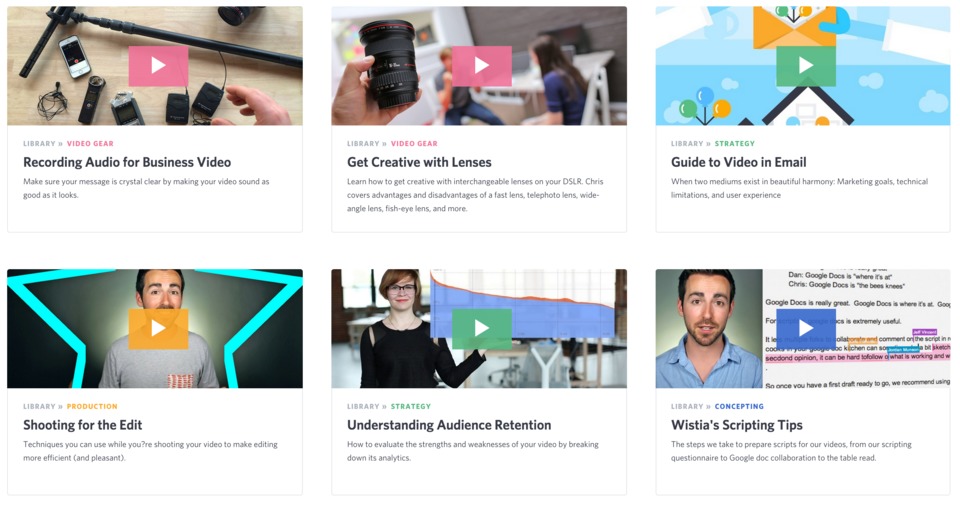 Getting more direct traffic to our content
Previously, a great deal of traffic to our content came from emails we were sending to our audience, even though thousands of people log into the Wistia app and visit our homepage every day! The new Learning Hub aims to solve this, and will appear whenever anyone logs into Wistia from the homepage. We hope that this will get the content that's most helpful to people in front of them more directly, at their convenience.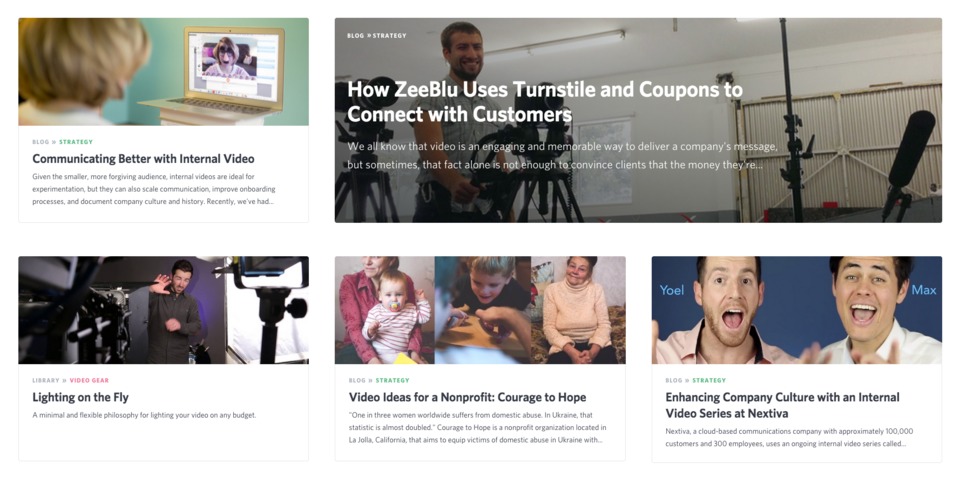 The Learning Hub collects our video marketing and production content from the blog, everything from the Library, and curated threads from the Community. We'll still make Non Sequitur and company culture-related posts on the blog, but we wanted to create an easy way for people to find all of our video-related content.
Eliminating dead ends
We've had some people tell us that the previous video-centric Learning Center was pretty addictive to consume, that they sat and watched every single video! That was awesome feedback to hear occasionally, but in reality, we weren't seeing that many pages-per-visit: in the last year the average for the Learning Center was 2.02 pages per session, and the average for the blog was 1.60.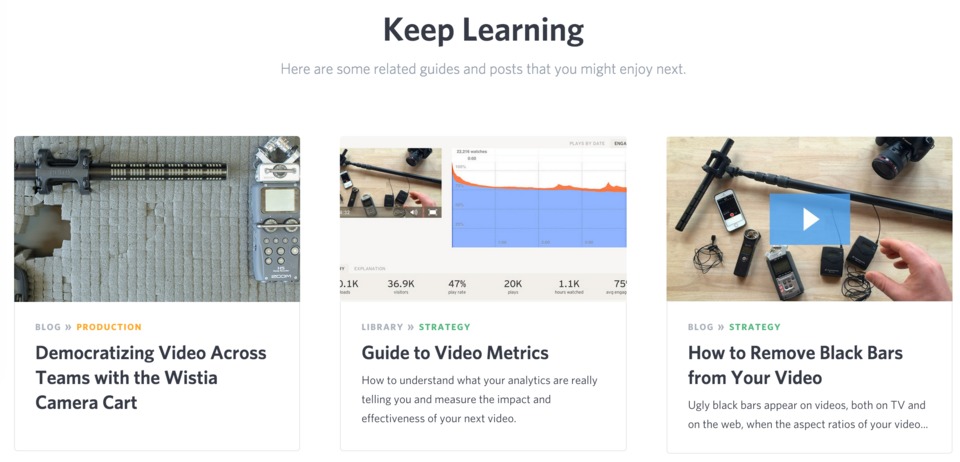 In the new Library and blog, we added a few different ways to help people find other relevant content after they finish reading, so it never feels like you've reached the end. We hope this helps everyone deepen their knowledge and find resources they might not otherwise have dug for!
Making it easy to subscribe
Over time, we've done a decent job of growing our audience and getting people to visit our content. However, we weren't doing a great job making it easy for them to subscribe, follow, or investigate our product further.

This is a pretty delicate balance—there's nothing worse than calls-to-action that make it less pleasant to actually learn from what you're watching or reading, and our ultimate goal is to help people learn. But a big part of learning is consistency, and we're excited to see how our new, more prominent CTAs perform!
Clearer naming
It didn't seem quite right for "Learning" to only include the "Learning Center", when the blog, Library, and Community are all areas for Learning. So now, all of these areas fall under the Learning umbrella, while the Library is the place to find a well-maintained selection of in-depth content. We think this title better captures what's distinct about this area from the blog, where we might post things that are a bit more ephemeral or exploratory.
---
What do you think of the new Learning hub, Library, and blog designs? We'd love to hear your feedback in the comments!