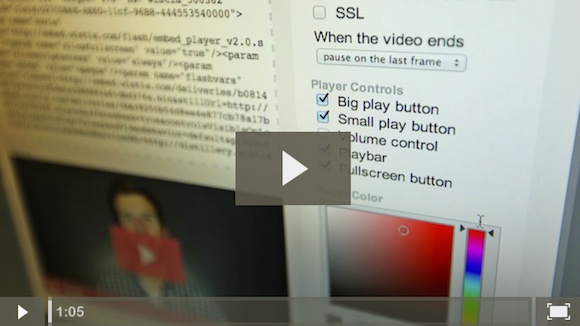 We're super excited to announce the release of the new Wistia player, Matador! Here's the philosophy behind our player: your viewers' focus should be on your content, not on our player. That's always been our ideology, plain and simple. Matador stays out of the way. With this in mind, we've meticulously redesigned our player from the ground up.Here are the most significant new features of the player:
Auto HD: HD content is automatically shown to viewers when the size of the player and their connection speed can handle it. When they can't support the bandwidth, the SD version of the video is displayed, without any extra effort on your part! HD videos are sexy and we're huge fans. But any benefits of slick HD content are negated if 30% of your audience closes the video immediately because their connection results in annoying buffering. Even worse, if the video is embedded in a small rectangle on your site, your viewers get buffering without any visible improvement in video quality between HD and SD. And so, we built Auto HD.
Color customization: Change the color to make the player blend in or stand out! We used some advanced color math to make it so any color you choose looks great. We stand by the idea that the player should stay out of the way to let your content shine, which can be challenging to incorporate with color customization, but we think we've found a way to incorporate player "theming" without being tacky.
Enable/Disable Individual Controls: You can turn on and off the volume control, fullscreen button, play/pause button, and even the playbar itself! Be as minimal as you want to be. We know that some video content requires all sorts of control and other content might just call for one click of the player to get the video rolling. Now, it's up to you how much control you want to offer your viewers.
Scroll over this demo to compare the new and old players:
And here are some more subtle differences that we think make our player the best it can be:
No More Volume Control by Default: Nearly every computer that ships nowadays has volume control buttons on the keyboard. Why clutter the player with another volume control? So now, volume control is off by default on our player (but we understand there are situations where you need volume in the play, so you can just tick a box and enable it).
Only slightly taller controls (32 vs. 29 px), but much bigger click zones: The previous player was minimal and stayed out of the way, so we kept that experience, but updated the look and made the click zones much larger (i.e.  much easier to scrub, click play, pause, etc.) We know it's very annoying when other players have small click handles for controls, and we didn't want to fall into that category.
Keeps the stripes but updates them for a more modern look: We wanted to keep that Wistia look that people know and love, but update it. The stripes in the bar are our signature look, but were looking a bit stale, so we refreshed that and made it awesome.
Show the length of the video before you start it in the control bar: Clutch.
Warmer default color: The default color for the player is no longer completely grey, but a desaturated yellow, like the Wistia app and homepage. We've added a slight warmth to it.
Space bar to play/pause the video: Okay, this is something nearly every other player has and we didn't. We're sorry. Now it's there.
To get the new player, click on the "Account" tab in your account and click the "Get the new player!" link on the bottom right.