If you're hoping to complement your marketing services, your business may be looking to expand into video production. Video can be a lucrative and creative way to grow, diversify your services, and cater to current or prospective clients.
Before jumping on the video wagon, it's important to understand all that is needed to perform such services. A concentrated, thoughtful approach is required to successfully offer video services.
Know the Market
Before even touching a camera, understand the market you're going into. If there's a great opportunity to create partnerships with corporations, then you'll want to invest in high end or even top-of-the-line equipment, crew, and talent, because that's what larger companies want and have the budget to purchase.
On the other hand, if you're in a smaller market and your potential clients won't have large budgets, then it doesn't make sense to invest in high-end cameras or crew. That'll severely impact your profit margins.
Initial Investment
Video can be expensive, especially if it's technically crafted, creative, and branded for a client. It's not just nice HD cameras, their accessories, and technically savvy manpower that make a video good; it's the creative direction behind the video. Taking all of this into account, the initial investment in video production can seem quite hefty.
This is why you should have your end goal in mind, understand your market, and have an idea of what type of videos you want to offer. Knowing where you stand on these factors will determine how much you want to spend when you initially expand into the production side of things.
Technical & Creative Crew
After you know whom you want to sell to, what you're going to sell, and how much you're willing to invest, search for the right people to handle the technical and creative aspects of your videos. If you have an idea of what equipment and software you want to purchase, search for qualified soon-to-be employees who know how to operate this equipment and software.
Alongside these technically-crafted employees, you need a managerial team or member who knows how to manage a video production crew and shoot. Further up the chain, you need a creative team, such as writers, preliminary designers, storyboard artists, and directors who come up with the ideas for clients.
Equipment & Software Essentials
You can switch the order of the crew step above and this equipment and software step, depending on whether your company needs further direction with what type of equipment to purchase. There are benefits to either scenario.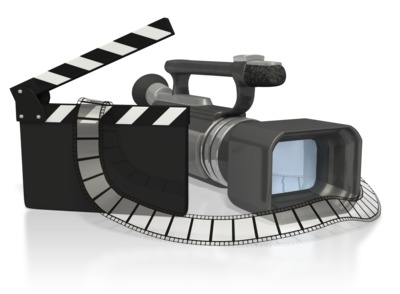 If you need additional direction purchasing equipment, but have a general idea, you can hire a crew first. That crew can offer advice on what works best and what doesn't. On the other hand, if you know what you're going to purchase, go for it. Then you can search for employees based on who knows how to use that equipment and software. You can also rent video equipment to try it out if you're not quite sure what you need.
Essential equipment includes camera(s) and accessories, audio gear, production tools and gear, and editing and post-production software.
Portfolio
Once you have everything you need to produce videos, you should begin building a portfolio for your company to establish trust. If you can, try to make it a win-win situation by creating a promotional video for a community event or nonprofit organization. That way, you're building up your portfolio and getting some exposure while you're at it.