As the CEO of a small company with limited resources, I'm constantly pushing the team to make the most of their efforts. How can we be more efficient? How can we do more with less? Where can we leverage?
Same applies to making video. Mack Web recently took the plunge on a series of videos that would market the release of our community building guide. We hadn't ever done video marketing for our company and we didn't want to waste any of our valuable time. Here's what we did in order to make the most of our efforts:
1. We identified some goals.
As we worked on the development of our community building guide, we used social media to drive awareness, interest, and sign-ups. In the weeks leading up to the completion of the guide, we wanted to boost the volume on the list, so we decided to do some video. Our ultimate goal was to drive more sign-ups for the guide, but certainly we were driving brand awareness as well.
2. We turned our goals into video ideas.
Because we wanted to drive more sign-ups for our guide, we knew the videos had to convey some sense of the value promised in the guide. The videos also had to include a call to action that allowed the viewer to then go sign up for the guide so that we could accomplish our goal. So we decided to make a series of five videos (I know, we're a little ambitious). Each video would illustrate a community building concept.
Once we had our key takeaways, we started brainstorming how we would visually convey each of these messages in the videos. As we were actually shooting the video, we changed our approach based on the props and materials we had available to us, but these are the ideas we went with:
It's hard work.
Mack to wear a hard hat and a tool belt as she conveys the benefits of building community.
It takes personality.
Mack to wear a tiara and use a wand as she explains how building community requires showing your personality.
It's a team effort.
Mack to wear her CSU Rams gear and do a cheer before she explains that community building is a team effort.
It's about making friends with other communities.
Mack to offer a plate of cookies as she walks through leveraging other existing communities as you're building your own.
You might need a guide (the announcement of the actual guide).
Throw confetti on Mack as she announces the release of the guide. Mack to be decked out in Mack Web gear (i.e. a community building T-shirt and a makeshift headband with the Mack Web sticker in full view). After we had our ideas brainstormed, I started to work on the actual scripts.
3. We turned our video ideas into scripts.
Before I turned the video ideas into scripts, I watched Wistia's videos on strategy and concepting. The videos communicated the importance of focusing on just one key message per video (without being too general).
Before I actually started writing the scripts, I watched this scripting video and downloaded the scripting questionnaire. I filled the questionnaire out and then passed it around to the team for feedback.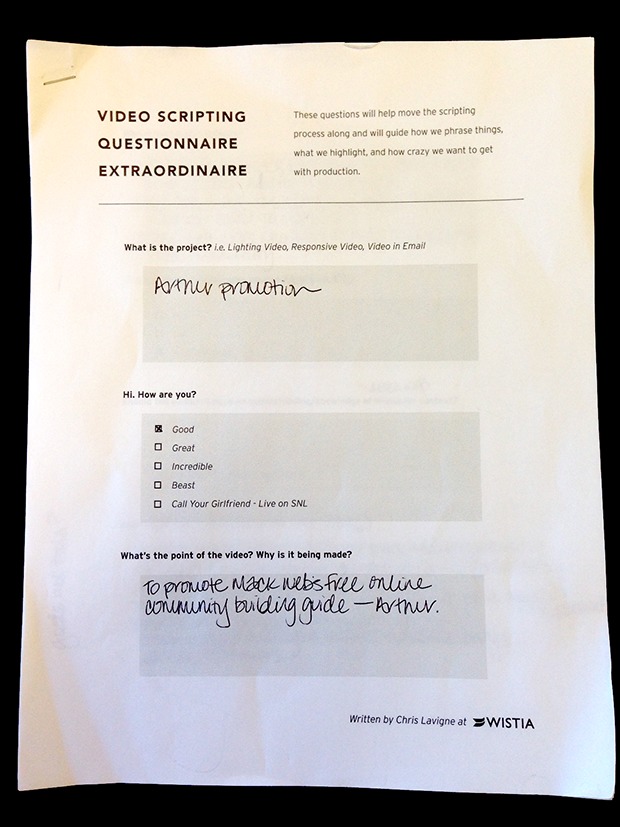 Once I got the team to chime in, I went to work in Google Docs.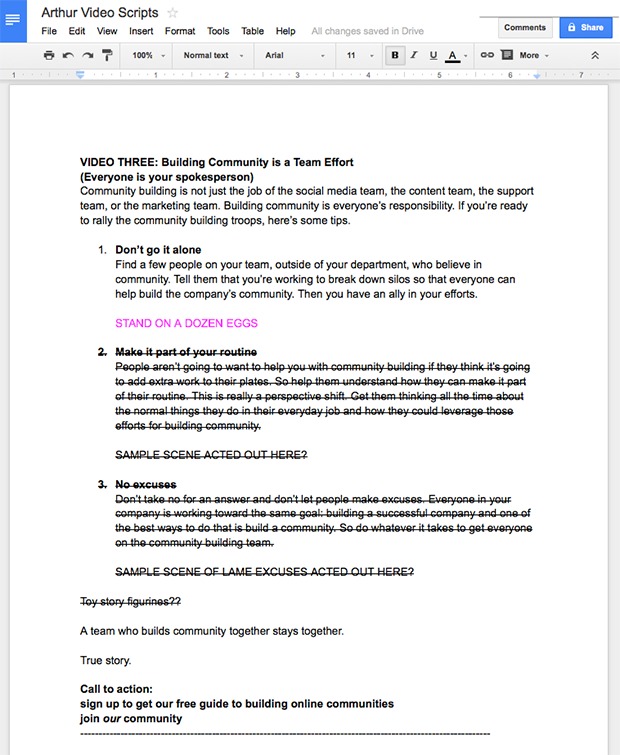 Being the over-achiever that I am, even though I had Wistia's sage guidance, I still overdid it.
The original scripts included at least three key takeaways for each video. They were all focused on one key message, but it was still too much. When Tyler (Mack Web's self-made video guru) read the drafts of the scripts, he cut most of it out. And once I saw the finished product, I could see why. Sticking to just one takeaway made the message much more clear and memorable.
4. We turned our scripts into videos.
Once we got the scripts down to final form, we were ready to film the videos. In addition to filming the regular footage we had planned on from our scripts, we also wanted to film clips of other visual elements that would further the key messages and also show some personality.
In our first video, I talked about how one of the biggest benefits of building a community is that it can help companies crush their competition. So we filmed a short clip of me squashing a grape with my fingers.
In our second video, where I talked about how building community takes personality, we wanted to use Wistia as the example, so I talked about them in the video and then Tyler cut in clips of their personality later.
In our third video, where we focused on how building community is a team effort, we filmed a bit of a science experiment that involved standing on a carton of eggs (something Tyler had seen on YouTube). It didn't work as well as we had planned, but it was funny and we figured it would give the audience a chance to connect with us (or make fun of us).
Another finishing touch (lucky for us) was the call to action and scene dividers throughout the video. We have a talented designer on our team, Natalie, who created all of the pieces we needed.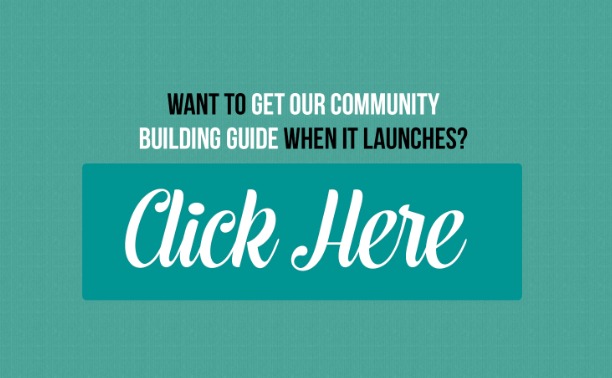 We're pretty proud of ourselves.
Our videos are certainly not as awesome as some of the amazing videos out there, but we're pretty happy with our first go of it. Starting with the goals that we had, turning those into ideas, and then getting it all down in a script really helped us to efficiently create some great videos. We're actually kind of excited to do it all over again.