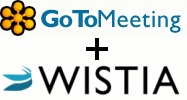 Wistia now automatically converts recorded GoToMeeting webinars! You can finally publish your meetings and webinars to the web so they're viewable on laptop, desktop, and mobile devices.
By default, GoToMeeting and GoToWebinar use a proprietary and highly efficient video codec (called G2M3) to record your webinar. No video hosting provider up until now (not even YouTube) could convert these proprietary GoToMeeting video files. This meant that if you wanted make a recording of your webinar available after the event, people had to download the video file to their computer and hope that they had the GoToMeeting software installed to view it. Needless to say, this was a poor user experience.
Now, just upload your recorded meeting or webinar to Wistia, and they'll be ready to be watched on every device.
Then you can:
Embed the webinar onto your website
Send out the webinar to people who couldn't make it
Put the webinar behind a lead generation form to capture new prospects
And of course, you'll get the same second-by-second video heatmaps and analytics that show you who is watching and what they are care about.