As of May 2015, this functionality has moved out of the Wistia Labs section and into our Timeline Actions menu. Visit our Help Center to learn more!
You might be familiar with Wistia's post-roll calls-to-action (which link users to their next destination at the end of your video) and Turnstile (which allows you to collect emails at any point before, during, or after your video), but what if you want to add a call-to-action at an opportune moment as your content plays? The Mid-Roll Links Lab lets you add clickable buttons anywhere during your video and link them to anything.
Use Mid-Roll Links to link people directly to buy a product you're talking about, to a map when you mention a location, to further documentation for a feature you just described, to a talking head's blog or website, or to Rick Roll someone who thinks they're about to view a valuable resource (just kidding, please don't do that).
Read on to learn how Thermo Fisher Scientific and CLiCKPLAY Continuing Education University are already using Mid-Roll Links.
Case Study 1: CLiCKPLAY CEU
CLiCKPLAY Continuing Education University offers online healthcare and human services video training. They started testing out Mid-Roll Links in a blog campaign highlighting their latest course on Smoking Cessation. Instead of making a standard preview of the course, they created four tobacco-wielding characters and used the Mid-Roll Links Lab in the video embedded blog post to draw people to vote for their favorite characters on their Facebook page.
We thought this was a cool use of the Lab because it turns the video into a more interactive experience and draws people further down the funnel without being too forceful.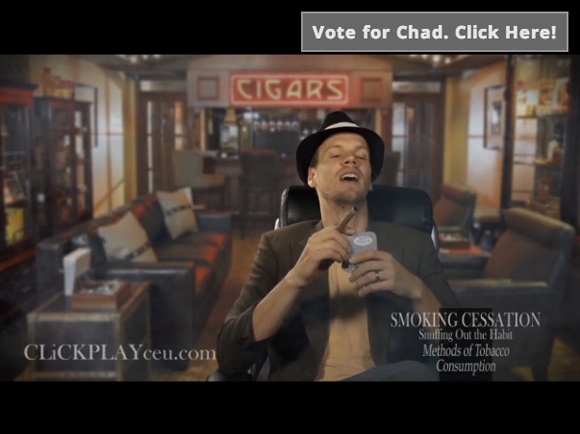 Case Study 2: Thermo Fisher Scientific
Thermo Fisher Scientific's clever use of the Mid-Roll Links lab is a bit like a post-roll call-to-action, but it circumvents the dropoff that usually happens as a video ends (people tend to stop watching as a video wraps up, which might mean that they miss a post-roll call-to-action if the ending meanders). Technical content specialist Jared Snider explains:
"Many of our products are kits and reagents that allow scientists to analyze proteins from patient, animal and experimental samples. One of the most commonly used methods to detect specific proteins in samples is called Western blot analysis.
"It's a multi-step method that can take 1-2 days to complete, and because it's the bread-and-butter procedure for protein analysis in the majority of bioscience labs worldwide, we wanted to make sure that our customers know how to perform a Western blot. So I made a series of six videos that each focus on a single step in the Western blot process."
The Mid-Roll Links Lab is used on the individual video pages in the last ten seconds of each video, linking the viewer to the entire workflow page. This ensures that viewers who find a page for an individual step via search don't miss out on the full extent of resources available on the site and can easily view the videos for every step of the process.
Try it out!
Add Mid-Roll Links to your video and let us know how it goes for you!
Try out Wistia Labs and other powerful Wistia tools.