Another piece of valuable feedback we received from our customer survey was related to contact management.
If you're a Wistia power user, chances are you do a good bit of contact management. And if you're doing contact management, you most certainly use (or should be using!) contact groups to organize your account. Our Zebra release included a slew of new features that made contact and group management a whole lot easier, but there were a few things we missed.
Our survey uncovered that the workflow to remove a single contact from a group is rather painful: you have to go to the group, page through all the contacts, find the one you're looking for, and then remove them. That's a bummer.
We just released an update that allows you to remove a contact from a group right from their contact page. Say I'm in your account and you want to remove me from the "sales team" group because I can't close a deal to save my life. Just go to my contact page and click the red "x" next to the sales team group. That was easy.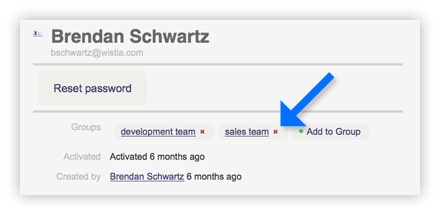 A special thanks to Murat from Pacific Trading for pointing this out and helping us work through the solution!