Today, we're releasing some new integrations for our Turnstile email collector, which makes in-video email opt-in easy.
An in-video email collector gives your viewers the opportunity to opt in to receive future content without having to click extra links or hunt down your newsletter sign-up. It's a powerful way to grow and track your audience. On the back end, Turnstile integrations mean that you can seamlessly add those new email sign-ups to an existing list in your email or marketing automation provider.
Turnstile Update: New Integrations
We've just added three new partners to our Turnstile integrations: GetResponse, Marketo, and Ontraport. This will help even more businesses in their quest to build an audience with inspiring content. We can't wait to hear success stories from folks using Turnstile with these new services!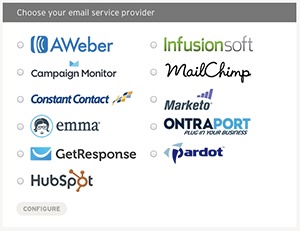 If you use one of these services, visit the documentation to learn more about how you can add Turnstile to your Wistia videos.
Turnstile is already integrated with AWeber, Campaign Monitor, Constant Contact, Emma, HubSpot, InfusionSoft, MailChimp, and Pardot. Don't see your favorite marketing providers on this list? Fill out this survey to let us know which providers we should work with next.
Using Turnstile
You can collect email addresses with Turnstile in variety of ways. Here at Wistia, we generally put the collector at the end of the video, after people have already had the chance to consume our content, but depending on your needs, you can also place Turnstile at the beginning or at any time in the middle of your video.
Here are a few ideas and examples:
Subscriptions to a content series
If you're publishing a regular content series, like our own Top Hat Tuesday or Moz's Whiteboard Friday, a Turnstile is a great way to let people subscribe to future posts. We like to put the collector at the end of the video, when people have already consumed the content and understand why it's valuable enough to warrant giving us their email address.
Your most valuable, in-depth content
Offering highly valuable, in-depth content might mean asking for an email address in exchange. Recorded webinars are a great example of this: chances are, an email address was required to attend the live webinar, so it only seems fair to include a Turnstile on the recording. Mobify's webinars are gated with a Turnstile at the beginning, but with plenty of context around the video to let people know what they're paying for (since an email address is, essentially, a form of payment).

Product demos
Help Scout offers two ways for people to access an introductory product demo: first, a typical live demo by phone, and second, a recorded product demo, which is email-gated. Because anyone watching this introductory webinar is probably pretty interested in the product, this is a good time for Help Scout to ask for an email address to stay in touch.
Offer a free introduction
In either of the cases above (offering in-depth content behind an email gate), we often suggest that people place the gate after a brief introduction rather than right at the beginning. This way, people can get a sense of the tone and quality of your content before opting in without having to read a lot of text.
If you're offering online teaching, one way to show people what awaits behind the paywall is with a few free introductory offerings. Paul Bradford Sugarcraft school, an online cake decorating school, has an entire category of free beginner courses. Some people will purchase a membership after watching these videos, but for those who aren't quite ready to buy, they've included a Turnstile at the end of the free courses so that those audience members won't be lost.

Recap an event or conference
Recapping an event, conference, or class? Include a Turnstile at the end so that people can subscribe to the next set of announcements. Litmus does a great job using video to generate buzz for upcoming events, using video from their San Francisco and London conferences to attract people to their Boston event. Although the post-roll call-to-action they're using now is a good choice, a video like this might be a perfect candidate for an email Turnstile.
Alerts about limited or time-sensitive releases
A few of the ladies here at Wistia are big fans of Black Milk Clothing, who often offer limited release prints of their leggings and dresses. For products that are time-sensitive, people are often happy to give their email address so that they don't miss out; this would be a great candidate for a video with a Turnstile!
We'd love to hear about how you're using (or plan to use) Turnstile in the comments!