This post is part of our Non Sequitur Fridays series, which will feature a different Wistian's take on a non-Wistia-related topic each week. It's like our "employee of the month" but less "of the month"-y. Camille Barichello is a customer champion at Wistia. This is her very first Non Sequitur!
I do competitive air guitar.
Of course you know what air guitar is. Who hasn't channelled their inner rock star while jamming out to their favorite song, alone in their bedroom? But, I can hear you saying, I stopped doing that when I was 17. Well, maybe you should consider taking it up again, because for the past 20 years, there has been a World Championships, held annually in Oulu, Finland; the US has had official competitions (run by US Air Guitar) and sent a competitor to the World Championships since 2003.
Start with a song
Here's how it works: if you're going to compete, you edit a song down to one minute. 60 seconds of glory. All killer, no filler. Then you practice your air guitar routine to that song, or, if you're like my husband, you don't practice and just wing it.
Stage name
You pick a stage name. Puns and plays-on-words are encouraged; anything on the theme of air, rock, guitars… you get the idea. I compete as AIR2D2; my husband is Captain Airhab; the current defending US champ is Airistotle. You may want to get a thematic costume together, either something to do with your name or just something that channels the look of a total rock god (the number of pairs of spandex pants I have seen is too many to count). Or not. Your call!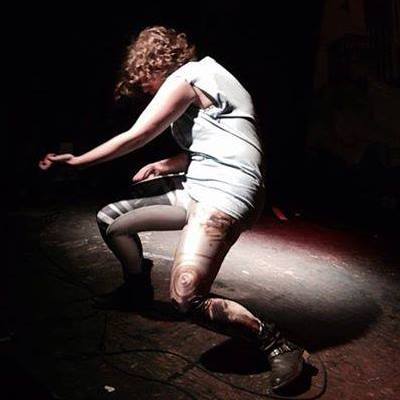 Competition structure
Finally, the night of your competition will arrive. The competition structure in the US is that local enthusiasts put on Qualifiers, which draw talent from the local area, and the top two or three finishers advance to semi-finals, of which there are 4 in different geographical areas. The top 3 from each semi-final advance to the National Finals, and the winner there represents the US at the World Championships in Finland. So really, this could be the beginning of your journey to international air glory.
Performance and judging
Up you go onstage. You point your finger straight up—that's the signal for "Air Traffic Control" to press play on your song—and you rock out. And then, the moment of truth. Judging time.
There are usually 3 judges. The judging is on the old Olympic figure-skating scale, 4.0 (terrible) to 6.0 (mindblowing), because of course it is. You're judged on 3 factors.
Technical merit: are you more or less playing the right thing? Most of the time, judges can't see exactly what your fingers are doing, but are you moving your hands in a roughly accurate fashion?

Stage presence: you can be the most precise and accurate air guitarist ever, but if you just stand there while you do it, the audience will die of boredom and you won't get a good score.

Airness: this one is tough to explain, but it is the ineffable quality that takes air guitar out of your bedroom and makes it an art form. Are people screaming their faces off when you perform? Then you've got it.
You get your scores. At the end of the first round, the top 5 go to the second round, where they play a compulsory song—an edit they've never heard before! They're given a chance to listen to it through first, and then it's go time. Again, scores are given out, and whoever has the highest score combined across both rounds is the winner!
Freebird
And at the end of the night comes the best part of air guitar. At the end of every competition, everyone goes up onstage—competitors, judges, spectators, everyone—and air guitars to "Freebird" together. Air guitar is a competition, sure, but it's also a family: we love one another and keep in touch, and want each other to do well. And, on an overarching level, it's about world peace. As the Air Guitar World Championship's motto says, "when you're holding an air guitar, you can't be holding a gun."
See it for yourself
Want to see how it looks in real life? Here's one of Boston's competitors, The Airtiste:
And here's my buddy Thunderball, crushing it in Des Moines, in one of the most perfect performances this season so far (if you want my opinion):
Sign up to compete… or just watch
Nearly all of the local qualifiers have already taken place (except Philly, coming up on July 10th), so if you're thinking about signing up, you have all year to pick out your song and start practicing. But semifinal season is just beginning, and I've actually been invited—just to make up numbers, since I came in 5th in Boston and that's not really good enough—to compete in the Northeast Semifinal in New York on July 25th at the Bowery Ballroom. If you'll be in town, come out and watch some real pretend talent… and me.
This year, the US Air Guitar National Championships will be held in Portland, Oregon, at the Hawthorne Theater, on August 8th. If you're around the Portland area, clear your calendar. So, with that, one last video before I leave you. Here is the current defending US champ, Airistotle, in the performance that won him the title at Nationals last year in Kansas City. Rock on, my friends.