This post is part of our Non Sequitur Fridays series, which will feature a different Wistian's take on a non-Wistia-related topic each week. It's like our "employee of the month" but less "of the month"-y. Meryl Ayres is the blog editor at Wistia. She loves forcing teammates to participate in group activities. Hence this post.
If you've got a smartphone, you're probably familiar with emojis. They're those little images that you can insert into texts, tweets, or any sort of digital communication. Fun fact: the word emoji literally translates to "picture character" in Japanese.
They say that emojis are a window to the soul. A path to the truest heart.
Just take a look at the last three emojis you used. They probably indicate things about your personality, your communication style, or simply your recent mood.
Or maybe, just maybe, they paint an authentic, existential portrait of the human condition.
Either way, we thought it would be interesting to ask some Wistians about the last three emojis they sent. I used to be a middle school teacher, so I also asked them to come up with nicknames based on their emojis. Their responses may surprise you:
Jenny
The Scaredy Cat

Brendan
The soothsaying hare

Casey
The Confused Dad

Alyce
The Enthused Romantic

Kelsey
The Gone Girl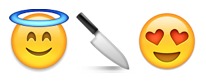 Trevor
The Donut Clapper

Meryl
The Nervous Entertainer

Margot
The YAAS Queen

Ezra
The Optimistic Captain

Camille
The Ambivalent Drinker

Emily
The Compliment Sandwich

Karla
The Passionate Mermaid

Andrew
The Chill Animal Lover

Danielle
The Easily-Amused Friend

Chris
The Enthusiastic Firestarter

Molly
The Excited Eater

Now it's your turn. Access your emojis and select the clock icon to see a list of your recent selections. Do you channel your emotions through the calm tiger? Or maybe the bold lady in the red dress? We'd love to hear what you find out, but at the very least, do it for your own self discovery.