This post is part of our Non Sequitur Fridays series, which will feature a different Wistia team member's take on a non-Wistia-related topic each week. It's like our "employee of the month" but less "of the month"-y. Mary Schmidt is a developer at Wistia. Her last post was about building a computermachine.
This thing called "Winter" never stops being weird for me.
This year I caved and bought a winter coat. Because y'know, it came in purple. I had to. It was a big deal for me. As happy as I've been with the purchase, though, part of me feels like I've left something behind. I remember the kid who came to college here with seven pairs of flip flops and not much else. I figured Marys just weren't made for the snow. Why bother suiting up?
Maybe I was right, but since then I've learned to frolic in it with the best of them. And I still get homesick, but never for long. Why? Enchiladas, bitches.
Shut winter out with these babies. Taste the warm southwestern cozies :D
The Most Haphazard Enchiladas In All The Land!!!
Tools of fantasticity
1 package enchilada sauce (I recommend one from Whole Foods -- brand is Mexican Everyday)
1 pack medium-sized flour tortillas (8ish should do the trick)
1 lb chicken, beef, or shredded yummy pork
lots and lots of shredded mexiblend cheese of your choice (cheddar, cheddar/jack, jack/pepperjack)
8 oz sour cream
spices of some sort (whatever you've got is fine, see below)
oil for the pan
My rule of thumb for enchilada spices:
12x cumin, chili powder
3x oregano, garlic powder, onion powder, paprika, salt, pepper
1x cayenne
Directions
Season meat generously with salt and spices, then cook in a skillet. Don't touch it too much as it cooks—it tastes much more delicious if you let the outsides get crusty and magical.
Preheat oven to ~350 degrees F.
If you're using meat that's not already in bity pieces, remove meat from pan, let it rest 10 minutes, and then shred with two forks. Turn stove off.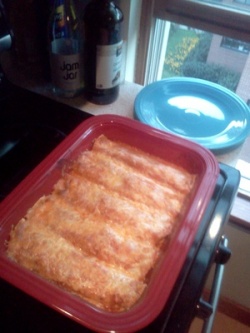 Throw meat back in pan. Add oodles of cheese and sour cream and sauce. Stir as it melts and make sure to get all the yummy crusties off the bottom of the pan.
When your pan is full of gooey yummies, it's time to assemble! Grab a friend if you've got one! It's more fun that way :)
Fill tortillas with pan goo, roll like things you roll, and tuck gently into baking dish. Pack enchiladas super closely for maximum yum.
Dump remaining pan mixture all over the enchiladas, and spread evenly (or you'll have people fighting over the most-loved ones).
Cover in more cheese. Trust me.
Bake till cheese is all melty and crusty and brown (mmmmm). Should be 15 or 20 minutes.
Let them cool 15 minutes or so before digging in. It's worth the wait.
Enjoy!!! :D