This post is part of our Non Sequitur Fridays series, which will feature a different Wistian's take on a non-Wistia-related topic each week. It's like our "employee of the month" but less "of the month"-y. Kristen Craft is Director of Strategic Partnerships at Wistia. Her last Non Sequitur was about being a satisficer.
If you're someone who likes food (and really, who doesn't?), farmer's markets are pretty awesome. They appeal to all five senses, and you know that everything is as fresh and appealing as it seems. Plus, you get that warm and fuzzy feeling of knowing that you're supporting local people who work in a pretty important industry. Not to mention the fact that it's a fun venue in which to get to know your community better.
One of the downsides, of course, is that farmer's markets can be expensive. This is especially true if you shop without a plan and/or while hangry, as I generally do. Well, I have a solution to both the expense problem and the hanger issue! Along with a few other tips to help you make the most of your local farmer's markets:
Know your options.
There's a farmer's market almost every day around Somerville and Cambridge. I like the FarmFresh directory of markets because they list them by location and season, and they also offer a ton of background on how big each one is and which vendors tend to be there.
Check out the live music.
A lot of farmer's markets have terrific live music. There is not much that makes me quite as happy as stumbling upon live music in the street (I should have lived in New Orleans!). On a beautiful, sunny day, especially, live music just feels really frickin' good. Don't be in a hurry to get in and out. Instead, linger and enjoy the music. This is also a great opportunity for people watching or catching up with friends.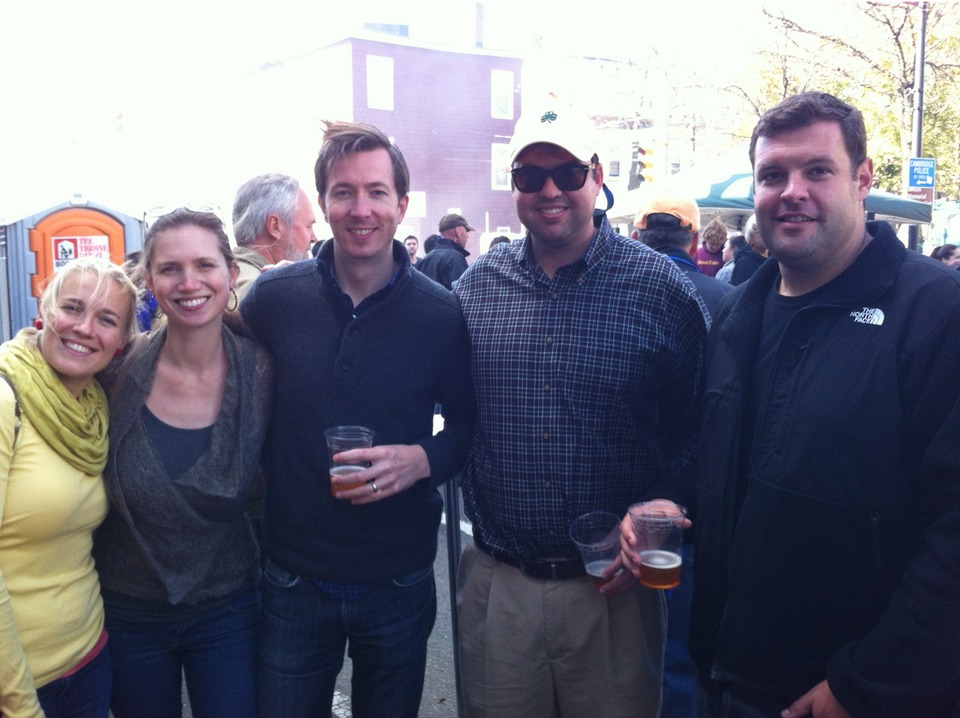 Listening to live music at a Cambridge farmer's market.
Grab some samples.
Shopping hangry is a dangerous game. You're likely to make poor choices (apple cider doughnut = good choice; 4 apple cider doughnuts = bad choice; trust me… your stomach and blood sugar will hate you later). This is where the samples come in! At some of the bigger markets, they have a range of foods beyond just fruits and veggies. One of my favorite markets includes cheese, wine, chocolate, baked goods, meat, fish, and nuts. You can basically construct an entire meal around those samples!
Go late in the day.
There are deals to be had in the last hour or so of a farmer's market. Vendors generally dislike packing the trucks back up and bringing their wares home unsold, so they're more apt to make you a good offer. And if they don't offer a lower price on something you'd like to buy, try asking. Haggling can feel a little uncomfortable the first time you do it, but it'll get easier. If you haggle in a friendly way, no one will mind. My friend Liza, who works at Hutchins Farm, tells me haggling is a perfectly acceptable thing to do. Think of it this way… it's good practice for when you travel the world! Though haggling isn't done all that much around the US, it's pretty common elsewhere.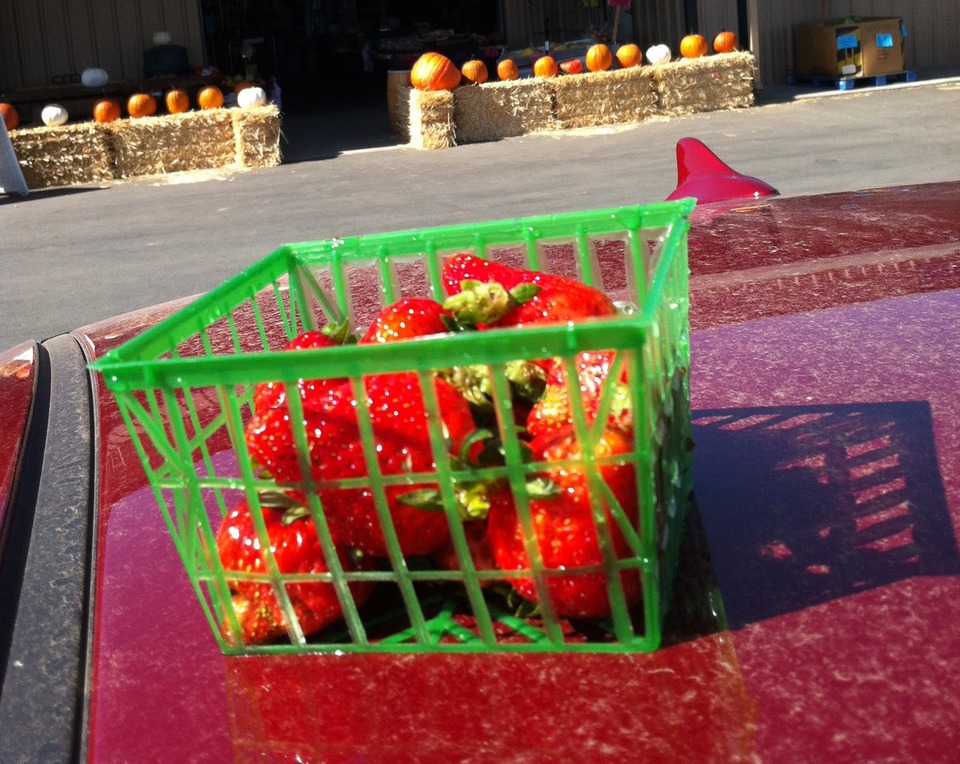 Strawberries to die for. Ignore the dirty car, please.
Get out of your comfort zone.
You'll likely stumble on interesting foods you haven't tried before, so pick some up! The people selling them will be more than happy to fill you in on what they are and how to use them. I've gotten some amazing tips on the most random of vegetables (celeriac and kohlrabi, anyone?) from vendors at farmer's markets. Take the opportunity to ask these friendly experts for their advice on something new. As if the farmer's market isn't enough fun on its own, the bonus feel-good moment occurs when you cook with something new and discover how much you love it!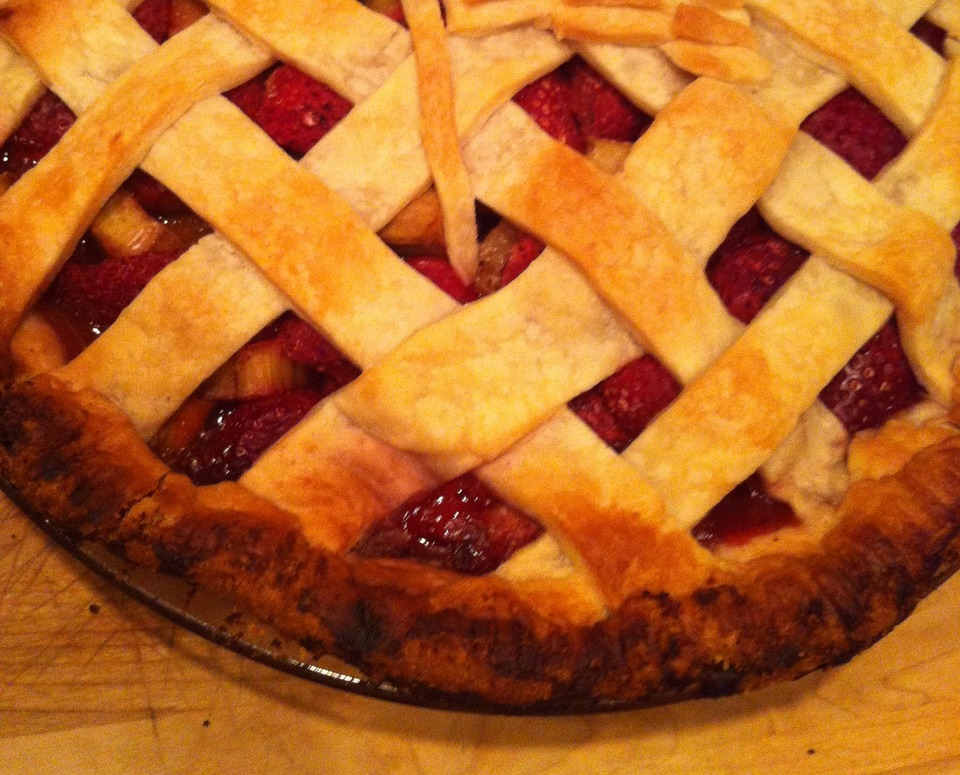 Memorial Day strawberry-rhubarb pie, ingredients courtesy of my local market.
So there you have it, folks: some tips that'll equip you to get more out of your farmer's market trips. Once you've successfully navigated the market, go home and whip up some veggie-oriented meals. Personally, I love the cookbook Plenty, which is organized by type of vegetable. It has terrific recipes and the most luscious pictures of the dishes you can create. If you have any favorite markets, cookbooks, or recipes, please share them in the comments!