This post is part of our Non Sequitur Fridays series, which will feature a different Wistian's take on a non-Wistia-related topic each week. It's like our "employee of the month" but less "of the month"-y. Robby Grossman is an engineer at Wistia. His last Non Sequitur was about climbing rocks.
Though frozen supermarket meals are generally bland and not very healthy, they're popular and a big market, and for understandable reasons: they're convenient, they're cheap, and health issues aside, they're often low in calories, which many people use as a proxy for healthiness. But there's a better way to do frozen meals than buying them pre-packaged at the supermarket, a way that maintains the low cost and high convenience, while also delivering on healthiness and tastiness.
For the last few years, I've been making batches of homemade frozen meals in my kitchen once or twice per month. As a result, I've saved a lot of money and eaten better at work than I would if I went out for a sandwich or some other freshly-but-industrially-made lunch each day.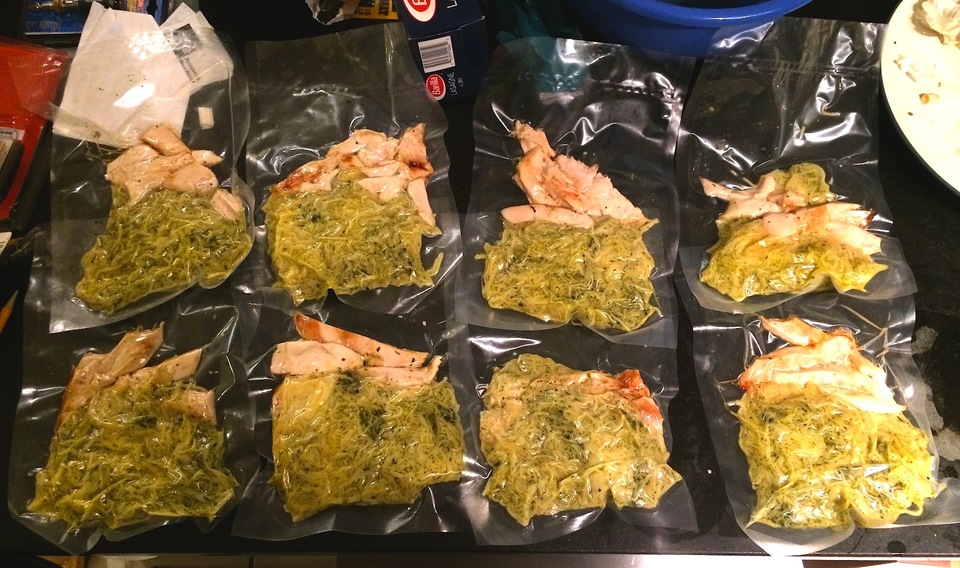 8 frozen meals made from leftover pesto and chicken I had on hand.
The 7-Quart Crock Pot
To keep things easy, all of my frozen meals are made in bulk in a 7-quart crock pot. This lets me make 10-12 lunches at once, and it's generally as easy as cutting up meats and veggies, dropping them in the crock pot, and then packaging the finished meals later in the day. I use an older 7-quart version of this Cuisinart slow cooker, which I love dearly, because it lets me saute in the pot so I don't need to touch the stove nor transfer ingredients after caramelizing onions, browning chicken, etc.
Just about any crock pot recipe will work for bulk meals (subject to packaging caveats below). The only thing to keep in mind is that many recipes are based on 4-5 quart crock pots. If you have a 6- or 7-quart pot, you'll want to adjust the portions accordingly. I've found that doubling a 4-quart recipe always fits into a 7-quart pot, as most recipes aren't designed to fill to the top. I've included some of my favorite recipes at the bottom of this post to help you get started if you're interested.
Packaging Your Meal
After you've prepared your meal, you need to package it. You have a few options here—tupperware, zip-locks, and vacuum sealers. Tupperware and zip-locks will work, but they are better-suited for refrigeration than freezing.
If you're intent on freezing lunches in bulk with any regularity, you will probably want to get a vacuum sealer for two reasons:
The meals will keep substantially longer because there is much, much less air in a vacuum sealed package.
The meals will be much more resistant to freezer burn. Freezer burn especially degrades the quality of meats, but grains and veggies will be similarly affected in short time
Vacuum sealers come in two varieties: suction sealers and chamber sealers. Suction sealers are the Foodsaver-type models you typically find in grocery stores. They're relatively inexpensive (under $100 retail), but the bags are pricey ($0.20-$0.50/ea, depending on size). These sealers work well for solid foods but not for liquids, as the moisture gets into the suction mechanism, leaving a messy cleanup job and often breaking the seal.
Because of these sealer issues, if you plan to do lots of soups and stews, you'll likely want a chamber sealer, which creates a vacuum in the chamber with the food, seals the bag around it, and then releases the vacuum after the seal is completed. Everything about this process creates a better seal for a longer-lasting meal, but there's no way around the fact that chamber sealers are expensive. A new home unit runs about $600, but you can find awesome deals on second-hand models on eBay for about a third of that cost. Chamber sealer bags are also amazingly cheap ($0.03-$0.06/ea), so you do recoup your costs over time, albeit slowly. If you just want to maximize bang for your buck, here's a spreadsheet you can use to figure out what will give you the best value.
If you're like me and enjoy making the most of your kitchen, you'll find additional, harder-to-quantify benefits to having a vacuum sealer. Leftovers can go in the fridge, taking up minimal space and lasting a full week. When you're done with a chicken or have leftover veggies, it's easy to make a batch of stock that, once sealed, will last more or less forever in the freezer. You can also tackle high-maintenance cooking with a better payoff, because the incremental time to do big batches of time consuming meals is usually trivial. I would never spend a day smoking salmon, for instance, for a single filet. But if I can make eight of them? Heck yes.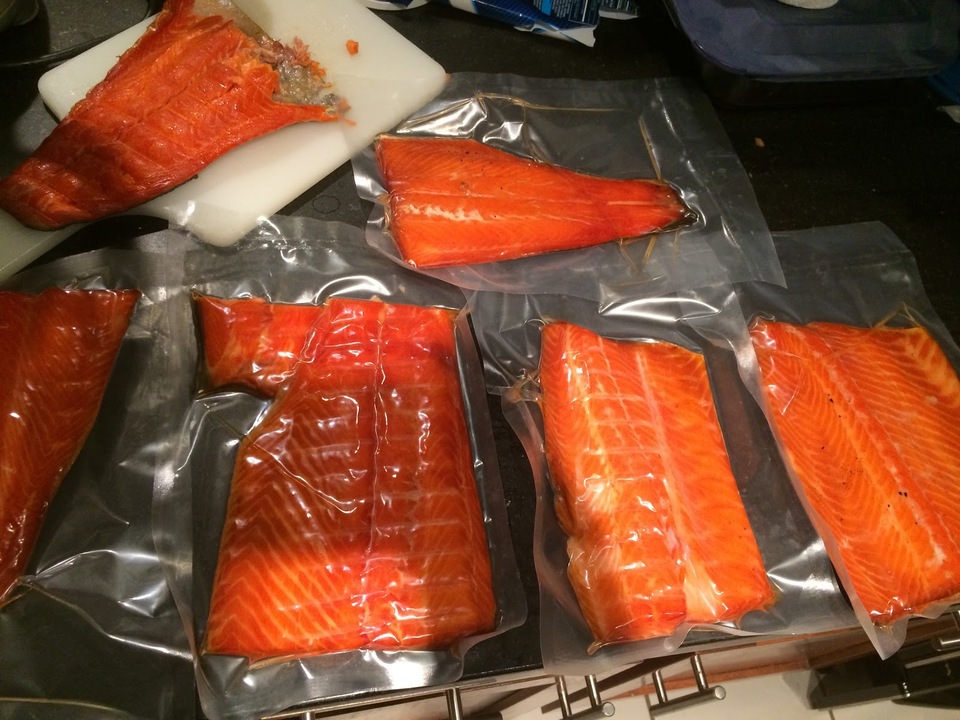 Here are some batch frozen meal recipes to get you started.
Vegetarian Lasagna
Adapted from TableSpoon.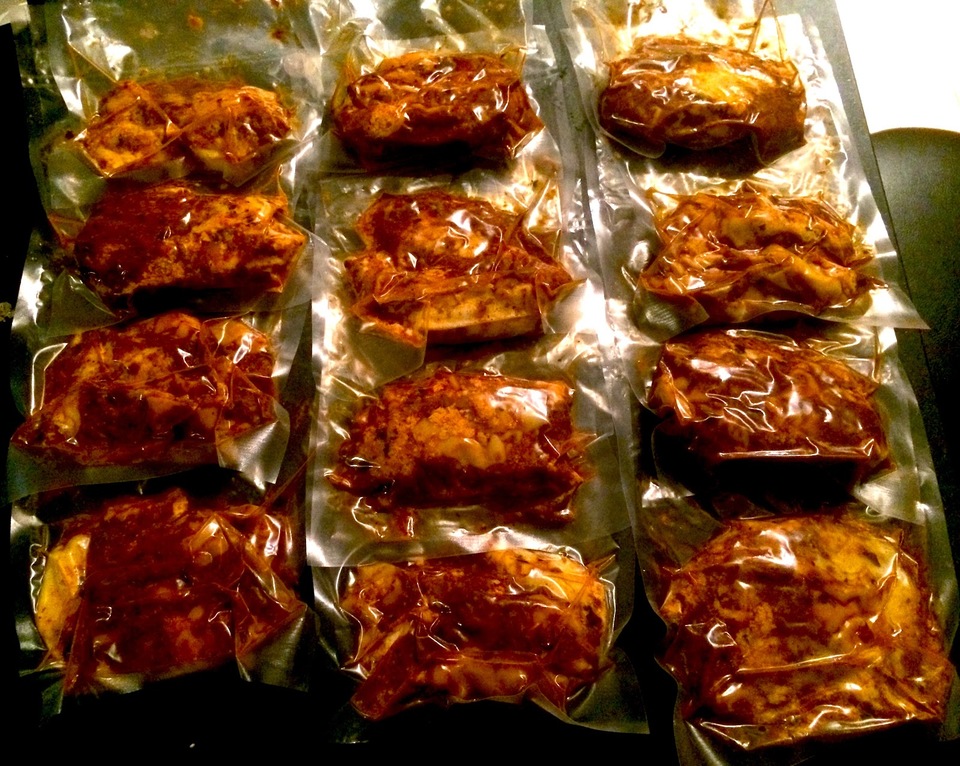 2 lbs pound tofu ground beef (12 oz substitute for 1 lb)
1 diced onion
1 habeñero pepper
4 cloves garlic, minced
2 24-oz jars spaghetti sauce
1 cup water
32 oz low-fat ricotta cheese
1 lb mozzarella cheese
1/2 cup grated Parmesan cheese
2 eggs
1 box of lasagna noodles
In a large skillet, brown beef and onion. Add garlic and habañero pepper and cook for one minute.
Add spaghetti sauce and water and simmer for about 5 minutes.
Mix ricotta, 1/2 lb mozzarella, 4 tablespoons Parmesan, egg.
Pour enough meat sauce into a 4- to 6-quart slow cooker to coat bottom. Place some noodles and half of the ricotta mixture on top of the sauce. Cover with more meat sauce. Top with remaining noodles (if the noodles don't fit exactly, break them to fit) and cheese mixture and meat sauce. Top with slim layer of noodles.
Cook on low for 4 to 5 hours or until noodles are soft. Sprinkle with 1/2 cup of mozzarella and remaining Parmesan. Cover with the lid to melt the cheese and let it sit for 10 minutes before serving.
Rice with Chicken and Veggies
8 cups chicken stock
4 cups parboiled rice
vegetable oil
3 lb chicken breast
2 bunches asparagus
green chile
2 red bell peppers
4 cloves garlic
1 yellow onion
1/2 cup white wine
Cook rice in chicken stock, set aside.
Saturate skillet in vegetable oil. Saute chicken breast until browned and cooked through.
Remove chicken and cut into cubes.
Fry garlic, chile, and onion. Add cut up bell peppers and asparagus. Add white wine. Cook 5 minutes.
Add chicken. Cook 3 minutes.
Serve chicken/veggies over prepared rice.
Chicken Korma
Adapted from Cooking Light: Slow-Cooker Tonight!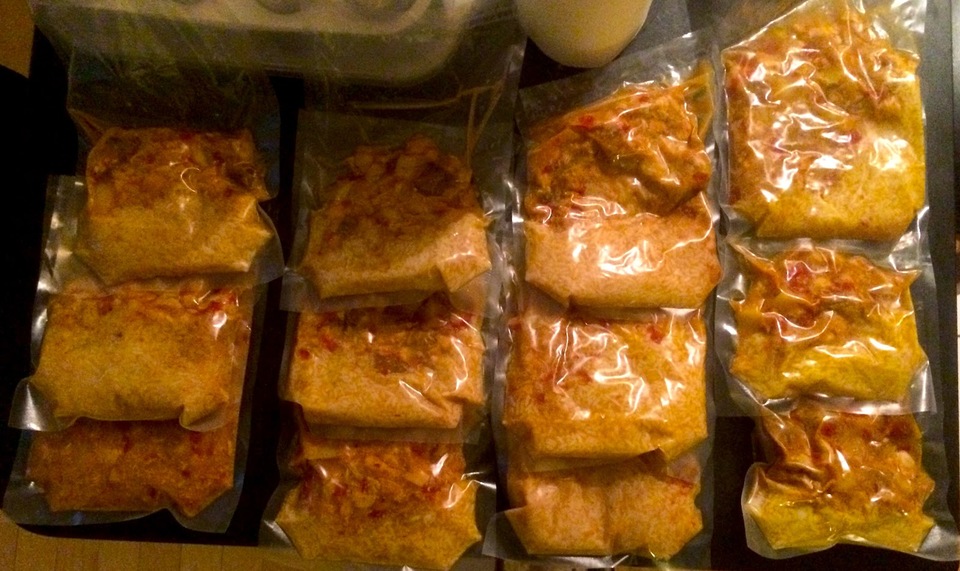 6 pounds skinless, boneless chicken thighs, cut into bite-sized pieces
3 onions, coarsely chopped
4 tablespoons minced peeled fresh ginger
2 T curry powder
1 T ground coriander
1/2 T ground cumin
1/2 T crushed red pepper
12 garlic cloves, minced
3 cubed baking potatoes, peeled
1 T kosher salt
3 (14.5-ounce) can petite diced tomatoes, undrained
6 bay leaves
3 (3-inch) cinnamon stick
1.5 cups plain fat-free yogurt
12 cups hot cooked long-grain brown rice
Heat a large nonstick skillet over medium-high heat.
Add chicken; sauté 8 minutes or until lightly browned.
Remove chicken from pan; place in a 5-quart electric slow cooker.
Add onion to pan; sauté 3 minutes.
Add ginger and next 5 ingredients (through garlic); sauté 2 minutes.
Pour mixture over chicken in slow cooker.
Stir in potato and next 4 ingredients (through cinnamon stick).
Cover and cook on low for 6 hours. Discard bay leaves and cinnamon stick.
Turn slow cooker off; let stand 15 minutes.
Stir in yogurt.
Serve chicken mixture over rice.
Black Bean Soup
Adapted from Smitten Kitchen.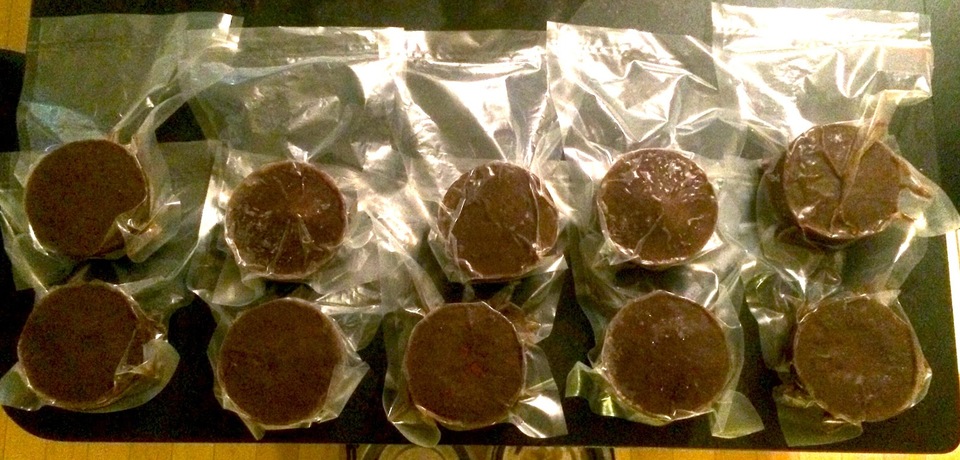 2 T olive oil
4 medium-size red onions, chopped
2 medium-size red bell pepper, chopped
2 medium-size green bell pepper, chopped
8 garlic cloves, minced
8 teaspoons ground cumin
32 oz dried black beans
2 T chopped chipotle chiles from a can
14 cups hot water
2 limes, juiced
4 teaspoons coarse kosher salt
ground black pepper to taste
Heat olive oil in large skillet over medium-high heat.
Add onions and bell peppers and sauté until brown, about eight minutes.
Add garlic and cumin; stir one minute.
Transfer mixture to 6-quart slow cooker.
Add beans, chipotles and hot water.
Cover and cook on high until beans are very tender, about 5 hours.
Transfer two cups bean mixture to blender; puree until smooth.
Return puree to remaining soup in slow cooker. Stir in lime juice, salt, and pepper.
Do you have any go-to recipes or techniques for making healthy eating easier? What's your favorite thing in your freezer right now?