This post is part of our Non Sequitur Fridays series, which will feature a different Wistia team member's take on a non-Wistia-related topic each week. It's like our "employee of the month" but less "of the month"-y. Liat Werber is a designer at Wistia.
I am a huge proponent of playing games with friends.
When it comes to socializing, there isn't a lot of variation: crowded bars, snobby coffee shops, dank basements: from a distance, it all looks about the same. Don't get me wrong. I enjoy sitting and talking, but every so often, I like to take a more gameful approach to socializing.
Skeptics may tell you that playing a game will distract from enjoying the company of your friends. But here, I would like to argue that the perfect game requires enough mindfulness that it challenges you, but not so much that it prevents socializing mid-game.
Of course, the ideal talk-to-play ratio will depend on your mood and how social you are at base level; other things to take into account are the number of players, how competitive you're feeling, and whether or not there will be drinking. With all that to consider, it can be difficult to decide what type of game to play, but luckily I have outlined the range of possibilities in a handy little graphic.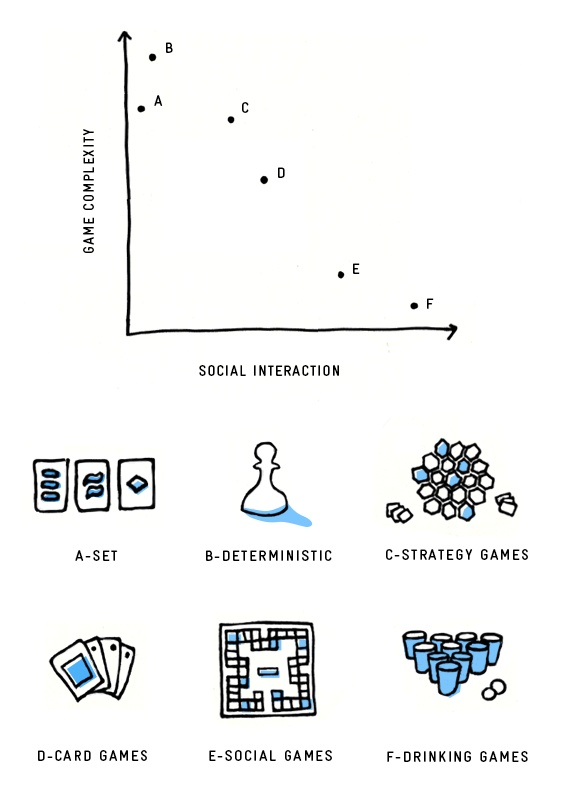 Set:
(2+ players) Set is just about the worst game out there for talking while playing. You may start off with the intention of conversation, but inevitably you'll end up locked in silent tension, while all eyes dart back and forth between cards, keeping your mouth available to cry "SET" as soon as the opportunity arises. This is not to say you shouldn't play, but be warned, this is not a casual game.
Deterministic games:
(Usually 2 players) (i.e. Chess and Go) Deterministic games are no time to shoot-the-shit. You can certainly talk as you play, but given the intensity of the game and the mental bandwidth it requires, the conversation tends to revolve around the game play and nothing else. My favorite in this category: Blokus.
Strategy Board Games:
(Usually 3-4 players) For me, this is the sweet spot. Just enough activity to fill in the lulls, but not enough to stifle natural conversation. With the added benefit that most of these games involve a compelling backstory and some arcane jargon that is perfect for alienating onlookers who aren't privy to the game. Some favorites in this category are: Settlers of Catan and Carcassonne.
Playing Cards:
(2+ players) Playing cards are like your overachieving older brother. They are intelligent and charismatic, with the capacity for profound complexity or drunken stupidity when the occasion calls for it. Pretentious and casual, unscrupulous and wholesome -- their ability to fill any role makes playing cards a safe choice for whatever level of socializing you are looking for. My favorite game: good old fashioned Hearts.
Social Games:
(4+) (i.e. Pictionary and Taboo) True to their name, social games are excellent for socializing. Requiring more communication skill than strategic thinking and consisting mainly of yelling over each other, they are haven to the extrovert, and have been engineered to keep you engaged in social activity throughout. The best one: Salad Bowl (also known as Celebrity).
Drinking Games:
(The more the merrier) In every group, there's at least one person who considers it his destiny to coerce his friends into drinking irresponsible amounts of alcohol (at Wistia, it's Ben). If you are not that person, drinking games can still be a fun alternative to just plain drinking. My recommendation: 21 general.
The bottom line: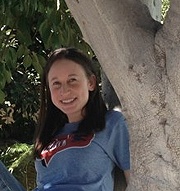 I enjoy myself most when I am challenged. I like to think that I surround myself with people who will challenge me freely and organically, and a good conversation can keep me just as engaged as any game. But still, there's something to be said for structure. A game provides a balance between structure and freedom that is rare to come by in social situations, and whether it be a dignified chess match, a rollicking round of poker, or a huddled game of Magic the Gathering, a good game will always deliver a proper challenge.