This post is part of our Non Sequitur Fridays series, which will feature a different Wistia team member's take on a non-Wistia-related topic each week. It's like our "employee of the month" but less "of the month"-y. Max Kohl is a Customer Champion at Wistia. Last time, he wrote about building a home recording studio.
"Golf is the perfect pairing of athletic ability and swearing."
This phrase is emblazoned on a small statue sitting in front of the pro shop at my parents' local club down in Connecticut, and pretty much sums up my game. I'm no pro when it comes to golf; I have a 21 handicap and prefer beer and cigars on the course over a lack of emotion and a sense of elitism. And I like to think that I approach my life in the same manner.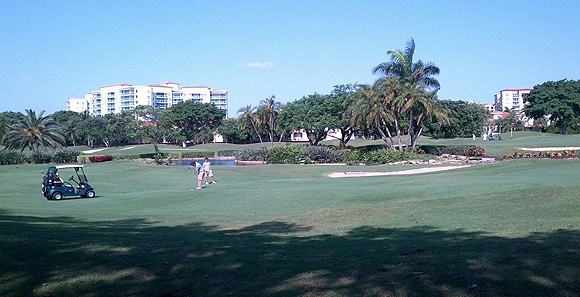 Now, I'm not saying I drink and smoke all day, not at all. I think what I'm trying to say is I take a much more laid back approach to life. The thing is, I haven't always been this way, and I didn't always approach golf in the same manner either. I've learned a lot about the way I approach golf over the past several years, which has in turn helped me learn ways to live my life. This isn't one of those golf and zen articles you see everywhere these days; this is simply a quick story of a man's love for the game and how he believes it's made him a better person.
For me, golf has always been and always will be my favorite father/son activity. My dad taught me everything I know about this game, and has been the most incredible and patient teacher I could ever imagine. He got me started at a young age, I think maybe five or six, but until I reached the age of 13 I never fully enjoyed playing. I took regular lessons/went to clinics with other kids whose parents thought they would be the next Tiger Woods, and I didn't receive too much help from the instructors. But I did enjoy being outside and playing golf with my dad, and that's where I learned more than anything I learned taking lessons.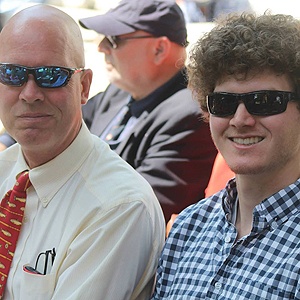 As I progressed through high school, I really started playing more, and my dad fixed a lot of issues with my swing and taught me the intricacies of the game. Of course, his constant reminders of "swing easy" and "keep your head down" often went ignored by my teenage self, as I had more fun smashing the ball and trying to instantly see where it went. But we always had fun, and my game did steadily improve all thanks to his advice. However, as I became more accustomed to playing well despite not playing too often (apparently practice is something you need in this game), my propensity for not having fun on the course quickly escalated.
Up until a couple years ago, golf and I had deeply serious love/hate relationship. There were fleeting moments of bliss, which quickly dissolved into swearing and anger and cursing golf for causing so much anguish. Around the age of 22, I had reached a point where my game actually looked pretty good; my problem simply lied in consistency. I'd shoot +3 for the first 10 holes, but then shoot +23 for the remaining eight and become the most miserable person to be around ever.
If the round started going poorly, I'd get angry and start shooting even worse, causing a downward spiral into the depths of golf purgatory. You know, that place where you try to take your anger out on your drive and the ball goes just as much to the right as it does forward, or where that foot of break you swore you read for five minutes on the green pushed your ball three feet to the right and 10 feet short. I blamed the course, the ball, my clubs, the golf gods, that 5th beer, pretty much anything I could blame to try and get back to where I thought my "normal" game should be.
But then I had a realization: maybe it's just me. Maybe golf is one of the most fickle, torturing games ever and bad shots will happen. Chipping out of one bunker into another bunker will happen. Putting three consecutive shots right into the lake will happen. Driving -10 yards will happen (that is another story for another time). In this realization, I found a new way to approach the game, and while my scores haven't gotten better, my enjoyment and appreciation of golf have certainly increased (and my sister doesn't yell at me when I yell at the ground following a shank!)
I've reached a point where my game isn't going to improve too much unless I get out there every week and get that consistency down. All the pieces are there, they just don't quite ever come together for a full 18. But playing every week isn't the easiest task for me, so I'll continue to slog along and watch my handicap slowly creep down while I make pars immediately followed by quadruple bogeys.
And you know what? I'm perfectly content with that, and even though I know it's coming, I still try to plan as much as possible when I can, because golf is one of the ways in which I escape from reality. I (usually) turn off my phone, grab a few beers, make crude jokes with my buddies, and just enjoy the four hours we have outside while we play this funny game with sticks and balls.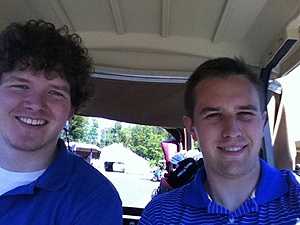 If I hit a good shot, I feel pretty awesome, as it's one of the better feelings out there. If I hit a bad one, or usually consecutive bad ones? Eh, whatever, it's just a game, I'm out there to have fun. Basically, I've taught myself how to accept the challenges/times I mess up in golf, and to meet them head on with a good attitude. This mentality has carried over pretty darn well into my day to day life, and in turn has helped me other areas of my life besides golf.
So what's the point of all of this? Why am I telling you about my severely average golf game and my relationship with it? I guess, in a way, I want to say that I know what it's like to get severely discouraged while doing something you love. The more you fight it, the worse it gets, and it becomes almost impossible to push through any challenges that may present themselves.
By accepting the negatives as something that's bound to happen and embracing them, you'll enjoy the ride that much more and be able to overcome difficult situations with a clear head. When something does go wrong? Just let it go, it's already happened, it's done. Just move on and focus on what you can learn from it. Golf has taught me how to not give a s**t, and for that I am forever thankful to those crazy folks who invented this beautiful game. I'm also thankful to my dad. And the makers of Callaway irons. You all rule.