This post is part of our Non Sequitur Fridays series, which will feature a different Wistia team member's take on a non-Wistia-related topic each week. It's like our "employee of the month" but less "of the month"-y. Meredith Eves coordinates people operations at Wistia. This is her first Non Sequitur!
Since running the dreaded timed mile in middle school gym class, the idea of running a marathon (or even a half marathon) seemed insane to me. Why would you want to run that far, unless you were forced to?
Then, one bright spring day a few years back, I watched my first Boston Marathon. I was standing on Beacon Street just ahead of Fenway Park and I stood shoulder-to-shoulder with complete strangers, cheering on runners of all types—individuals who had great grandkids, people dressed like superheroes, and scores of folks who were doing this for the first time. I'll be honest, I teared up. I felt an immense sense of admiration for the runners and deep appreciation for the solidarity I felt amongst total strangers, cheering on more strangers.
After riding that human spirit high, my fiancé and I decided that we would pick a half marathon, train for it, run it, and then gorge ourselves on delicious pizza (seriously, that was a part of the deal). Since then, I've done a few more of them, and I've learned a lot along the way. Here's how I did it!
Pick a race and sign up.
I found it incredibly helpful to sign up for a race and pay money for it. I paid $70 to run outside, and with that investment, I wasn't about to quit. After asking around and doing some research on Active we chose the Covered Bridges Half Marathon, an early summer race that takes place in the rolling hills of Woodstock, VT. We chose it because Vermont is a pretty swell place to visit, and people raved about the beautiful course. I'm talking horses running in fields, covered bridges (duh), and bubbling brooks, people!
Find someone to hold you accountable.
For me, this person was my personal motivator and husband-to-be. There were certainly days I didn't want to run, especially in late February when it was cold and dark out. My partner, who knows me better than anyone, encouraged me to get out and log the miles when I really didn't want to do it. He was there to high five me after the good and bad runs, and there were plenty of both.
I also found success in being transparent about my goal with my friends and coworkers. They would all ask how it was going, and I had to report back, which helped me achieve a broader accountability.
Buy good shoes.
At the recommendation of a friend and experienced long-distance runner, I went to the pros at Boston's Marathon Sports to find a pair of quality shoes. They watched me walk to see how I pronated, let me try on shoes and run around outside with them on, and in the end helped me pick out a shoe that worked best for my feet. They were a little pricier than your average shoe, but the investment was worth it.
Pick a training regimen and track your progress.
After a fair amount of research, I found a training plan that worked best for my schedule and physical abilities, incorporating both running and strength training. There are so many options out there, and it's helpful to take some time to figure out what works best for you. I found it helpful to build run routes through minimal stop lights and maximum nature, which made a post-work run feel way less stressful. After a while I even started to like it - who knew!?
To keep track of my progress, I used an app called RunKeeper throughout the training process. In addition to the metrics I could see about myself, the app proved to be really great on long runs as the GPS provided turn-by-turn navigation and it mapped my runs for next time.
Stick to it (seriously).
Schedule your training, put it in your calendar, and stick to it. Training is really critical to avoiding injury, and this is a gradual process. Be the Tortoise, not the Hare. Plus, with each mile I logged, I felt far more confident that I could run the full 13.1 miles come June. Plus, remember that $70 I paid?! I wasn't about to throw it out the window like a dummy!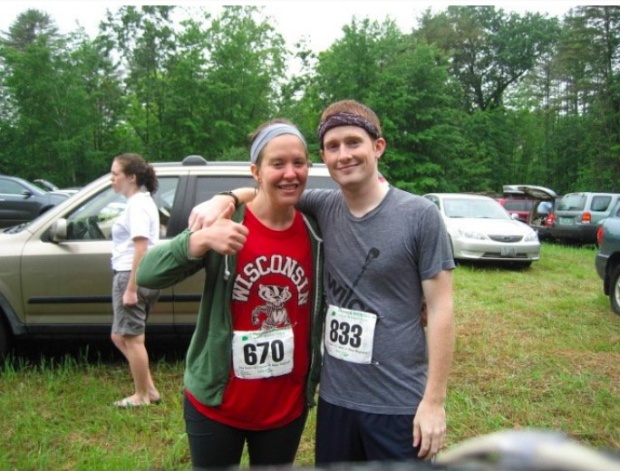 Run the race! Ask friends, family, or your favorite dog, to come cheer you on.
I felt nervous and excited on the day of the race, and the big line at the Porta-Potty and the elite runners doing deep stretches at the start line didn't help, but knowing that I had family and friends who came just to cheer me on as I ran by felt pretty incredible. Not to mention that the fellow race runners added a supportive drumbeat to the course.
When I was on the struggle bus (and I was), there was often someone next to me sharing a friendly "you can do it!" It was hard, but the journey of training and a community of support made crossing the finish line feel even sweeter.
Have a beer, eat a pizza, and reflect.
After peeling my shoes off my tootsies, I sat on the ground and drank the free beer I was given when I crossed the finish line and I have to say, it tasted fantastic and I felt unstoppable.
In completing the training process and running the race, I learned a few life lessons: that those those running shoes with the toes make me feel really uncomfortable, and that with actionable and transparent goals, I accomplished more than I ever thought I could. I'd suggest setting a goal and mapping out a plan; whatever it is, in the end I bet you'll surprise yourself like I did!