This post is part of our Non Sequitur Fridays series, which will feature a different Wistia team member's take on a non-Wistia-related topic each week. It's like our "employee of the month" but less "of the month"-y. Max Kohl is a customer champion at Wistia. His last post was about golf and the art of not giving a sh*t.
You're probably asking yourself two questions: 1.) what's a Bo Jackson?, and 2.) why are you imposing rules on me?
For those who don't know Bo, he is the most legendary athlete of all time. That's right. More legendary than Michael Jordan. More legendary than Jack Nicklaus. More legendary than Babe Ruth. Even more legendary than Joe Namath.
(Hey, I'm a Jets fan. Broadway Joe is all we have.)
So why does Bo Jackson deserve such over-the-top hyperbole?
Because he dominated two professional sports: Major League Baseball and the National Football League. That's two sports. As in more than one.
Many athletes dedicate their entire lives to excelling at one sport, and if they make it to the pros, it's a combination of natural ability, incredibly hard work, and some luck too.
Bo can probably accredit most of his success to the first of those three facets, which fueled many of his early legends as a kid growing up in Alabama (like throwing rocks through screen doors).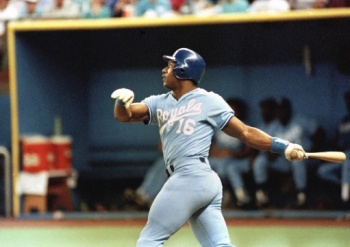 Excelling in football, baseball, and track, the college scouts and coaches came a-knockin' to recruit Bo and his seemingly superhuman talents. After a visit from the head coach of Alabama gave him an iffy vibe and couldn't promise him playing time, Bo decided to commit to their interstate rivals, Auburn, instead. Quick sidebar: Bo held grudges. And I mean held grudges. More on that in a bit.
Auburn's head coach, Pat Dye, greeted Bo with much more welcoming arms and the promise that he would play football. And boy, did Bo play. Bo quickly became a human highlight reel at Auburn, regularly putting the team on his back and making the most inhuman feats look routine. Bo turned into the life source of the school for four months of the year, and his part in their defeat of Alabama during the Iron Bowl of 1982 cemented his place in college football's history.
But here is where Bo's overall legacy began to develop. He didn't just give Auburn fans a high caliber athlete to cheer on. No, he also gave them hope. Hope that it wouldn't take another eight years to beat Alabama. Hope that maybe, just maybe, the human body and the human mind could achieve the seemingly unthinkable. (In my opinion, this is the strongest aspect of Bo's legacy, and one that will be touched on in a few paragraphs.)
Luckily for Auburn, they were able to bear witness to Bo's displays of wonder after the football season ended, as he also crushed baseballs. And we're talking seriously crushed. Pummeled. Launched into orbit. Sent on a one way ticket to nevercomingbacksville. In fact, Bo's first love came in the form of baseball, which is why he never felt more devastation than when he learned he would be ineligible to finish his senior year baseball season.
Why did this happen? Why were Bo (and the world) robbed of another season filled with Bo Jackson moonshots and unfathomable speed? Because the Tampa Bay Buccaneers, owners of the #1 overall pick in the 1986 NFL Draft, decided to fly Bo down to Tampa to discuss his interest in getting drafted to play running back.
Bo didn't know that this would nullify his eligibility for baseball that season, because the Tampa Bay officials convinced him this would not be the case. Bo had just won the Heisman Trophy (no big deal, in the world of Bo Jackson) and became the most sought-after NFL prospect of the year. But none of this mattered to Bo now, because he wasn't allowed to play in what he thought would be his last season of baseball ever before heading off to the NFL. And he blamed it all on the Bucs.
Remember when I said that Bo held grudges? Yea. He still holds a grudge against Tampa Bay to this day.
Bo publicly announced that if drafted by the Buccaneers, he would refuse to sign. Sure enough, the Bucs drafted Bo #1 overall, and the Heisman winner refused to negotiate a deal with the team. A few months later, Bo got a call from another team asking him if he'd like to play. But this wasn't another NFL team. Nay, it was the Kansas City Royals of the MLB, a team that claimed the rights to sign Bo with their 4th round pick of the MLB Amateur draft.
So Bo decided to play professional baseball instead, where he quickly excelled. He didn't excel at hitting for a high average, but he made up for it with his thunderous bat and runaway-train speed. He would also routinely make plays that truly made the viewer wonder if what they just saw actually happened, like this:
Bo settled into his life as a Big Leaguer pretty nicely, but many still wondered what this freight train could do in the NFL, especially with that big ol' chip on his shoulder against Tampa Bay. So in 1987, everyone's favorite crazy NFL owner Al Davis (RIP) of the L.A. Raiders (now the Oakland Raiders) decided to make one of his trademark splashes and offered Bo the opportunity to play in the NFL. Bo refused to give up playing baseball, so the Raiders offered him a contract that would allow him to finish the baseball season, miss the first month of the NFL season and all of training camp, and then walk onto the gridiron and play football professionally.
When asked about this arrangement, Bo said, and I quote from no reputable source other than urban legend, "I like it. I could use a hobby for the baseball offseason. As long as it's not playing for the Tampa Bay Buccaneers."
Bo played running back in the NFL as a hobby. A hobby.
Many people play music, or read, or write, or spelunk. Bo played the most physically demanding professional sport.
No big deal.
And it's not like Bo just got 5-10 carries a game and helped the Raiders sell a few more tickets. No, Bo walked off the baseball diamond and onto the football field, and within a few weeks was the best running back in the NFL. Never before had the world seen someone possess such an incredible combination of strength and speed, someone who made the seemingly impossible look so routine.
Weeks after entering the NFL, Bo ran for 221 yards against a dominant Seattle Seahawks defense led by one of the most loud mouthed/arrogant players in the NFL (sound familiar?) on Monday Night Football. That still remains a MNF record. This, combined with hundreds of other freakish one-man-against-all moments gave everyone the feeling that they were watching something that they had truly never seen before, and may never see again in the future.
So why is Bo's name not printed on the first page of the history books in both the NFL and the MLB? Why is his bust not in Canton, or his jersey hanging in Coopersfield? Because Bo left the spotlight as quickly as he stormed into it. In January 1991, Bo dislocated his hip while being tackled (had he not been so strong, his leg would have gone down naturally before his hip popped out) and in the few seconds after, he allegedly popped it back in himself.
Yea.
Still in pain afterwards, the doctors examined Bo's hip, and because of his superhuman strength he actually ruptured a blood vessel in his leg that pumped blood to his hip when it dislocated, causing a degenerative syndrome known as avascular necrosis. Bo had his full hip replaced and never played another down in the NFL.
After 38 games, that was that. Bo ended up returning to professional baseball in 1992 with the White Sox, but he never fully regained his dominance. Every once and a while, he would show us glimpses of that next-level-human-being he had become before the injury, and in a poetic way, you could say this was his reminder to us all that we're capable of greatness no matter the limitation. He retired from baseball a few years later, but few can argue against the fact that whenever he stepped onto the diamond or the gridiron he was always the best that day. And often, it wasn't even close.
The lasting impact that Bo Jackson left on the sports world is almost unrivaled by any other. What makes Bo's legacy so mystical is the fleeting nature of his time in the spotlight. It's almost as if he never played a game, a collective daydream about the ultimate multi-sport professional athlete.
While Bo's professional career remained brief, his legacy carries on today. There may be no better reminder of just how dominant Bo truly became than everyone's favorite iteration of Bo Jackson: Tecmo Bo.
What in tarnation is a Tecmo Bo?
Well, add two letters and you get Tecmo Bowl, the 1991 American Football game for the NES that has spawned a cult following with regular tournaments still happening today. From the retro 8-bit graphics, to the 85-yard punts (or punt kicks as they are so aptly named in Tecmo), to the disco stance, to the surprise onside kick, there are so many nuances to the game that cannot be replicated and cause us to come back again and again.
In many circles, there are a few rules that have developed to keep the game fair and fun over the decades:
No Bo Jackson
See rule #1.
He is so far superior to his 8-bit colleagues that Tecmo Bo is almost more legendary than real life Bo. It's like watching a college running back play against the local pop warner team. And all the kids are full off of chicken pot pies. (Warning: DO NOT exercise heavily after eating a chicken pot pie. It's not as enjoyable as it sounds.)
Don't believe me that Tecmo Bo is less player and more cheat code? Watch this:
The legend of Bo exists exactly as that: a legend. Bo didn't win any Super Bowl rings, he didn't break any records, and simply didn't play long enough for people to make his name synonymous with football excellence (like the names Manning, Brady, and Ditka). But every time I see Bo run up and down that fluorescent green field in Tecmo, I'm reminded of the player who, for such a brief time, showed us what the human body and spirit can achieve. Bo never practiced, he didn't lift, and he didn't use chemicals to enhance his performance. He just existed to dominate professional sports.
But I believe he existed for more than this. I believe his brief time in the spotlight served as the ultimate proof that the confines of what's possible with the natural human body can be pushed to limits that we don't believe are possible.
Any time he touched the ball or stepped out onto that diamond, he showed us what perfection can look like. He stretched our imaginations to dream the undreamable, to think of the possibilities to come. He made us believe that anything is truly possible, and provided us with hope that the standard perceptions of what a human can do can be transcended.
Yes, other athletes do this, but no one has ever quite demonstrated this as well as Bo. We never saw a learning curve, and we never saw a decline (well, not in football). We just saw a man naturally better than everyone else he competed with, in such an awe-inspiring manner that has left us to wonder if it ever happened at all.
To me, this is my favorite part of being a sports fan. It's the hope athletes provide that drives us to better ourselves so we can be unstoppable in the face of dramatic odds. In my opinion, no one has imparted this feeling on us more than Bo Jackson, and is why I view him as the most legendary athlete of all time.
And it's also why rule #1 is no Bo Jackson.
Some Bo Jackson stats/trivia:
In 1984, Bo ran the 100 meter dash in 10.39 seconds, which would've placed 8th in the finals of the 2012 London Summer Olympics.
In 1986, Bo ran a 4.12 40 yard dash, which is still the fastest officially clocked time at the NFL combine. (Note that this was done with a hand timer and not the digital timers that are used today. I bet if they used a digital timer he would've broken 4 seconds).
Bo only played 9.5 games a season for his four years in the NFL, but ran for 73.2 yards per game at a 5.4 yards per carry clip as the backup running back.
Multiple people have stated that Bo hit the furthest home runs they had ever seen. In his first batting practice in Kansas City he cleared the top of the crown in midfield.
For those interested, ESPN's award winning 30-for-30 series produced a documentary about Bo, aptly called "You Don't Know Bo." It's on Netflix and goes even further into this incredible story. I highly recommend it.