This post is part of our Non Sequitur Fridays series, which will feature a different Wistia team member's take on a non-Wistia-related topic each week. It's like our "employee of the month" but less "of the month"-y. Dan Mills is musicmaker extraordinaire at Wistia.
'Twas a cold and slushy December evening in Park Slope, Brooklyn. I was with a few friends, on our way to grab an adult beverage, when we decided to try out a different bar than our usual dive. We picked Owl Farm, a new-ish spot on 9th Street between 4th and 5th Avenue (if you're not familiar with Brooklyn, it's very close to where Robert DeNiro attempts to murder Lorraine Bracco by luring her with stolen dresses in "Goodfellas"... If you're not familiar with Goodfellas, hit the road).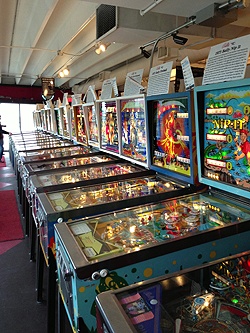 We're sitting in a wooden booth taking in the ambiance when I notice the bright lights of yesteryear peering out from a small area in the back of the bar. Three pinball machines. Machines that I now know are three of Williams' classic solid state dot matrix pins from the early '90s: "Fishtales" (1992), "White Water" (1993), and "Indiana Jones" (1993). For obvious reasons (the scruff, the whip, the John Williams soundtrack), we decided to play "Indiana Jones".
"Indiana Jones" pinball is not an easy game for beginners, and needless to say, we were horrible. But we sincerely tried to figure out how to play it, and I ended up getting really, really into it! Like, 30 bucks and "oh shit, it's 3:30 in the morning" into it. In fact, the next day, I immediately downloaded a PDF of the rule sheet, read it twice, and went back. And then I went back again, and again...
Soon, when I paid for $4 Miller High Life with a twenty, the bartenders at the Owl Farm (who now knew me by name) would give me sixteen singles in return.
I grew up in the '90s. I remember the day "Mortal Kombat" came out and I wasn't allowed to buy it. I remember seeing the graphics of "Super Mario 64" on a demo at the Toys"R"Us in Warwick and practically hyperventilating. The point is, compared to all the new incredible video games that were coming out when I was growing up in the '90s, pinball machines were archaic, unimpressive space-hogs that gave about 30 seconds of frantic excitement (not to mention, you had to ask your mom to take you to the arcade if you even wanted to play them). I wrote them off ages ago.
But my new encounter with "Indiana Jones" taught me that there is a LOT more to pinball than meets the eye. You see, it's not just about keeping the ball alive. Pinball machines have games inside of games inside of games. Storylines that make them as complex as "Zelda", and enough nostalgia to make them as lovable as a country bed and breakfast.
As much as I'd love to babble on about how great pinball is, as much as I'd love to teach you about how the "dead flipper pass" will improve your game immensely, as much as I want to share the story of how fate led me to own my own pinball machine for home use (Williams 1988 "Taxi"), I'd rather share the biggest lesson of all that I've learned from my newfound love of pinball. And the lesson is, "always have a hobby."
I'm a musician. I've been an active singer-songwriter for many years, I compose for musical theatre, and I'm the man behind the music here at Wistia. Making a living as a musician has always been a big dream of mine, and it's something I'm extremely happy and proud to be doing. However, as music has become more and more a part of my professional life, it doesn't always provide me with the unadulterated escape from life's stressors that it used to.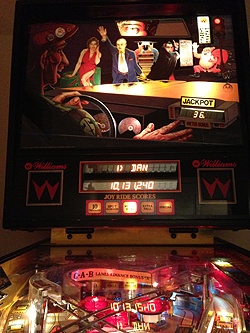 I remember exactly what was going on the night I first played "Indiana Jones". I had just finished an intense one-month workshop of a musical I'd been working on, there were a bunch of songs due here at Wistia, and I had a few out-of-town gigs coming up with my band. Since it was all music, on paper, it seemed like I should have been in heaven, but I assure you: I was tired, overbooked and stressed out. I think the worst part was that I couldn't turn it off. There was always work that could be done with a guitar and laptop, and if I wasn't working, I was dwelling on something work-related. I was probably putting in 10-12 hour days all the time without really meaning to.
Once pinball was in the equation, I started planning out my day a bit more to fit in a few games before dinner. I started reading up on pinball's history and researching machines. I made some new friends from the spots I was playing in who liked to play and chat about pinball. I explored new places all around the five boroughs to try machines I was interested in. I even took a few trips to the Silverball Museum in Asbury Park, NJ.
Having a hobby helped me strike a better balance between work time and play time and helped me feel less stressed out. So my suggestion for everyone is to make sure you have a hobby! You'll be surprised what a positive effect it can have on your life.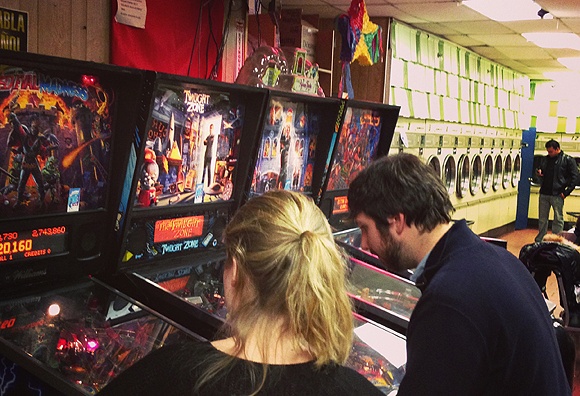 And if you're interested in pinball, here are five tips to get you started:
Always READ THE RULE CARD on the bottom left of the machine, it will pretty much explain how the scoring works.
Most machines can have FOUR PLAYERS! Add the credits and keep pressing the start button to add players. It's way more fun with more people.
LOOK AND LISTEN! Usually the lights and the audio bites will tell you what you need to do.
The goal is to have INTENTIONAL SHOTS. A real good game of pinball will involve strategy, timing, and aim.
DON'T WALK AWAY until the match game is done! Every pinball machine plays a number matching game at the end where you have a chance to win free credits. If the machine makes a giant popping sound, you didn't break something: you won a free game.