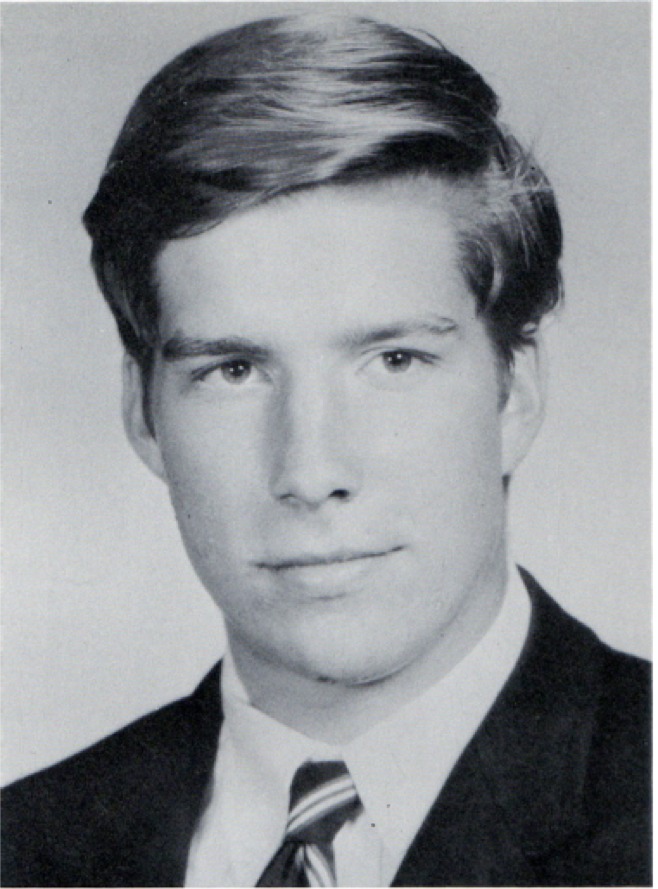 Mr. Minifie, my high school English teacher, inspired so many students with his passion for literature—he was a writer as well as an avid reader. He'd read seemingly every book in the world and struck me as one of the most intelligent and literary people I'd ever met.
Mr Minifie shared with us a challenge he'd set for himself—he wanted to tackle the Modern Library's list of the 100 Best Novels written in English. He encouraged all of us to join him in this task.
The following summer, Mr. Minifie was hiking in New Hampshire, (at one of my favorite spots, Mt. Moosilauke). Though he was young and healthy, he suffered a fatal heart attack.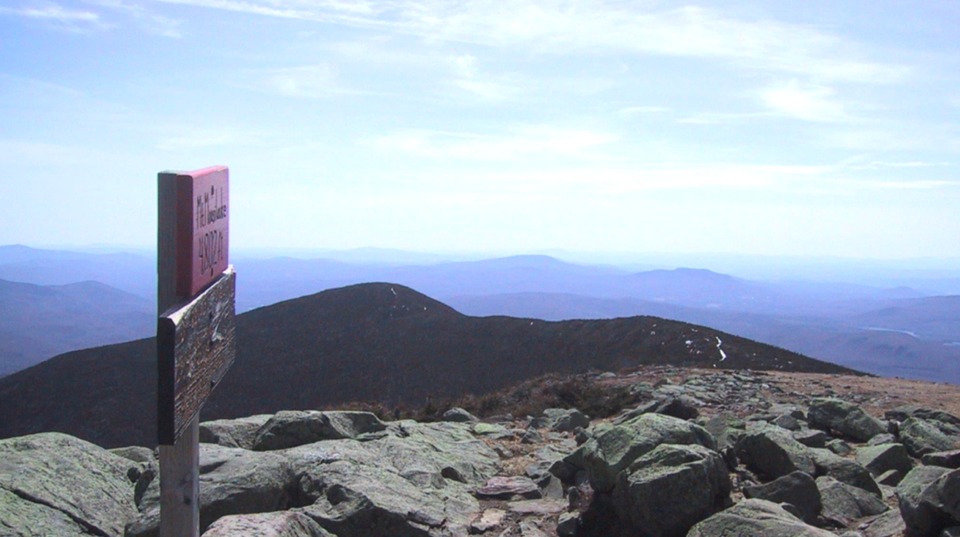 My already strong desire to read the list became a mission I had to complete as a tribute to Mr. Minifie.
I'd started with 9 books under my belt: The Catcher in the Rye, Lord of the Flies, The Sun Also Rises, Light in August, On the Road, Lolita, Brave New World, 1984, The Bridge of San Luis Rey. These were books I'd read in other English classes or received from friends. I spent the next decade chipping away at the remaining 91 books, and I learned a lot along the way.
Not my cup of tea
I learned that some of the authors on the list are just not for me. No amount of persistence will make me enjoy James Joyce. His most famous work—Ulysses—is a book I've started and stopped about 5 times. And I've still never completed it.
I know there are a lot of die-hard Joyce fans, but I'm simply not one of them. I once read that James Joyce wanted it to be as difficult for the reader to read his books as it was for him to write them in the first place. Sounds like a pretty terrible reading experience, if you ask me.
My cup of (hot and steamy) tea
Meanwhile, some other authors have knocked my socks off. I learned that I love D.H. Lawrence, who appears on the list three times. Lawrence is best known for his steamy page-turner, Lady Chatterley's Lover, which was burned in libraries and towns across the country for decades.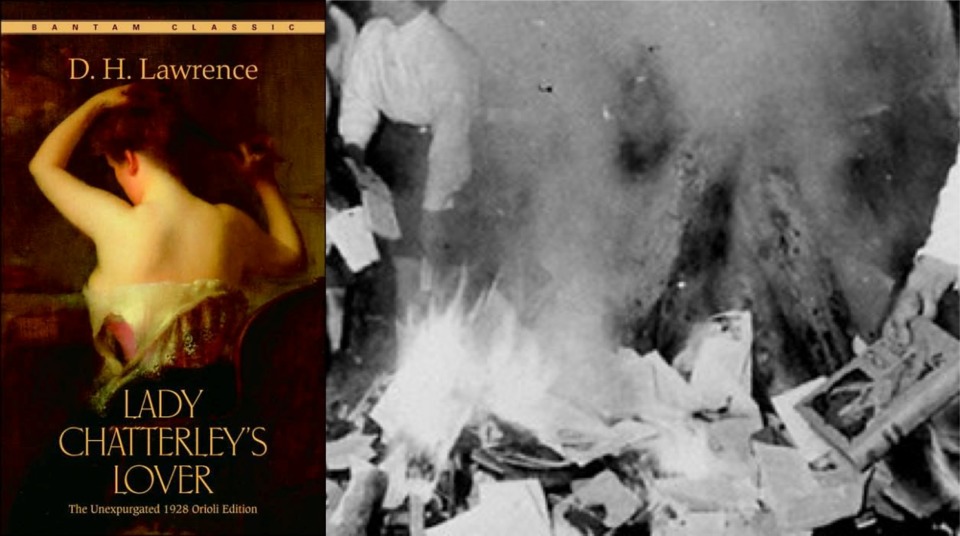 But he's written so much more than just this one book. And each one displays a masterful grasp of plot and character development. Here's something I find amazing: Lawrence wrote all of his novels at least three times. After a first draft to nail down the structure, plot, and characters, he would trash it and start from scratch.
The next version would be even tighter and more nuanced than the first, since he already knew where he was going. But when he finished this second version, he'd trash it again and start the very same book over again. His works display a focus and depth that can only come with this kind of (near-crazy) dedication and persistence.
Henry, my love
I also learned that I adore Henry James. He captures life, people, and emotions in a masterful and realistic way. He was also a tremendously prolific writer. Henry James is best known for his fiction, but he also wrote plays, articles, biographies, literary criticism, and non-fiction about travel. Still, he's at his best within his novels.
If his writing style were embodied within a physical object, I would liken it to finely-wrought iron, like on a staircase or door in an old mansion.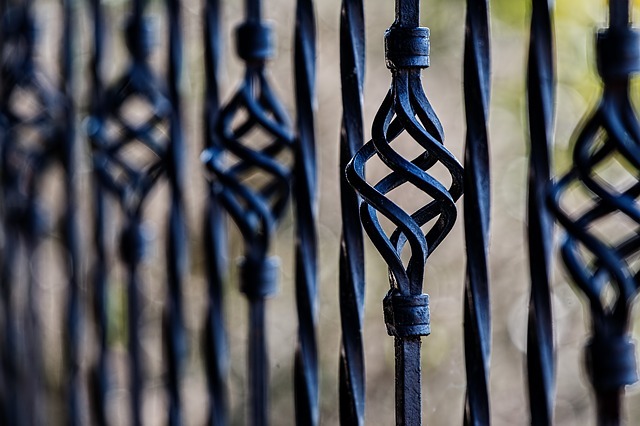 I love Henry James so much, in fact, that my husband and I named our son, who is now ten months old, Henry James Craft.
Stuck at 92
On my bookshelf at home, I still keep the handout that Mr. Minifie gave us in high school.
You'll notice that most of the books are checked off but not all of them. I'm stuck at 92 out of 100, and I've realized that I'm oddly reluctant to finish. In some ways, I'm not ready to be done with this project. It's been part of my life for so long, and it almost feels like the process is part of who I am.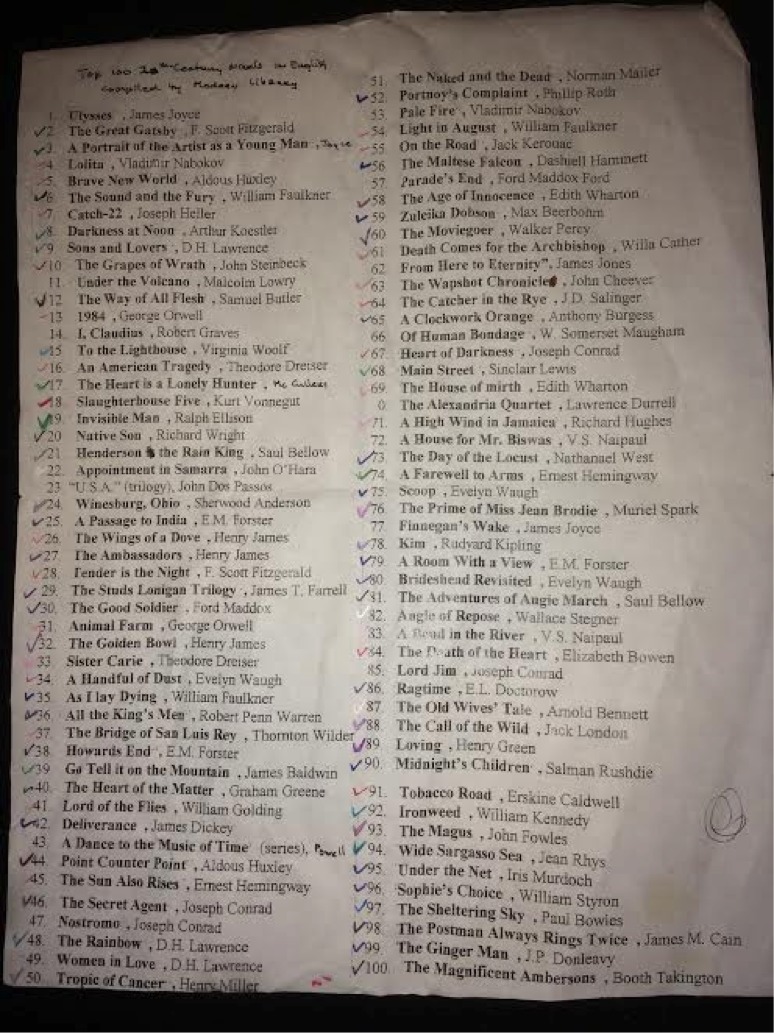 Partially, I expected to feel like a different person by the time I finished. I imagined I would be more like Mr. Minifie—a true literary expert—but I don't feel different. I'm constantly wishing I were more familiar with more authors.
Perhaps most importantly, though, I think I've lost faith in the list. How can anyone ever choose just 100 books as "the best?" Aside from which, the list was originally created by a small group of people, and it really doesn't reflect the breadth of great literature. There's very little diversity of any kind on the list, (and don't be fooled by Evelyn Waugh—a hilarious author who appears on the list three times. Evelyn was a popular man's name back in the day!). This lack of diversity is unsurprising, given that the selection committee wasn't very diverse.
Despite the fact that I feel a little jaded, this was a stunning victory for the Modern Library, who created the list. Their goal was to get more people reading, stepping out of their comfort zone, and discussing literature. Clearly, it's worked on me. It's also gotten loads of other people reading, discussing, and even creating their own competing lists.
I'll close with a public proclamation.
It's human nature that we're more likely to follow through on the things we commit to publicly, so here goes: Within the next year, I'll complete the remaining books on this list. And I'd love some allies, so please join me in this mission!
Writer's note: this post is an adaptation of an Ignite Talk that I gave at MozCon 2015.
What books would you add to this list? Who are some of your favorite authors (on or off this list)?