Typically, our Non Sequitur Friday posts are written by one individual, but on some occasions, we team up to create something larger. A while back, we collected book recommendations from our team, and we thought it was about time to create another Wistian reading list. For this Friday's edition, we encouraged Wistians to share lessons or thought-provoking passages that they discovered in the pages!
Kristen Craft, Business Development
The Happiness Project by Gretchen Rubin
Gretchen Rubin does a deep dive into how thinkers, philosophers, psychologists, and regular people throughout the ages have approached happiness. I learned a lot about marriage, relationships, and even how to fight the right way (productively and without undermining important relationships and trust).
Robby Grossman, Engineering
Cosmos by Carl Sagan
To frame it as a "lesson" makes it seem trite, but it was a pleasant, constant reminder of how small we are, how little we know and how much work we have left to do in the grand scheme of things, how much exploration lies ahead of us, and how primitive we will seem in the context of history when people in the future look back on us.

"We embarked on our cosmic voyage with a question first framed in the childhood of our species and in each generation asked anew with undiminished wonder: What are the stars? Exploration is in our nature. We began as wanderers, and we are wanderers still. We have lingered long enough on the shores of the cosmic ocean. We are ready at last to set sail for the stars."
Molly Wolfberg, User Research
Fatal Vision by Joe McGinniss
I was told that because I love Serial & 'The Jinx' that this book would be up my alley. It's a classic crime story about Jeffrey MacDonald and the murder of his family, told from Jeffrey's perspective. Super enthralling read. Lesson: Even your biggest supporters can become suspicious of you. MUAHAHAHA!
Dave Cole, Customer Happiness
Ruby On Rails Tutorial – Learn Web Development with Rails by Michael Hartl
This is the book I had been seeking for years. I wasted so much time trying to learn Ruby on Rails (and Ruby in general) by banging my head against a wall before this wonderful book (which you can read online for free) educated me in a way that makes sense. Hartl starts from the beginning (a great place to start) and adds to the reader's knowledge in a logical, cumulative, and engaging manner. Grab yourself a growler of iced coffee, keep Google and StackOverflow open in another tab, and you can learn much of Ruby on Rails over a focused and fun long weekend with this book.
Lauren DeLench, Customer Happiness
Mayflower by Nathaniel Philbrick
Lesson: History is a long series of crazy decisions.

"In the end, both sides wanted what the Pilgrims had been looking for in 1620: a place unfettered by obligations to others. But from the moment Massasoit decided to become the Pilgrims' ally, New England belonged to no single group. For peace and for survival, others must be accommodated. The moment any of them gave up on the difficult work of living with their neighbors - and all of the compromise, frustration, and delay that inevitably entailed - they risked losing everything. It was a lesson that Bradford and Massasoit had learned over the course of more than three long decades. That it could be so quickly forgotten by their children remains a lesson for us today (348)."
Meryl Ayres, Content
The Upside of Stress by Kelly McGonigal
I love learning about the science behind the mind-body connection, so this book was pretty much my dream come true. It outlines fascinating new research on stress and offers helpful exercises for reframing your perception of stress' effects on your health. Fun fact: stress can make you stronger (and happier) if you think about it in the right ways. If you're interested in a quick recap, you should check out this author's TED talk.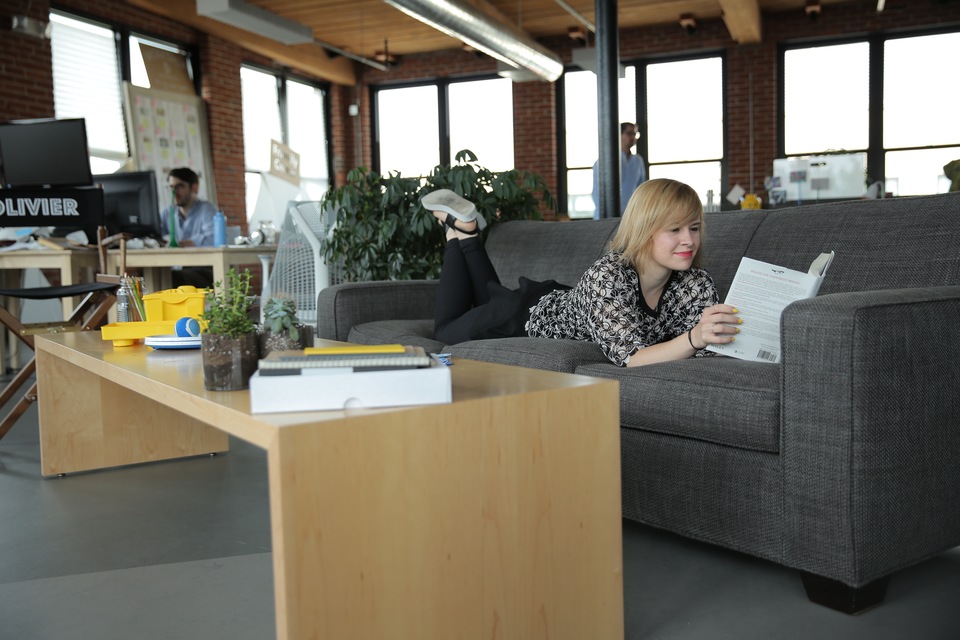 Alyce Currier, Content
The People's Platform by Astra Taylor
Astra Taylor takes a refreshingly critical look at how we approach the internet as a content platform. An important reminder that just because a conversation is happening online doesn't mean it's inherently more egalitarian or open.

"The frame of sustainable culture has other benefits as well. In stark contrast to the emphasis on newness and nowness of most online platforms, it encourages us to think long term. Inherent in the concept of sustainability, after all, is the element of duration, of time and also depth of attention, for both creators and consumers. To escape the cycle of churnalism and expendable content in favor of sustainable culture, we need to develop supports that allow for the prolonged immersion and engagement artistic and journalistic endeavors often require, nurturing projects that are timeless rather than timely."
Joe Ringenberg, Product Design
My Struggle, Book 2 by Karl Ove Knausgaard
My contribution is just this quote.
"For in fact how small and trivial was the world we allowed ourselves to be lulled by? ...But the stars twinkle above our heads, the sun shines, the grass grows and the earth, yes, the earth, it swallows all life and eradicates all vestiges of it, spews out new life in a cascade of limbs and eyes, leaves and nails, hair and tails, cheeks and fur and guts, and swallows it up again. And what we never really comprehend, or don't want to comprehend, is that this happens outside us, that we ourselves have no part in it, that we are only that which grows and dies, as blind as the waves in the sea are blind."
Bobby Picco, Customer Happiness
The Grand Design by Stephen Hawking and Leonard Mlodinow
For me, this book epitomizes how relative knowledge is, as our personal model of reality is almost always incomplete.

"Instead we adopt a view that we call model-dependent realism: the idea that a physical theory or world picture is a model (generally of a mathematical nature) and a set of rules that connect the elements of the model to observations. This provides a framework with which to interpret modern science."
Laura Powell, Operations
The Art of Asking by Amanda Palmer
I've been fascinated by Amanda Palmer since I learned she started drawing her eyebrows with eyeliner for a Marlene Dietrich look-a-like competition more than a decade ago. Her book is part-investigation, part-manifesto: clawing at the reasons humans avoid vulnerability and proffering that self-reliance is not a productive ethic. And she managed to weave some truly bizarre stories throughout this informal behavioral study - including anecdotes about her time working as a stripper, a living statue, and behind the counter at my favorite ice cream store, Toscanini's.

"There's no 'correct path' to becoming a real artist. You might think you'll gain legitimacy by going to art school, getting published, getting signed to a record label. But it's all bullshit, and it's all in your head. You're an artist when you say you are. And you're a good artist when you make somebody else experience or feel something deep or unexpected."
What books have you read lately? Care to share a passage that stuck with you or a lesson you've learned?