This post is part of our Non Sequitur Fridays series, which will feature a different Wistian's take on a non-Wistia-related topic each week. It's like our "employee of the month" but less "of the month"-y. Chris Lavigne makes videos at Wistia. His last Non Sequitur was about vacation videos.
My ski trip to Jackson Hole in February marked a milestone for me. This was the first trip I went on where I didn't use my Canon 5D, which I specifically packed to shoot ski footage. And yet, I still made a video to recap the trip.
Unlike my usual vacation videos, this one was shot entirely on iPhones and a GoPro.
No bulk and easy access
We went to Jackson Hole for a ski trip, not for a video shoot. So our primary objective was to ski. On the morning of day 1, I grabbed my skis, took my phone, and threw my GoPro in my pocket to keep the bulk to a minimum and just get my feet wet for our first day on the mountain.
Ten seconds into the first tram ride up, I regretted not taking my 5D. The mountain looked spectacular. Each trail was better than the last. I needed to document! I started by taking quick breaks mid-trail to shoot footage. It was easy to ski down, take one glove off, grab my phone, and start shooting. Not to mention the image stabilizer smoothed out the shake from being out of breath and giddy with excitement.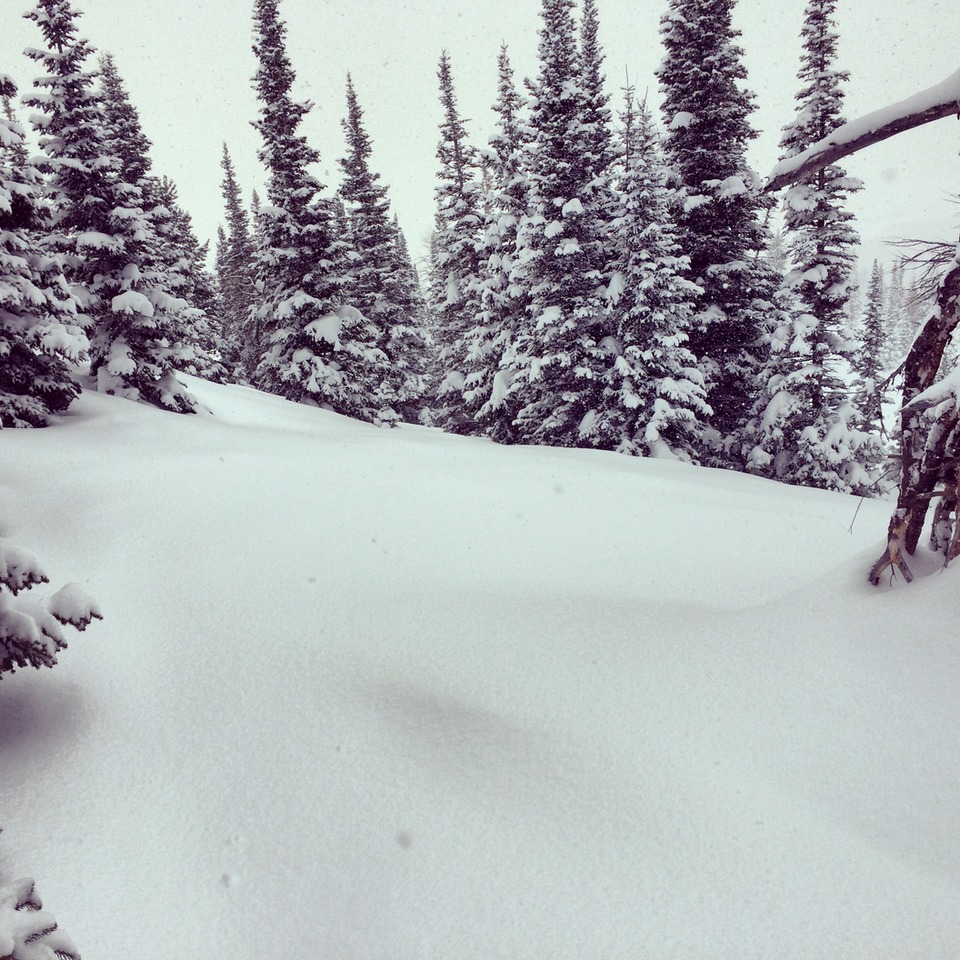 The same could be said about the tiny GoPro in my pocket. Because of the simplicity of the controls, I could reach into my pocket and start shooting with it without even taking my gloves off! I shot handheld with the GoPro the entire trip with the exception of one day that I wore a chest-mount.
I'll bring it tomorrow…
We had four days to ski Jackson Hole. You might not believe me when I say it, but each day was literally better than the last. It kept dumping snow, making for fresh tracks in the morning. The skiing was just too good to tote along my 5D.
So I kept saying "ehhh...maybe I'll take it tomorrow." But I never did. It was one of those "live the moment" instead of "capture the moment" scenarios. My focus was entirely on skiing and not on shooting.
Slow-mo makes a lot of raw footage
Because I use my iPhone camera so much in my personal life, I try to upgrade with every iPhone update. And as a video nerd through and through, I was most excited about the slow-mo feature of the iPhone 5s.
Naturally, all I want to do now is shoot slow-mo, and during our time in Jackson Hole, there was no shortage of beautiful shots. Snow falling on the chairlift ride. A gust of wind blowing snow from the trees. Making turns in waist-deep powder. There was beauty everywhere, and I wanted to capture it in slow motion.
The iPhone 5s shoots at 120 frames per second. That means a 10-second clip at normal speed turns into 50 seconds in slow-motion. I didn't realize this until I started sorting through footage on my flight back to Boston: I was left with over 2.5 hours of raw footage. Even after an initial water-down process, I had over 45 minutes of usable footage to work with. And that was even with a mixture of slow-mo and regular speed footage!
Something is better than nothing
The iPhone looks pretty darn good. The GoPro offers unique perspectives that no other camera can capture. But the end result of the video is subpar in my eyes. Shooting with the 5D would have captured more pristine imagery. The colors would have been bolder, the details sharper. The care behind each shot would have been greater. But for this trip, I'm just glad to have a video that captures so much of the experience.
It was especially easy to film everyone on the trip because everyone had an iPhone in their pocket! In years past, I would had to shuffle a camera back and forth between people to try to get everyone on camera. But seeing as everyone on the trip had an iPhone, the logistics were far easier, resulting in way more unique footage and perspectives.
I have no regrets about taking time to live the moment and not capture the moment. It felt quite liberating as a person that spends so much time experiencing at beautiful moments through the LCD screen of a camera. I feel like my Jackson Hole trip struck the perfect balance and left me with a video that captured the trip's essence.