This post is part of our Non Sequitur Fridays series, which will feature a different Wistia team member's take on a non-Wistia-related topic each week. It's like our "employee of the month" but less "of the month"-y. Mercer Smith is a Customer Champion at Wistia. Her last post was about Zen and the Art of Bicycle Maintenance.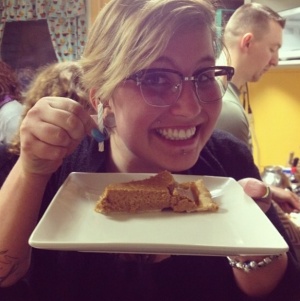 My name is Mercer, and I am a stuffing-holic. I think that I was predisposed to this addiction by the fact that today, November 29th, is my birthday and it (along with my father's, November 21st) has always fallen on or around Thanksgiving.
When I was younger, my father, Murray; my stepmother, Susan, and I would all take the several-hour trip to Princeton, New Jersey to spend Thanksgiving with another racing-family: the Burts. And every year would be filled with gluttony—pumpkin pies stacked so high I couldn't see over the boxes; bubbling, boiling, deliciously-rich-smelling gravy, and a turkey cooked in the style most recommended by the New York Times that year.
You name it, I've had it: wine marinaded, deep-fried, turducken, and even the infamous "three-hour turkey" (which was not true to its name). Because of these fond memories, Thanksgiving (and all the fun and friends that come with it) is my favorite holiday. And this year, my 25th on the planet, I get to celebrate it three times.
Yes, not one "serving" of stuffing, but three fantastic evenings filled with the most important people in the world to me: my family, my Wistia family, and my husband's Apple family. It is the best birthday gift I could ever have asked for, and it happened serendipitously. To celebrate and commemorate the best birthday ever, I've written this blog about my favorite Thanksgiving foods and the memories that go with them.
Stuffing.
I mentioned this above, but G'DANG do I love stuffing. My favorite stuffing memory isn't one of a gourmet kielbasa and apple one that my talented stepmother made, but instead of the first Thanksgiving that my husband and I shared. Neither of us were able to travel that year, so instead we ordered Boston Market's Thanksgiving special, watched Paul Rudd movies, and made stuffing from a box on the stove top. Not the best stuffing I've ever had, but definitely the most tender Thanksgiving moment.
Turkey.
Any other time of year, I think turkey is the worst. I think it's dry, and gross, and the coloration that it takes on when I get it from the deli is weird. That weird pasty grey? Not something I want to consume. But at Thanksgiving, the whole bird gets cooked—and that means all the SKIN.
Maybe it's just my family, but every year my little cousins, aunts, uncles and I end up arguing over who gets the crispiest bits of skin, rapping each other's knuckles with our own in a playful game of keep-away. This is something that makes me smile every time I think about it.
Mashed Potatoes.
My stepmother, who is the queen of everything healthy, allows herself to indulge in an island of mashed potatoes surrounded by a lake of gravy every year. The smile that this simple-but-delicious food puts on her face is worth cherishing and thinking about every time I take a bite of my own. It's good to be reminded that there are small things that we can be overwhelmingly happy about each and every day.
Weird Relish.
Given that my father is Scottish, my stepmother is Danish, and there are a series of other crazy nationalities that make up my family's melting pot, there are sometimes some, uh, strange foods on holidays. My father is a relish and mustard kind of guy, and there is always some new, exciting thing on the table to try. Last year we had cranberry, red onion, and tangerine relish—it was delicious.
Pumpkin Pie.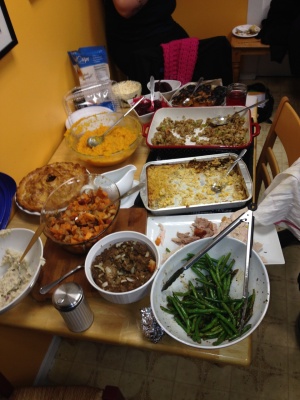 Lordy, do I love pumpkin pie. It is the king of all pies in my book, good on its own or when mixed with something. Have you ever tried a pumpkin pie cheesecake? I did not think dessert-having could get any better but it did. I ain't mad at it, either.
Thanksgiving is a time when I allow myself to have that extra piece of pie (or two, or three. Maybe a scoop of ice cream too, please), and it is the best that my favorite pie is always served. Talk about being blessed. It also turns out that, because of the aforementioned birthday/Thanksgiving cross over, pumpkin pie is usually my birthday cake—that orange base reflects the flickering flames of birthday candles perfectly.
---
I hope that your Thanksgiving was beautiful, and that in the past year you have found things to be grateful for and happy about. Christmas is right around the bend, but let's take the time that we have to be thankful for what we've got, and what we'll have in the future. <3 It's the little things, after all.