This post is part of our Non Sequitur Fridays series, which will feature a different Wistia team member's take on a non-Wistia-related topic each week. It's like our "employee of the month" but less "of the month"-y. Jordan Munson is a customer champion at Wistia.
"Who are you?"
For me, that's not a really hard question to answer. It's probably not that tricky for you to answer, either. How about this one, though:
"Who do people think you are, based on what you post to social media?"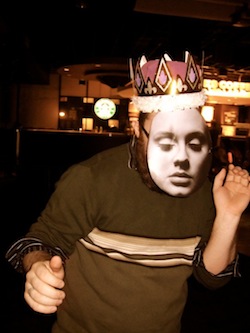 Much harder, right? It was for me, too. Not long after Facebook launched for colleges, I started my first year at university (Northeastern, to be specific—go Huskies!) and hopped aboard the Facebook train. At that point, I had no idea what I was doing and mostly treated it like MySpace, posting as much stuff as I thought would make me look cool and goofing off with my friends. I never thought for a second about what folks actually thought of who I was based on that stuff, but I was pretty sure I didn't need to worry since only my friends (folks who already knew me) could see it. In recent years, all of that has drastically changed.
Now, there are all sorts of cautions about not posting compromising things to Twitter, Facebook or even the Internet in general—which is all well and good, but not why I'm writing this. Instead, I'm here to talk about how I've begun to think more about specifically leveraging social media to strengthen the image of me, not just to avoid damaging it. You may find this surprising (or you may not, I don't really know), but my Facebook is completely and totally public. I know that as time goes by, there will be folks who want to check out my Facebook to get in touch with me, which I think is awesome. Instead of leaving them guessing, I keep it all open so folks can see my pictures and friends and posts. It's who I am, why hide it?
Of course, I don't post every part of my life to Facebook. I post things I'm interested in, thoughtful insights, things I write, and all sorts of other content. Things that are very much who I am, but things that aren't deeply personal. Think about how much better it looks from the outside if someone visits your Facebook and sees that you're completely open about the things that make you who you are, as opposed to locking it away like some sort of dirty secret. For me, that's a pretty big disparity.
Twitter is a bit of a different animal. My Twitter is very much tied to the things I actively participate in and the things I'm interested more than the more personal nature of the things I share on Facebook. I'd like to think I'm a huge ambassador for Wistia on Twitter, helping and connecting with customers and folks we work with. In addition, I connect with other metal journalists and folks who cover metal, since I sort of moonlight as a hack music journalist (primarily writing for a site called Under The Gun Review).
I tweet lots about hockey, too, while my playoff beard grows. The list of topics goes on, but it's mostly of a different nature than the Facebook stuff. I belong to a number of other social networks, but the other major force is Tumblr, which I almost exclusively post audio/visual content and more lengthy editorial content, rarely of an intensely personal nature, unless I feel that it's beneficial for folks to hear (perhaps an enlightening story or positive message). Again, different content.
It may not be of much interest to you, readers, but I've found it incredibly beneficial for networking, leads on things and just enjoying social media more to not hide the things that make me who I am, but instead find the ways in which I can most accurately express the parts of who I am in a beneficial way.
The beauty of social media is that you can, more or less, shape exactly who you're portraying yourself to be. Why not take advantage of that in the most beneficial way possible? You're really missing out on a huge asset if you're not actively working to portay yourself online an an honest and positive way. My last piece of advice here is that you shouldn't fake it: eventually people will notice. If it doesn't translate to who you actually are, what's the point?
Follow Wistia on Twitter
We are constantly summarizing our Sequitur (and Non-Sequitur) antics in 140 characters or less.