Hot on the heels of the video about capturing video with your iPhone that we released last week, we wanted to walk through another simple way to make video. Introducing the no-edit screen recorded video.
Tools
For this approach, you'll need a laptop with a browser, an internet connection, and some time to put together your script. We also used a simple no-edit screencasting tool called Screenr that you can use to record your desktop. Screenr is free for screencasts shorter than 5 minutes.
Scripting
To kick off the script, I narrated myself walking through PowerPoint and Chrome. I jotted down my narration into Evernote as I went. It took about 20 to 30 minutes of reworking  things before I was happy enough with the script to move on.
Prep work
I built a a quick slide deck with some intro points, gathered up the browser tabs I wanted to highlight, and turned on Photo Booth so I could make a quick appearance on screen. Once I had everything I wanted to be in the video ready for action, I focused on framing the shot.
When you hit the record button in Screenr you'll get a box like this.
This is your framing window. Everything that is inside the window will be filmed, everything else will not. To start I framed my windows so that I could switch between them outside the frame. In my case, I also ended up moving my task bar to the left side of the screen. This is what it looked like when I was ready to record.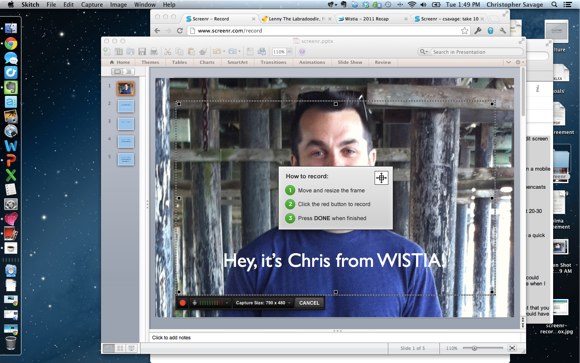 Recording
I went into our studio so that I would have some quiet space, but you can do this anywhere. Our friend Miguel from Grumo Media likes to suggest that you cover your laptop and yourself with a blanket to get better sound. I didn't feel like messing up my hair today, but if I had been in a louder area I would have made the sacrifice.
I printed out my script so that I could glance at it while it wasn't onscreen and started recording. I ended up doing a total of 9 takes. As you read the script out loud and time your on-screen moves, you'll notice that some things feel awkward or not needed. I cut those out as I went and was really happy with how the video ended up.
Celebrate
One of the things I love about the no-edit approach is that it forces you to keep things short, simple, and natural. And by keeping things simple, you can do many takes in way less time than it would take you to edit a video.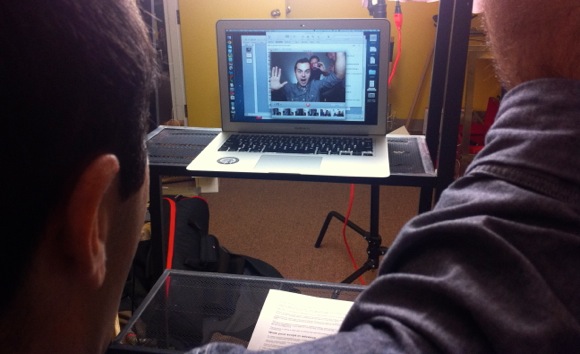 What are your favorite ways to produce video in a lo-fi, low-resources environment?