Smooth Playback is a webcomic about web video.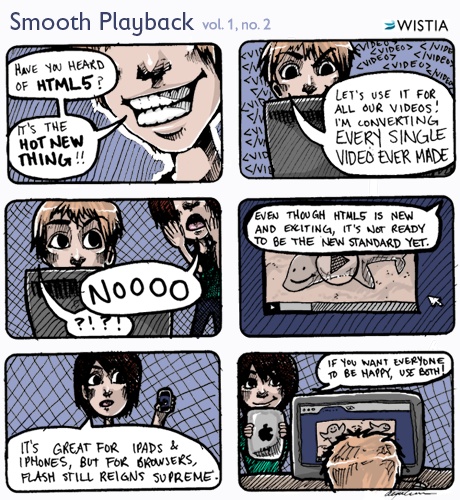 With business video on the web, one of the most important priorities is deliverability--you want the majority of people (in fact, more than the majority of people) to be able to view your video without having to take any action beyond pressing "play." The two main web technologies for playing video are Flash (which has been around for a while now) and HTML5 (which is pretty new).
Flash is a proprietary browser plug-in, built by Adobe. It was one of the first to make video on the web work, and Flash is shipped with almost all browsers (Safari on Macs now being the exception), on almost all laptops and desktops. The Flash plug-in handles all decoding of a video.
HTML5 has been the subject of plenty of buzz, especially with its super simple <video> embed code that's unprecedentedly pretty and concise. The schism in the web video industry was deepened when the iPhone came out; it did not support Flash at all, but instead exclusively supported HTML5.
With HTML5 video, decoding decisions are made at the browser level. Most Mac laptops don't ship with Flash. For this reason, it's a good idea to offer at least a Flash and HTML5 option for viewing web video, to make it accessible to as many people as possible. Furthermore, you want to make accessing the video seamless: users of one technology shouldn't have to click an extra link just to view the version of the video that's supported by their device.
Things do get more complicated than just the dichotomy between Flash and HTML5, at the encoding level, but the simple recommendation here is to keep in mind that there is no one thing that always works. Later on, Smooth Playback will cover more specifics on codecs and the internals of a particular video.