'Tis the season for hauling out the holly, putting the best Christmas album (this is indisputable) on the turntable, and cramming into garland-lined photo booths at your company's holiday party.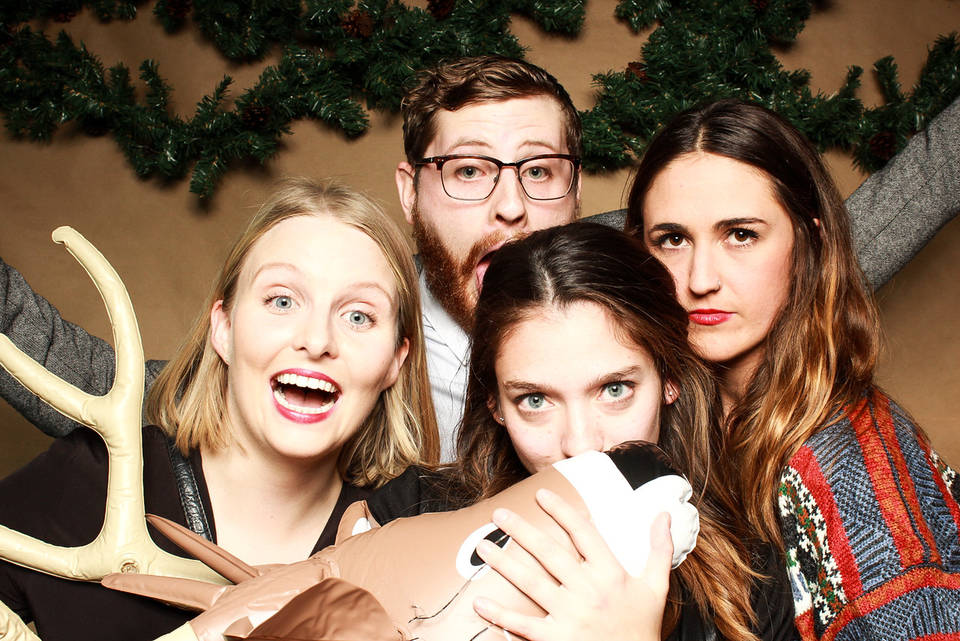 November is upon us, which means you're probably searching for ways to spread some holiday cheer. With its mix of traditional video comforts and new split-screen design, Soapbox is the perfect platform for bringing glad tidings of great joy to your family and friends.
And with our very own, specially designed Keynote and PowerPoint templates to put you in the holiday mood (you can download them at the end of this post!), it's going to be a cinch to bring a smile to even your grinchiest acquaintances. Plus, once you've made your Soapbox video, you can send it off in an email with a crisp video thumbnail—your family and friends will have no idea that it only took you a couple of clicks to make it.
"With our specially designed Keynote and PowerPoint templates to put you in the holiday mood, it's going to be a cinch to bring a smile to even your grinchiest acquaintances."
Without further ado, here are our 3 favorite holiday-themed Soapbox examples that you can whip up in a snap in between tree chopping, menorah lighting, or gingerbread baking.
Preview your Thanksgiving menu
You're not about to spend 3 days cooking up a feast for 12 guests without creating a fanfare-like anticipation that rivals the release of the next Star Wars movie. Oh no, you are going to milk this moment for all its worth.
That's why you, master chef, have turned to Soapbox to give your guests a preview of what culinary delights you'll be cooking (or baking) up. Not only does this let them rest easy ("I've got this guys, I promise"), but it'll also get their stomachs churning with anticipation.
Mom is a vegetarian? No worries! She'll be thrilled to see that you kept her in mind with your non-meat options. Your sister is worried that her favorite appetizer isn't going to make the cut? Rest assured, sis—there it is!
Whether you're hosting Thanksgiving, New Year's, or any other holiday celebration, reassure your guests that everything is under control, and that they're about to experience a feast that would make even Martha Stewart ripe with envy.
Send a more personal and creative holiday card
The traditional holiday card may be in decline (and your mantle may be looking barer because of it), but that doesn't mean your friends aren't interested in what your family has been up to all year.
Sure, Facebook and Instagram are great for sharing the occasional picture or update about the goings on in your life. But what they can't offer is your one-of-a-kind narration as you send your season's greetings.
No more trying to fold up the annual newsletter to fit into your holiday card, no more having to buy enough ink for your printer cartridge, no more rushing to the post office on Black Friday with your arms brimming with cards to stamp. Let Soapbox do all the hard work for you.
Take a cue from Joe and Rachael's Soapbox video and share what you and your family have been up to the past year, from highlighting your new house to the memorable vacation you took. And we won't judge if you don reindeer antlers to get you in the mood.
Invite guests to your New Year's Eve party
It goes without saying that your holiday party is going to be an event. After all, you're putting way more effort into the planning, guest list, and decorations than is humanly imaginable, so naturally your event invite isn't going to be cutting any corners.
Out with blasé Facebook events, in with customized Soapbox invitations, which allow you to share the rundown of activities, location details, and what your guests should bring with a simple, cheery video. Even if you do want to keep that Facebook event, you can now download your video masterpiece and post it right to your event page thanks to Soapbox Pro.
And with Soapbox's customizable Call to Action, no one will have an excuse not to RSVP or add their favorite party song to your playlist.
BLOG » PRODUCTION

5 Tips for Making a Holiday Video for Your Business

Tips for taking creative risks as you brainstorm what your holiday video this year will look like.