This post was co-authored by Meryl Ayres and Alyce Currier.
Ian Servin is a passionate freelance video producer and director. He's worked with brands such as Ford and Nike on everything from small projects to complex campaigns. As he explains on his website, Ian combines his production expertise with marketing strategy to deliver standout content to his clients' audiences.
Ian has a lot of fun producing videos for different brands' social media channels. It's always smart to learn from the best, so we decided to ask him all about his experience thus far.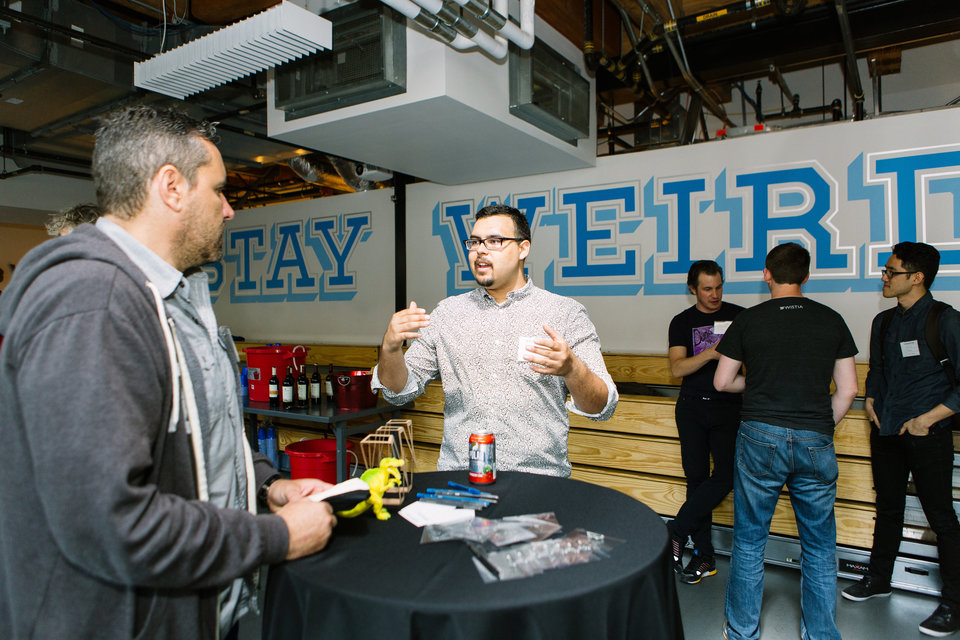 Ian chatting it up at WistiaFest 2015.
WISTIA:
How did you get involved in video? What drew you to the medium?
IAN SERVIN:
I got my start during the DSLR revolution. I was a photojournalist at the time, and we had just gotten the fancy new 5D Mk. II, a full-frame camera that took HD video. I was really captivated by how I could shoot beautiful video so easily, and how different it looked from the news camcorders our TV station used.
I loved that we could tell stories with video that matched the aesthetic of our still photography and eventually founded the multimedia department at the paper to leverage this power. By connecting reporters' storytelling with our talented visuals team, we were able to tell more impactful stories that really connected with our readers and increased the value of our digital offerings on our website and social media.
WISTIA:
What are some qualities of an effective social video?
IAN SERVIN:
Everyone's feed these days is inundated with visual media vying for attention, so the key is to stand out. Especially in a video's opening, you have to really quickly establish why someone should stop scrolling and pay attention to your video.
As a visual medium, the first step is making sure those visuals are top notch. Everyone has a camera that can make a good-looking image, so your content has to look great from the start. For me, this means that I spend a lot of time in production on B-roll, especially shots that establish where we are and what's going on.
"Start your video with a cold open. That's a really easy way to introduce the characters, the tone, and a little bit of content..."
Autoplay is the norm on social, so we have to use that opening shot to introduce the viewer to our content and quickly give them a reason to engage. Because of autoplay, I avoid having logo bumps or slow moving introductions on social. While they might offer some branding consistency, social moves too quickly for that, and you have to start providing value to your audience immediately. They're not going to wait for your fancy logo to finish animating.
WISTIA:
What's distinct about making videos for each of the major networks?
IAN SERVIN:
Facebook is probably the most versatile of the networks. For strong communities, you can drop in a longer piece on a brand's page and get engagement, while at the same time you can effectively share shorter content through promoted posts and the ads platform.
"Consider making a 15-second cut, so you can tease on Instagram and send them to the longer post on Facebook."
On Twitter, brevity is definitely important and polish less so, unlike Instagram where you need to have amazing visuals to fit in with people's curated feeds.
YouTube is a great place for longer form videos and to have an archive of your content. The opposite of that is Snapchat, where ephemeral short form content that feels very improvisational is king.
WISTIA:
What's your process like for telling your clients' stories?
IAN SERVIN:
As a video producer, I'm not just a black box where pitches come in and videos come out. I want to understand where the brand is coming from so that I can make the most effective video for them. Having this relationship with a client also gives me insight into internal stories that I would have never heard of otherwise and builds trust, which is essential during production when I'm really in the driver's seat and the client is entrusting me with their brand. Collaboration between me and my clients always makes for better content.
"When I first sit down with a new client, that begins the process called discovery..."
WISTIA:
What's your favorite piece of video gear lately?
IAN SERVIN:
I've been working a lot with the Arri Amira lately, and it's quickly become my favorite camera. All of Arri's colorimetry and sensor research has been put into a really ergonomic form factor that works well on run-and-gun productions, where the camera department might only consist of a couple people. I love the simple workflow of editing the ProRes .MOVs straight out of the camera, and it shoots up to 200fps at 2k and 60fps at 4k.
Switching gears, I'm really interested in all the new 360° cameras coming out. We're starting to see some really compelling options that are affordable, and in compact form factors. I'm skeptical that VR will be the future of video, but it's definitely part of video's future, and we'll continue to see more and more examples of compelling storytelling in 360° degrees.
WISTIA:
How do you track the success of your videos?
IAN SERVIN:
One of the things I stress is the importance of setting goals upfront. I don't just have high-level goals for the piece, I also work with the client to create clear milestones based on metrics. This varies on the type of video, but we'll often focus on sales, conversions, engagement stats, or occasionally view counts.
Each type of metric has its own value, and I always include a variety of statistics as well as analysis to provide a clear picture of how the video performed. Stats and numbers can be misleading, so being able to put metrics in context gives a client a better handle on how the video actually did. It's easy to rely solely on data, but also very misleading. My experience and knowledge as a video marketer means that I know which stats to pay attention to, which numbers to be critical of, and how to interpret all the data points to provide actionable insight to my clients.
DIGITAL AGENCY DAY - MARCH 16, 2017

If you're an agency, this is your day!

Sign up for a day of virtual and in-person events on agency growth, trends, and strategy hosted by HubSpot and Unbounce.