Before we introduce some new developments in Wistia's collection of organizational features, we'd like to take a few minutes to explore all of the tools that help folks keep their accounts tidy. Wondering how your account stacks up? Tune in for this wild episode of Good Account, Bad Account.
Just like your prized collection of Troll dolls, keeping your video library organized as it continues to grow is crucial. That's why we're excited to add some brand new features, including starred projects and souped-up search functionality, to our already burgeoning collection of organization tools.
The strategies we use to organize content are as unique as we all are, and we realize every team has their own style. We've made our tools flexible enough for anyone to develop their own organizational system, but still structured enough so that you won't have to worry about anything falling into the proverbial couch cushions.
Here's a look into what's new:
Search
Using our new search functionality, you can easily scan through video titles, descriptions, and captions to find the right content, faster. Search results are now grouped by type to clarify different types of media with similar names. Plus, you can scrub through video thumbnails to make sure you're always choosing the right version of your video.
Stars
We've also made it easier for each person on your account to access the projects they visit most frequently. With the ability to star projects, your team members can get to the projects they visit most often to get their work done.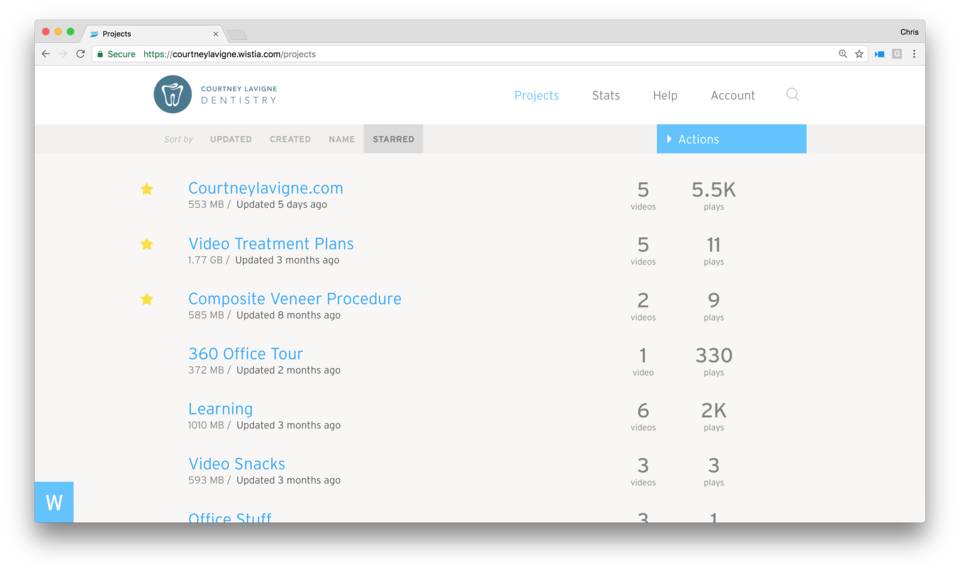 Now that you're equipped with even more tools to stay organized, you might have some thoughts about how you'll start implementing these features—thoughts like, "Ooh! I can't wait to star my favorite projects," or even, "Where is that demo I recorded last month?"
Thankfully, we have some tips for everyone, from those who've already been keeping their accounts tidy, to those of you whose accounts might be, well, a bit of a mess.
Let's get organized!
1. Choose a naming convention and stick to it
At the most basic level, give your projects names that indicate what's inside. Use descriptions that make it crystal clear what type of content belongs there. The more detail you provide, the easier it will be to make sure your videos end up in the right place.
Consider setting up projects based on where your content is going to be embedded, whether that's on your product pages, a blog post, or somewhere else. You can also create separate projects based on the teams that access them the most. For instance, your support team may want a project of their own to keep track of videos they frequently share with customers.
Pro tip: Use project-based permissions to give each team access to only the content they need.
2. Add sections to stay super tidy
The media within your projects can be distilled down even further, thanks to sections. These subfolders can help you arrange your videos by date, specific campaigns, or parts of your website. And you can always collapse your sections to keep the media you're working on front and center, so everything else is out of the way.
What does this look like in action? Let's say all of your webinar recordings are in a single project, but you want to group them down even further by month or topic. Here's where sections come to the rescue! Now everything is organized in a more specific, efficient way.
3. Move and Copy
Moving content around your Wistia account doesn't mean you also have to move everything around on your site. Use Move and Copy to reorganize your content without having to worry about changing URLs or embed codes.
If you plan to use the same video on more than 1 page (like on 2 separate landing pages) and want to keep the stats for each location separate, you don't need to upload the same video twice. With Move and Copy, you can create a duplicate with the customizations you already implemented.
BLOG

6 Hidden Wistia Features You Didn't Know You Needed

Product marketer, Naike Romain, reveals 6 of her favorite Wistia workflow hacks.