Last week, we were going to shoot a video with a scene that involved me in a suit. The scene was about how you shouldn't make serious videos, but it was a part of a larger piece. The original concept for the video was cool, but we were second guessing our approach and ended up scrapping the video. I was left awkwardly walking around the office in a suit.
My wardrobe change felt out of character in the usually-casual Wistia office. People whispered. People pulled up Excel sheets when I walked by. Rumors developed. And that's when we were hit with the idea of satirizing serious videos by being overtly serious.
Why would we satirize serious videos? Because fun videos are more effective (and we have the numbers to prove it)!
Over the last year or so, we've ramped up the fun in our videos. We've found that injecting our videos with more fun communicates our story better and makes explaining even complex topics easier. The video that really got us thinking this way was this one: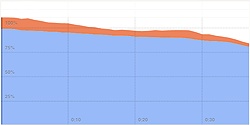 This video is nothing more than a time-lapse of us re-arranging our office. Why did we make it? Because we had to re-arrange the office and we thought it would be fun to capture the moment. What we didn't expect was that 91% of the people who watched it would stick with it all the way through. The only content in this video is a fun behind-the-scenes look at us moving desks around an office. How fun does that sound?
Later, when we wanted to show people that we thought something was a big deal, we found that emphasizing the fun we were having was a good way to do this. So when we launched Stats 2.0 in March, we made a video purely to show off just how excited we were. It would play before our product video and seamlessly transition into the launch video. Here it is: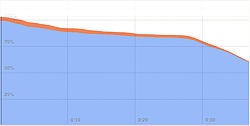 Engagement for this video was okay, but as you can see from the graph, we kept people engaged with the fun but lost them when they thought we were wrapping up. This meant that less people actually watched the launch video. This was a bummer. Here's the launch video in case you missed it.
That brings us to our free plan launch. We knew we wanted our excitement to come through on-screen (and how else could we do this but with video?), but we also had some key points that we didn't want anyone to miss. So we decided to intertwine the really fun stuff with the content. Hint: in this case the fun stuff is a rap. If you're picking a video to watch, this is the one!
Engagement for this video was solid and we saw tons of people sharing the video, commenting, and signing up for accounts. Mission accomplished.
---
It's time to get serious about making seriously fun content. Fun content is easier to watch, more engaging, and way more shareable. Whether your market is general consumers or business-to-business, leave your viewers with a smile. It can be more challenging to script a video that includes fun, but it's key to seeing results. Your viewers will be happy you did.
Seen any other great, fun videos recently? We'd love for you to share them with us!