For the last 22 Tuesdays, we've released a Top Hat Tuesday tip. We've been trying to force this to be a weekly series, and today, we're admitting that it just wasn't meant to be.
We're still super excited to produce bite-sized tips, using the Top Hat video format when it's appropriate. We're not hanging up our top hats forever; we're just making some changes to the role that Top Hat Tips play in our marketing strategy.
Here's the full story of the good, the bad, and the ugly of Top Hat Tuesday.
What we did wrong
We wanted a weekly series. Desperately. At all costs. A weekly series with its own insatiable audience, with their own email list, who would eagerly await each new video. Our own series, so we could be like the cool kids at Moz and Litmus with their Whiteboard Fridays and monthly email client market share.
So, in blind pursuit of the goal of "creating a weekly series," we started producing Top Hat Tuesdays with little consideration for the rest of our content strategy. That was our fatal mistake. Creating a weekly series is not, in itself, a good goal.
Our overarching content strategy essentially distills to "release quality content that people care about regularly." Our Top Hat Tuesday strategy pretty much ignored the fact that we already release product updates, blog posts, and Learning Center videos on a weekly basis.
We created a separate email list for THT because we were afraid of bombarding our audience with content. By doing this, we limited the reach of the series, and started to feel like THT had to compete with our "regular" content for views.
Eventually, creating a new tip every week started to feel like a distracting chore, instead of an exciting teaching opportunity. At this point, we realized we were forcing the weekly series, and needed to take another look at where Top Hat videos fit in with our wider content strategy.
What we're going to keep doing
Getting more people on camera
As we created more Top Hat videos, we realized that they offered a low risk avenue for everyone at Wistia to practice appearing on camera and get involved with the video process more generally.
Learning Center videos and product launches are an intimidating place for a new on-camera personality to debut.
Top Hat Tips were (and still are) an amazing place for someone like customer champion Dave to get comfortable on camera and answer a frequently asked question from the support inbox:
Keeping things organized
Getting more people involved in the video process forced us to streamline how we organize video production internally. When we started Top Hat Tuesday, we collected video ideas in a Google document that we would now like to relegate to our worst nightmares: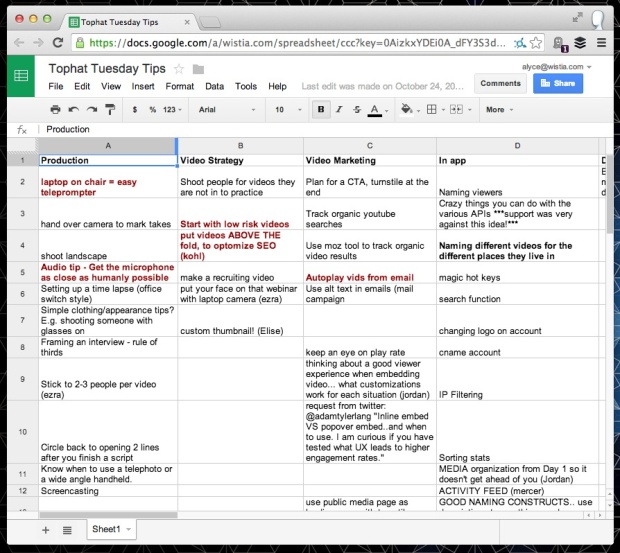 Later on, we thankfully switched over to a Trello board where people could submit ideas and we could easily keep track of how far along any given idea was in the process. We created columns for brainstorming, scripting, and the production queue and tagged the responsible person on the Trello card: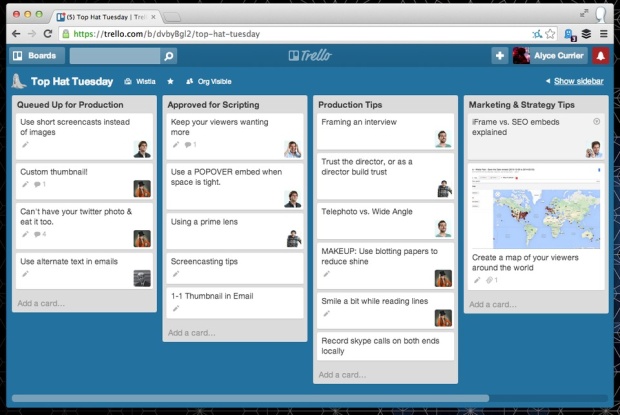 Keeping the ideas flowing
When we started Top Hat Tuesday, it was mostly owned by Chris and Dan, much like the rest of the video production process. But when they were the only ones coming up with ideas, week after week, their well quickly dried up.
To get everyone excited and contributing, they made this pump-up video:
Clarifying the goals and process behind Top Hat Tuesday helped keep content ideas coming in from the whole team. Throughout the process, Dan and Chris also held one-on-one meetings to help people workshop their ideas.
Introducing constraints to make it repeatable
Taking a page from Rand Fishkin's interview about Whiteboard Fridays, we created plenty of constraints around Top Hat Tuesdays to make them highly repeatable and easy to produce on a deadline.
Our biggest bottleneck around video is scripting, so we created a template for Top Hat Tuesday scripts that anyone could work from: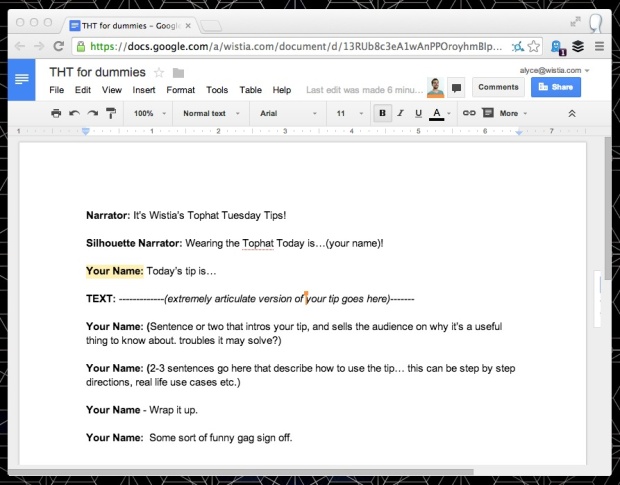 We also seriously limited the shooting and production of these videos:
The videos were always short.
We always shot Top Hat Tuesdays against the gray screen in our studio with the same lighting and camera placement.
We included only minimal B-roll.
The music was always the same old-timey tune from TuneFruit.
We kept our screen captures basic (no pixel grid effect).
Learning which topics our audience cares about
Per the scary-sounding term "repetition compulsion", people tend to repeat the same mistakes over and over again, and indeed, we found ourselves re-reminded of a few lessons as we worked on a new series of videos.
One example was this video that we made about exporting stats from the Wistia product to a .CSV:
Commenter Tejaswi Raghurama's feedback on this video was spot-on:
"Liked the tip, but the script could have been better. 1-2 key advantages or how a csv file adds to the study of the video stats would have gone a long way. This one turned out to be a 'use this feature' pitch. I loved the 'Use bumpers' tip, was looking forward to similar learning about the approach."
We still stand behind the tip itself, but we realized that we could have taken the script further in offering value to the viewer (by including specific ideas and use cases for how to use these statistics, for example). Top Hat Tuesday provided a great opportunity to step back and look at our content through fresh eyes.
What's next?
Thankfully, there's still plenty of room for us to alter the path of Top Hat Tuesday and make things right! Here are a few things we're going to try in order to increase the quality and decrease the pain points:
Top Hat Tips will be used as a format for a certain type of content, rather than a weekly series.
We'll incorporate the tips into our wider email strategy, instead of a limited list.
This means experimenting with new email formats, including a few Top Hat Tips centered around a topic (like "tips for during your shoot" or "Wistia product tips").
When we create an individual tip that's short but still feels like it would be of interest to everyone, we won't be afraid to email it. For example, we think we could have pulled this off with the Bulleted List video that includes a free .PSD template.
We plan to integrate Top Hat Tips alongside our other resources when it fits, by linking or embedding them in blog posts, Learning Center pages, and beyond.
We're excited to continue to experiment with and evolve Top Hat Tips! We'd love to hear your feedback on what you thought of Top Hat Tuesday and where you'd like to see us take it.