It's almost Valentine's Day, a holiday that's all about making connections, and we've got a couple fun surprises for our favorite tweethearts (spoiler alert: that's you!). In short, we've made Wistia and Twitter play better together. So that everyone can connect better.
The Twitter Follow Lab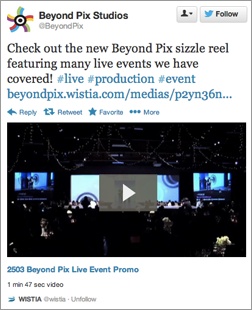 Take your relationships to the next level with our new Twitter Follow Lab! With this new Lab, you can add clickable follow buttons right in your video. Videos are perfect for building emotional connections, and the Twitter Follow Lab introduces a simple and subtle way to nudge your viewers to engage more deeply. You can add as many buttons as you want, controlling how and when they pop up.
Some of you might remember the old Wistia Labs, but for those of you who don't, for a Lab, you have to go outside the SuperEmbed Builder and paste your Embed code to access the add-on. Think of it as a sneak peek of our Research and Development factory...
Twitter Cards
Twitter cards are now compatible with Wistia videos! What does that mean? It means that when you promote a video from within your Wistia account, it'll show up inline in Twitter. This is a great way to get more exposure for your content and further engage with all those new followers you're getting using the Follow Lab! We're working with Twitter on compatibility for videos embedded on your own domain, so keep your eyes peeled.