I have always dreamed of working in the world of movies. There is a prescribed path for success in that field: move to Hollywood, network, make coffee, become a production assistant if you're lucky, eat through your savings, and hope someone notices you.
Mostly through luck, and with a little intuition, I ended up taking a different path and living out my passion in a way that I would never have predicted. Today, I am CEO of Wistia. We are a profitable, 41-person business that helps over 170,000 organizations do awesome things with video.
Learning about video
When Wistia started, I had zero experience building a product, finding customers, or hiring a team, but I had been obsessed with video for a long time.
I vividly remember using my first DVD my sophomore year of high school. I was instantly enamored with how high quality, portable, and copyable it was, and I was certain that VHS would soon be obsolete. I started to appreciate the speed at which video technology was moving.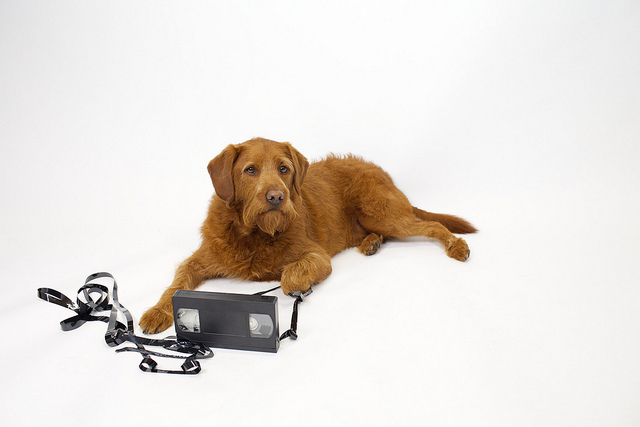 In college, I majored in film and video. My first production class taught us how to shoot on 16mm film. Shooting on 16mm is hard. You have to blindly load the film into the camera using a lightproof bag to avoid exposing the film. It was easy to screw this up. A few days after your shoot, when you developed the film, you would discover whether you had successfully fed the negative through the right parts of the machine. Not to mention the challenges of not being able to see whether your shot was exposed correctly, or making sure the talent on screen had successfully pulled off their acting.
A rapidly evolving medium
Just as I was learning how to load film properly, I noticed that the cameras around our department started changing. The DVX-100, a prosumer video camera, made shooting and editing much faster and less scary. You could instantly get a sense of exposure, you could replay a scene to double check the acting, and you wouldn't be left wondering if you got the shot. It was clear that video technology would speed right past film.
Just one year later, I worked on a documentary that was shot and edited by a skeleton crew of three people. This would have been nearly impossible from a budget, equipment, and man-hour perspective just a few years before.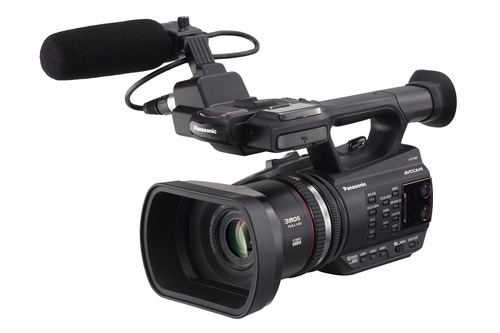 As I started making videos, I had wanted to put them online, but it was hard. At the time, you had to understand a ton of technical jargon to make online video work, like which codecs to use, what bitrate would work, and the installation rates of RealPlayer, QuickTime, and Windows Media Player. The online video playback experience was quite unpredictable.
Then, suddenly, things changed.
Video on the web
A new crop of websites appeared that made it really easy to get video online. Sites like YouTube, DailyMotion, and Veoh all sprung up at once and were all encoding their videos in Flash Video (a container file format created by Adobe).
Even though an extremely high percentage of web browsers had Flash installed, videos were not being widely encoded into Flash because it was prohibitively expensive to do so, especially for user-generated content. Each license of Adobe Media Server was $2,500 a pop. This all changed when the open source community developed tools like FFmpeg that gave anyone the power to do the encoding for free. Online video would soon be within everyone's reach.
I became certain that I was staring at the beginning of a massive change for online video, and I wanted to play a proactive role in that change this time. This was the moment that my co-founder Brendan and I started talking about the possibilities for the future. We were convinced that movie makers would be some of the first people to adopt online video, and we knew that audience well. And that is where Wistia began.
Eight amazing years have passed since, and while our product and approach have changed over time, our passion for video has remained constant.
Lessons learned
I learned three invaluable lessons from exploring my passion with my eyes open for opportunities to make a difference.
1. Embrace your naïveté
We understood the potential of video on the web, but we weren't entirely sure how to approach the space when we started.
We started off by trying to be a filmmaking competition website. We couldn't get that right, so we moved on to making a portfolio website for any kind of artist, with a focus on video. It was really hard for us to get to anyone to use our site, and making money seemed years away, so we knew that we needed to change our product again.
During that time, businesses would often ask for help with video, but we would turn them all away because we were focused on helping artists.
That's when our friend Ezra—now director of marketing here at Wistia—reached out to us. He was working at a medical device company, and they needed a way to privately share their videos of medical procedures. Up to that point, they had been shipping DVDs around the world, which was incredibly slow and expensive. Hosting and sharing videos on the web would save them tons of time and money.
The catch was that we didn't know anything about business video hosting. We were superbly naïve when we began, and that used to be one of the things that kept me awake at night when I worried about our little company.
Now, I realize that being naïve is totally normal in a nascent space where there's a huge opportunity for innovation. There are no industry veterans to learn from in a brand new industry. The upshot is that getting into a brand new area can put you on equal footing with competitors, which means that it isn't experience that wins, but the ability to learn the fastest.
We built a working product for Ezra's company in a week, and with that, we were off and running.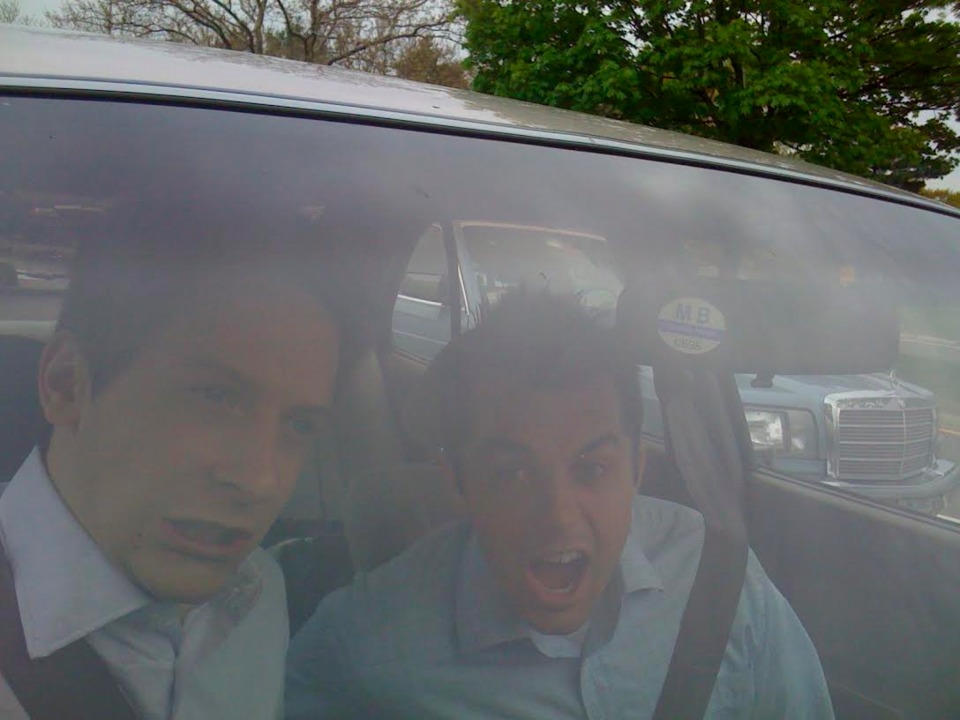 Returning from our first meeting with Ezra's boss.
2. Broaden your idea of what pursuing your passion means
I became focused on film and video because I wanted to make movies and tell stories. While I was excited about the movie-making path, I was also fascinated by video technology. Because I wasn't overly focused on one particular goal (e.g., becoming a filmmaker), I was able to see the signs that helped me realize how quickly online video and video production were changing.
Broadening your passion can help you find opportunities that would be impossible to see otherwise.
This new perspective helped me discover how much I could love a job where I get to help others make videos, instead of making my own.
3. Sacrifices are easier when you care
For the first two years after starting Wistia, Brendan and I went without salaries and lived on $15 a week for food, per person.
We lived and worked out of a 10-person house, and our office was in Brendan's bedroom. We had no money, never went to a movie theater, and certainly never went out to dinner. When we finally had salaries, we could only afford to pay ourselves $30k for the next four years.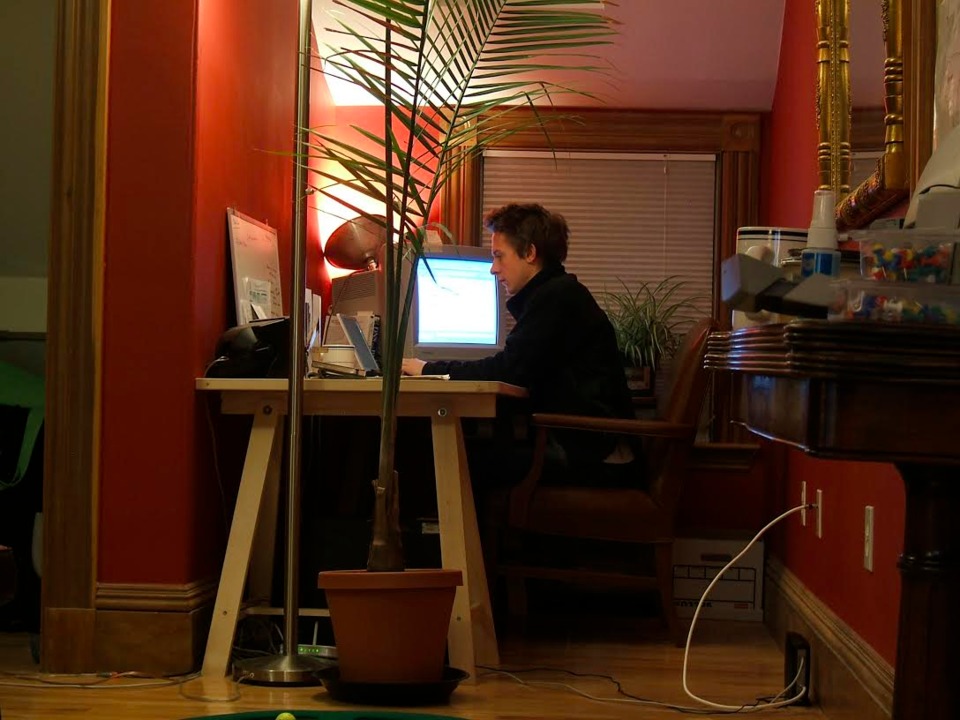 Brendan working in our first office (his bedroom).
Starting a company requires sacrifices. Fortunately for us, we really cared about the problems we were working on and the way the work was being done. This made those times fun and exciting, when we could have dwelled on the fact that our meager savings were running out.
One of our earliest customers was Cirque Du Soleil. When times got tough and the business looked like it might not survive, we reminded ourselves that we couldn't let Cirque down, and that was hugely motivating. We connected deeply with our customers because we had a shared love for video.
---
Building companies takes luck, passion, intuition, and commitment. As a kid watching movies that inspired and motivated me, I would never have guessed that my passion for film would have led me to a career as a CEO. It turns out that helping others share and improve their videos is as exciting for me as making my own.