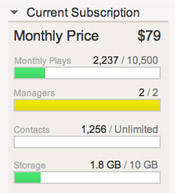 We're happy to announce that as of today all accounts now include unlimited contacts! There are no longer any restrictions on the number of people you can invite into your account.
New customers will notice unlimited contacts immediately. Existing customers, you'll notice this change in your account on your next billing cycle. In the meantime, feel free to go nuts inviting people beyond your current limits—no need to worry about overages.
Why would we do this?
Because you told us to! When we originally launched Wistia, it was only for private video sharing and designed for larger businesses. At the time, charging based on the number of users made good sense. It was a fair, predictable, and simple pricing model for our customers. But as our product and business has evolved, this element of our pricing has become increasingly outdated, and you've let us know it.
Let us know what you think of this change (or anything else you've got on your mind) in the comments!