Being a video marketing company, it's not surprising that many people ask us, "hey Wistia, what's your video marketing strategy?" Well, it's time to let the cat out of the bag – we don't have one, and we don't think you should either!
...Huh?
Instead of creating a strategy specifically for our video projects, our approach has been to incorporate video throughout all of our marketing efforts. This may sound like semantics, but we've found it to be a crucial difference in how we approach and measure the effectiveness of our video work.
The Video Marketing Strategy Trap
The problem with trying to establish a strategy for video marketing is that it's way too easy to start treating video as a very isolated set of assets with narrow goals. Most commonly, the video strategy discussion becomes one focused on just one metric – number of views. Search "video strategy" on Google and you'll find tons of tactics for optimizing videos for YouTube and getting social sharing jump-started. Getting views on our videos is obviously very important, and there a bunch of tactics that can be used to do this, but views alone should not define your video marketing strategy.
An Integrated Approach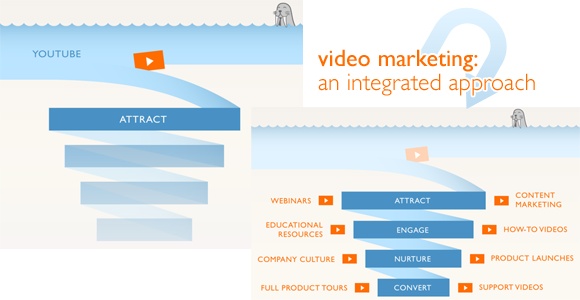 Instead of developing a strategy around video, we look at what we're trying to accomplish from a marketing perspective and then ask,
How can we use video to complement our other marketing efforts in reaching these goals?
This way, video doesn't end up on an island all by itself, and we get to take full advantage of the diverse power of video (to tell a story, to build trust, to convey emotion, to share lots of information, etc).
Take, for example, the launch of our Turnstile pre-roll email collection feature last month. Like most of our feature launches, our two primary goals for this announcement were:
Inform and delight current users of the application
Attract new leads/ customers with news of the feature launch
How did we accomplish these two goals? We sent out an email announcing the launch and drove visitors to a new feature page that described the benefits of the new tool and included social sharing cues, and we made a video to enhance it all.
In our short (51 second) video, we were able to: (1) explain how Turnstile works, (2) highlight the key benefits, and (3) describe a couple of use cases. Featuring this video on the top of the new feature page made it very easy to convey a ton of info in a small space, while also keeping the page fun and shareable. The result: 30 social shares on the day of launch. Not game changing by any means, but considering this was a product page, we were pretty pleased with the result.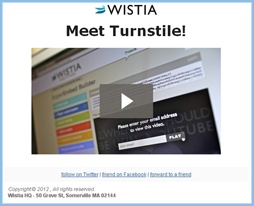 On the email front, we used a simple header and video thumbnail to drive traffic to the new feature page. We've found this thumbnail approach consistently gets higher engagement from our audience, and in this case, we got a 12.5% CTR from our broad mailing list! By setting our videos to autoplay when someone arrives from the email campaign, we make the experience seamless for a person clicking on the thumbnail, without annoying those who arrive on the page by navigating to it on our site.
The result was a very successful product launch, with the video as a key component of our efforts, but not the whole focus. We were able to measure the success of the video with standard metrics (such as views, engagement rate, etc.) but also by more broad metrics such as the number of support requests we received about the new feature, the number of new customers who first watched this video, etc.
How can video bolster your marketing efforts?
Show your product instead of talking about it
Increase CTRs in email campaigns
Improve website viewing experience for mobile users
Boost SEO rankings
Encourage social sharing
Show off the personality of your company
The key takeaway we'd like you'd to consider: Instead of building a video marketing strategy, build video into your marketing strategy. How have you used video to enhance your current marketing strategy? How might you in the future?